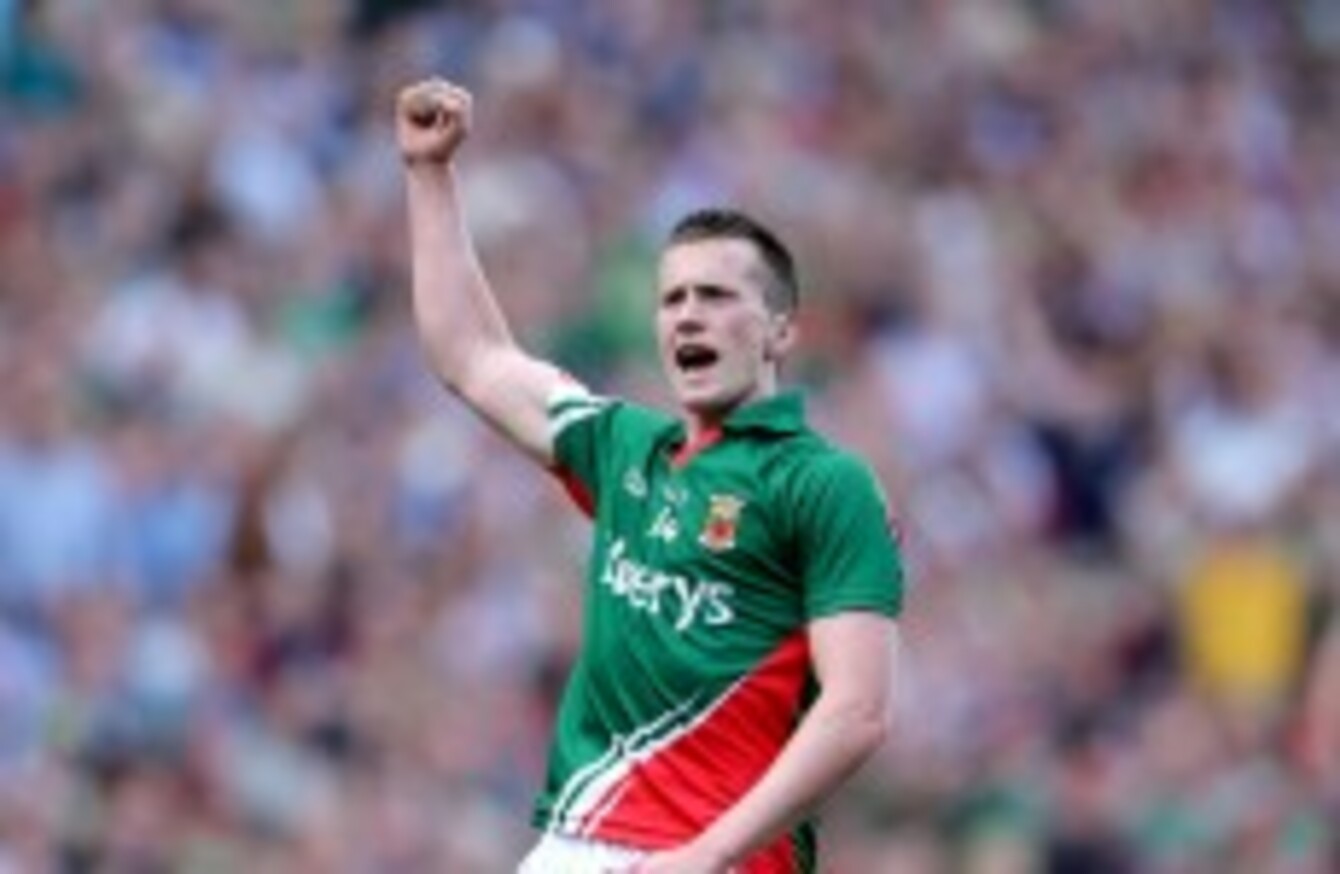 Mayo's Cillian O'Connor celebrating a point against Dublin in the All-Ireland semi-final.
Image: INPHO/Cathal Noonan
Mayo's Cillian O'Connor celebrating a point against Dublin in the All-Ireland semi-final.
Image: INPHO/Cathal Noonan
MAYO ATTACKER CILLIAN O'Connor is aiming to return to action in the National League next February as he continues his recovery from a shoulder injury.
O'Connor dislocated his shoulder in the wake of Mayo's All-Ireland final defeat in September.
He suffered the injury in a league game for his club Ballintubber against Westport the weekend after that loss to Donegal.
And was then forced to miss out on Ballintubber's bid for a third successive Mayo county senior title which was thwarted by a final loss in October to Ballaghaderreen.
"I'm hoping to get back training full contact by the middle of January," O'Connor told TheScore.ie. "I'm just resting up at the moment and doing the rehab. I'm doing as much training as I can but I have to be careful with it.
"I knew straight away when the doctor came on in that game and said it was dislocated, that I gave up any hope of playing for the rest of the year after that. Immediately I knew I was going to miss the county semi-final with Ballintubber.
"That was the hardest thing I've done in a long time, watch the lads play. They got over Crossmolina thankfully in the semi-final but Ballaghaderreen proved too strong in the final."
O'Connor is grateful that it is in the off-season that he is sidelined through injury and is hoping to be back doing full contact work by mid-January and then be in line to feature in games the following month.
"It could be worse though. It could be a long-term injury. I'll go back into full contact in mid January and if there's no setbacks, maybe the start or middle of February (I can play). It's hard to know though, it depends on when the shoulder heals.
O'Connor revealed that Mayo have already met up for a post-season debriefing and are starting to look ahead to the 2013 season. Their management team has changed with Cian O'Neill after departing and set to be involved with Kerry next season, yet highly-rated coach Donie Buckley has come on board.
"It was disappointing to lose Cian so soon after the All-Ireland. He was great with us and brought us on a huge amount but it was brilliant to get a coach in like Donie straight away.
"I never worked with him personally so wouldn't know him too well. But from chatting to guys who have worked with him before in other counties and colleges they have only good things to say about him. It is an exciting time, I'm looking forward to working with him."
"We've a good setup. It didn't end up well for us this year but I don't think it's going to affect us and we're raring to get back training."
One player that will not be involved next season is Ronan McGarrity with O'Connor paying tribute to the Ballina midfielder after his recent retirement.
"Ronan had a couple of injuries and he's been a great servant to us over the years. He's been one of our best players over the last couple of years. It is sad to see him go but he owes Mayo football nothing."