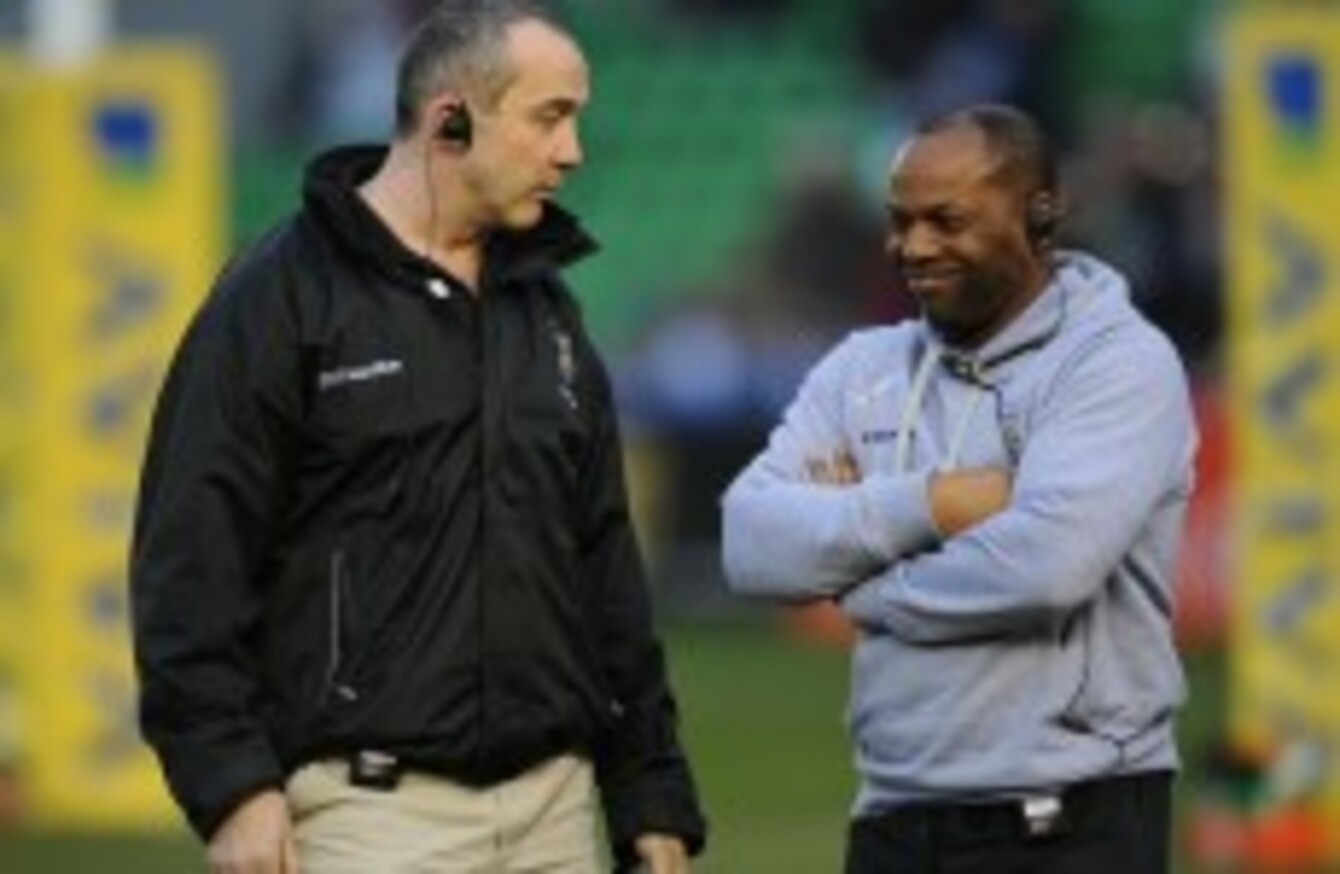 Osborne [R] has been working with 'Quins since 1990.
Image: Andrew Matthews
Osborne [R] has been working with 'Quins since 1990.
Image: Andrew Matthews
AS WITH MOST coaches at the top level of the game, Collin Osborne undertook a professional trip during his recent summer 'break'.
The Harlequins skills coach, a man in whom Director of Rugby Conor O'Shea places great trust, visited the NFL's Philadelphia Eagles to learn more about their innovative off-feet training methods.
"One of the biggest issues in our sport, and even more so in their sport, is how little time we can actually spend on the field coaching," explains Osborne. "In a game which involves a lot of movement, a dynamic game, the key thing is decision-making when you have the ball in your hands.
"We tend to play lots of games, small-sided games, in training and that's all really good but it's very demanding physically on the body. There comes a point where you can't keep doing more and more and more of it.
So we wanted to have a look at ways we can improve our decision-making off-field with the use of the technology – video-game and simulator technology – that the Eagles are using."
That technology recreates game situations on-screen, demanding instant reactions from players and working their cognitive skills without the physical demands of being on the training pitch.
'Quins have been working with GlaxoSmithKline at their Human Performance Lab in Brentford, London in the same field, searching for what Osborne terms as the "little edges to allow us to stay a step ahead".
Not that Osborne's role as skills coach is all about computer screens and cutting-edge software.
"There are obviously some fundamental core skills in rugby," says Osborne. "I think one potential pitfall is to ignore those and take it for granted that we all know how to catch and pass, for example.
"I'm realistic and old enough to realise that what makes people excellent, in my view, is the ability to perform the basic skills more consistently and to a higher standard than the opposition."
The former Zimbabwe head coach has been with the club in a range of capacities since 1990, and made a telling impact in his time with the Harlequins academy, from where he helped to produce the likes of Chris Robshaw, Mike Brown and George Lowe.
That experience of working with young players, "developing them for the professional game," has been hugely beneficial to making Osborne an effective skills specialist with the club's senior team.
Irishman O'Shea has led the resurgence at 'Quins in recent years, aligning a group of "people who share the same vision of how we want the game to be played," both in terms of coaching staff and players.
Osbourne has firm philosophical beliefs about rugby, but stresses that "I'm not for one minute suggesting that my way is the only way, or the right way, even."
"My belief is that the game of rugby has always been about movement, about enjoyment," outlines Osborne. "I loath to use the word 'fun' because it has implications of frivolity, I don't mean that kind of fun. What do people enjoy? They enjoy scoring tries, that's what we celebrate.
"The bottom line is that the team enjoys scoring tries. For us, and certainly for my philosophy, the game has always been about pace, playing the game at speed, and to do that, you've got to be very highly skilled, because if you're not you'd make lots of errors."
So how does Osborne go about ensuring that 'Quins' impressive skill levels are constantly improving? The foundations are in those core skills the generic abilities of "catch, pass, run, tackle, and so on," while there are also positional skills to be worked.
Line-out forwards are not very useful if they can't deliver the ball off the top," is the example Osborne provides, before continuing: "It's about getting the balance right between the core skills and those position specific skills (PSS)."
"We have dedicated time on the planner, so that we break into our positional groups and work on those positional skills that make us the best in our position. What does this player need to be better in his position, to make him the number one pick at the club and the number one player in that position in the country?"
After a semi-final defeat in the Premiership last season, Director of Rugby O'Shea will be focused on pushing 'Quins to a repeat of their 2012 trophy success.
With Osborne remaining focused on "improving individual players in order to improve the team" more than 20 years after first joining the club, the Irishman will have no fears about his squad's skill levels.