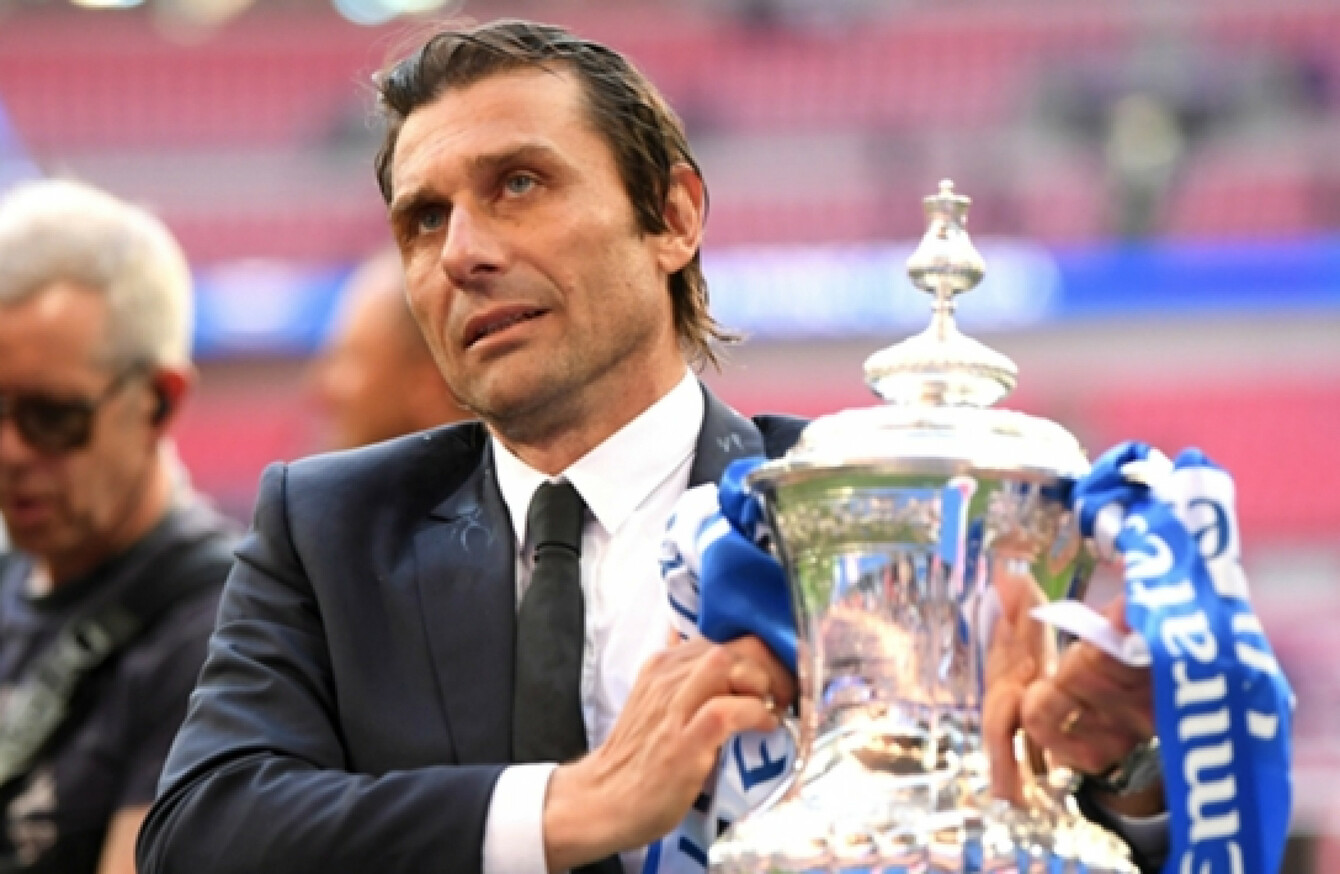 ANTONIO CONTE HAS thanked his "friends" at Chelsea for an "amazing" experience days after he was sacked by the Premier League club.
Despite having delivered major honours in each of his two seasons at Stamford Bridge, and with a year still to run on his contract, the Italian has been cast aside by the Blues and Maurizio Sarri appointed in his place.
Conte, who had seen his future called into question for several months before a decision was finally taken, now finds himself out of work but insists he will look back fondly on his time in west London.
In a statement released through the League Managers Association (LMA), Conte said:
I would like to thank all of my friends at Chelsea Football Club for their hard work and support over the past two seasons which enabled us to win the Premier League and FA Cup together.
"To the players, whose talent and commitment was so important to our successes, I thank them for everything. It has been a pleasure working with them every day.
"To my staff, who always worked so hard, I must say thank you and well done for their professionalism and dedication throughout.
"I have enjoyed my time in England and London so much and I want to thank the Chelsea fans who have been amazing to me and my family. It was fantastic for me to be able to share my emotions, passion and enthusiasm throughout two unforgettable seasons with these amazing Chelsea supporters, who will always stay in my heart.
"I hope Chelsea will continue to be successful and I wish everyone well for next season.
"I have made many memories during my time with Chelsea, which I will take with me into my next challenge."
Until diverting his attention to that next challenge, Conte's chief concern will be the matter of a £9 million compensation after his dismissal, a figure Chelsea are reportedly attempting to whittle down over the Italian's handling of star striker Diego Costa.