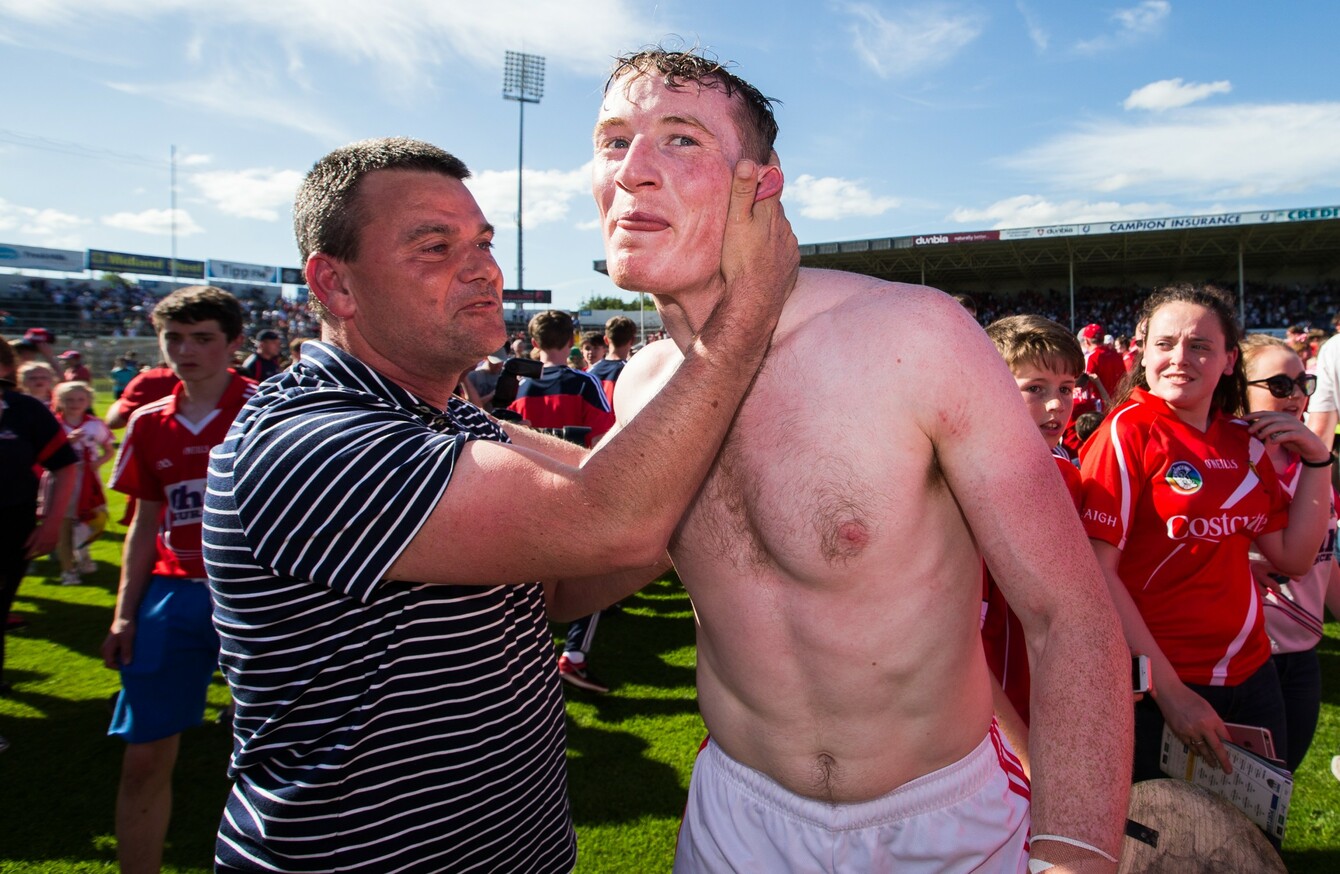 Damien Cahalane celebrates after the game.
Image: Tommy Dickson/INPHO
Damien Cahalane celebrates after the game.
Image: Tommy Dickson/INPHO
THERE WERE ALWAYS going to be some people wondering if Cork's performance against Tipperary was another flash in the pan until they went out and backed it up. They answered that question today with a huge performance, and Waterford simply couldn't live with them.
It's obvious now what way Kieran Kingston wants his side to play. The composure at the back, the way they're playing the ball up the field, the movement of the forwards – it's quickly becoming their trademark. It's nearly a copycat of what Tipperary were doing when they were winning All-Irelands.
If you look at his interviews from last year, Kieran always said it was a year too soon to challenge, and now this group of players looks to have a really strong bond, and a good understanding of each other. In previous years, they were just getting the ball and hitting it in but now they're not making those silly mistakes any more. They're getting their heads up, playing intelligent passes, cross balls, and getting good deliveries into the forwards.
The overwhelming thing today was the workrate and the intensity that they brought to the game. It was a roasting hot afternoon down in Thurles and they outfought and outworked Waterford for 70 minutes. Even when Colm Spillane was sent off and they were down to 14 men for the last 10 minutes, they still physically dominated the game. You have to give credit to Declan O'Sullivan, the strength and conditioning coach. He has put in serious work to get them into that shape, and it showed today. It's not just conditioning though – they're backing it up with hurling too.
Seamus Harnedy's performance sums up that workrate. He scored with two points and could have had a goal as well, only for an incredible save from Stephen O'Keeffe. Harnedy is a big man, good in the air, showing for every ball, and he's consistently making those runs that are very difficult to defend against. He creates havoc in front of goal.
You could pick out lads from all over the field. Mark Ellis is turning into a fine half-back, Bill Cooper and Darragh Fitzgibbon put in big performances in midfield, and Patrick Horgan and Conor Lehane finished with 0-14 between them. Switching the frees back to Hoggy seemed to give him a bit of confidence, and Lehane seems to have found a position he loves at centre-forward. It's a huge asset to have lads like Daniel Kearney and Michael Cahalane still there to come in off the bench as well.
Only Derek McGrath can tell you why Waterford abandoned the sweeper. It baffled me. They play their best hurling when they use that system, and it brings out the best in Tadhg de Burca, but for some reason they went away from that today. Coming up against those pacey Cork forwards, I would have had a sweeper in there for the first half at least. From a spectators' point of view, it would have tightened up the whole game, and it probably wouldn't have been as entertaining, but it was Waterford's best chance of winning.
They still only played with two men inside, using Maurice Shanahan as the target, but it looked like the spare man was out around the half-forwards. Maybe the plan was to go long with their puckouts, try to win possession and work their scores from there, but there were too many bodies around the Cork half-back line, and Cork just outworked them and won more breaks. Mark Coleman had a great game again. For a young fella he was so composed and picked up so much ball. Because it was so crowded, all he had to was just read the play, step off, and tidy up. He did it brilliantly.
Today showed again that Derek McGrath and the Waterford management need to clearly nail down Austin Gleeson's role. The point he scored in the first half, that piece of skill, was outrageous. He's a super player, any team would want a lad of that calibre, but the way he's being used isn't fair on him really. It looks like he gets a free role, which is essentially telling him to go out, do whatever you want to get involved and impose yourself on the game. That's much easier said than done, and he needs to be told where to play and concentrate on that. He's too good a player to be out there only making an occasional impact on the game.
For all of that, Waterford hung in well and they were level at 0-10 each at half time. They can thank Stephen O'Keeffe for that because he made three unbelievable saves and on another day, Cork would have very easily been nine points ahead. Maurice Shanahan's goal got them level again with about 25 minutes to play but it was Cork that kicked on. You could see that they were a bit rusty after that 11-week break. A couple of simple passes didn't go their way, they were taking shots from angles that you'd never see them taking shots. The disappointing thing was that when Cork went down to 14, they still couldn't match them.
Waterford are better than what we saw today. The qualifiers are loaded with Kilkenny, Tipperary and Limerick all in there as well. For the first time in a long time, this is what they're all about – giving top teams a second bite at the cherry – and Waterford are definitely one to avoid.
There'll be a bit of celebration in Cork tonight. Cork people are usually quick enough to get carried away but the excitement is justified after back-to-back convincing victories against two top teams. This team are into a Munster final with a very good chance and they won't have any fear against Clare.
Clare will know that they need to improve as well – they let Limerick hang in for too long the last day – but you can put 9 July in the diary now, wherever the game is played. It should be a cracker.
The42 is on Instagram! Tap the button below on your phone to follow us!