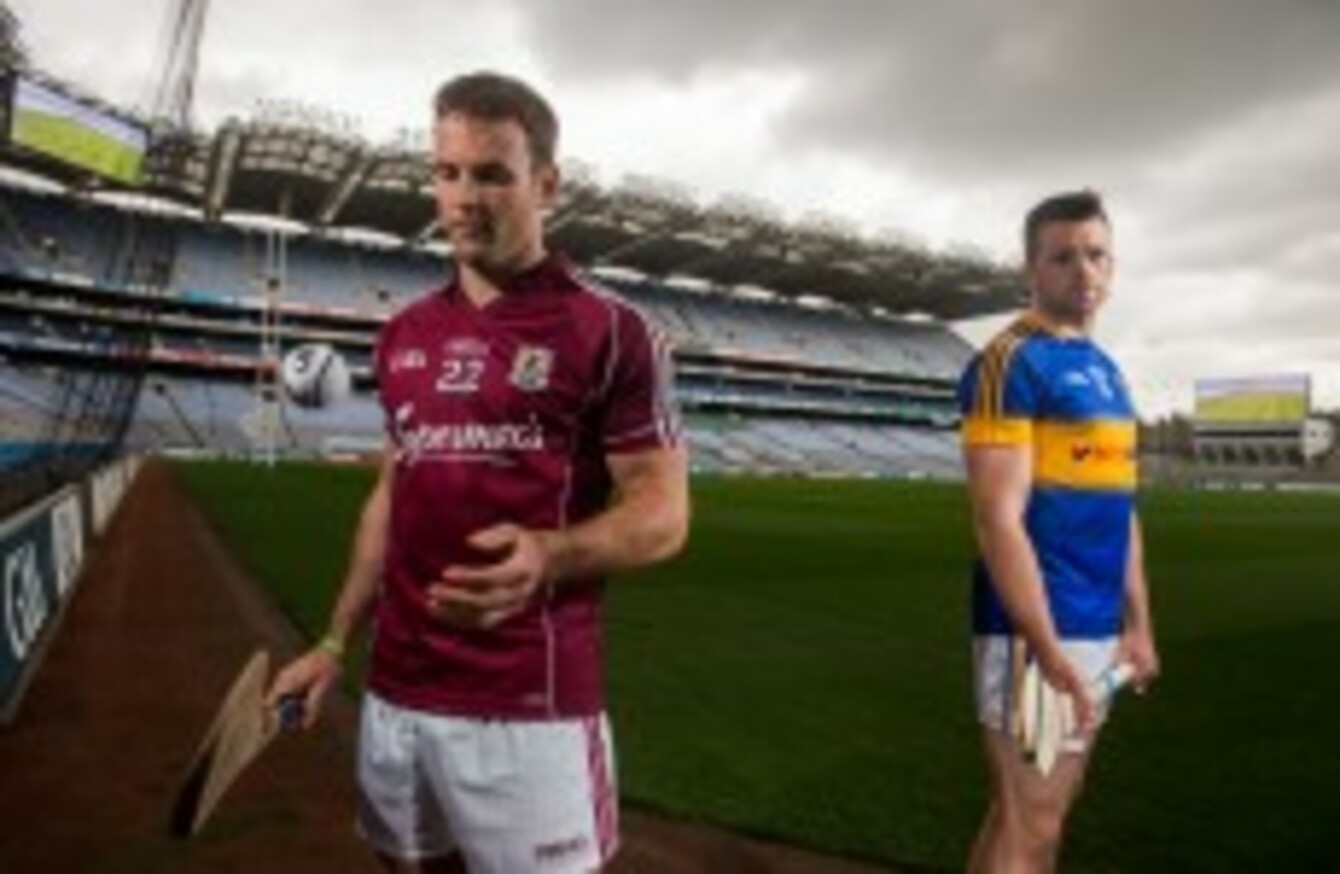 Collins, left, will be up against Padraic Maher and Tipp on Sunday.
Image: David Maher/SPORTSFILE
Collins, left, will be up against Padraic Maher and Tipp on Sunday.
Image: David Maher/SPORTSFILE
DAVID COLLINS HAS already missed more hurling than he would like this summer, but he will be ready when Sunday comes.
"You put your body on the line for one reason and that's September," Galway's captain reflects ahead of their semi-final date with Tipperary.
"Anything that gets in your way, you look at it as an obstacle to get over."
Collins is no stranger to injury trouble and this year, it was his hamstring that threatened to spoil his championship.
A Tuesday night training session was business as usual until he felt a shooting pain in his leg. A closer look revealed a tear which ruled him out of the Leinster final defeat to Kilkenny a few days later, and then limited him to the final 15 minutes of the quarter-final win against Cork.
"I was too soon coming back for that," he admits. "I was, I suppose, 85% for that game — and (manager Anthony) Cunningham knew that.
"Now, I wasn't going to admit to that because I wanted to play against Cork, and it was more of a personal battle than anything else.
"But I've trained hard for the last two weeks and I'm definitely fit (for Sunday).
"I'd have Cork blood in me so I wanted to get on that field," he explains.
And, look it, I've trained since November to be there – and one incidence, one 30 seconds in a game of training and you pull your hamstring, and you're kind of going 'Right, everything's taken from you.'
"But it was more of a 'Right — as soon as the injury happened — recovery phase here, how do I get back as quick as I can?'"
That practical pragmatism is a hangover from a far more severe injury battle, one which he feared might end his career. A lateral inversion of his ankle in 2007 left him with ruptured ankle ligaments, damage which sidelined him for nearly two-and-a-half years.
It was a very similar injury that blighted the career of Galway footballer Michael Meehan, but then 23-years-old, Collins knows he was fortunate to have time on his side. Specialists initially told him he would never play again but he kept asking the question until he got the answer he wanted to hear.
It went from this to that (motion of ankle going outward to inward) and ruptured and torn the ligaments off both sides of the bone and they had to be put back together.
"My career looked over. It was over in 2007. That is what they said.
"But two consultants later, they were saying we can get you back to 80 or 85%, so I thought I would go with you.
"I didn't accept that my career was over, and that would always be my attitude. Unless it is broken or you can't fix it, we will give it a good shot.
"Once Stephen Kearns said we will get you back to 85%, I thought let's go with it. Three operations later, I was back."
– First published 17.05, 12 August