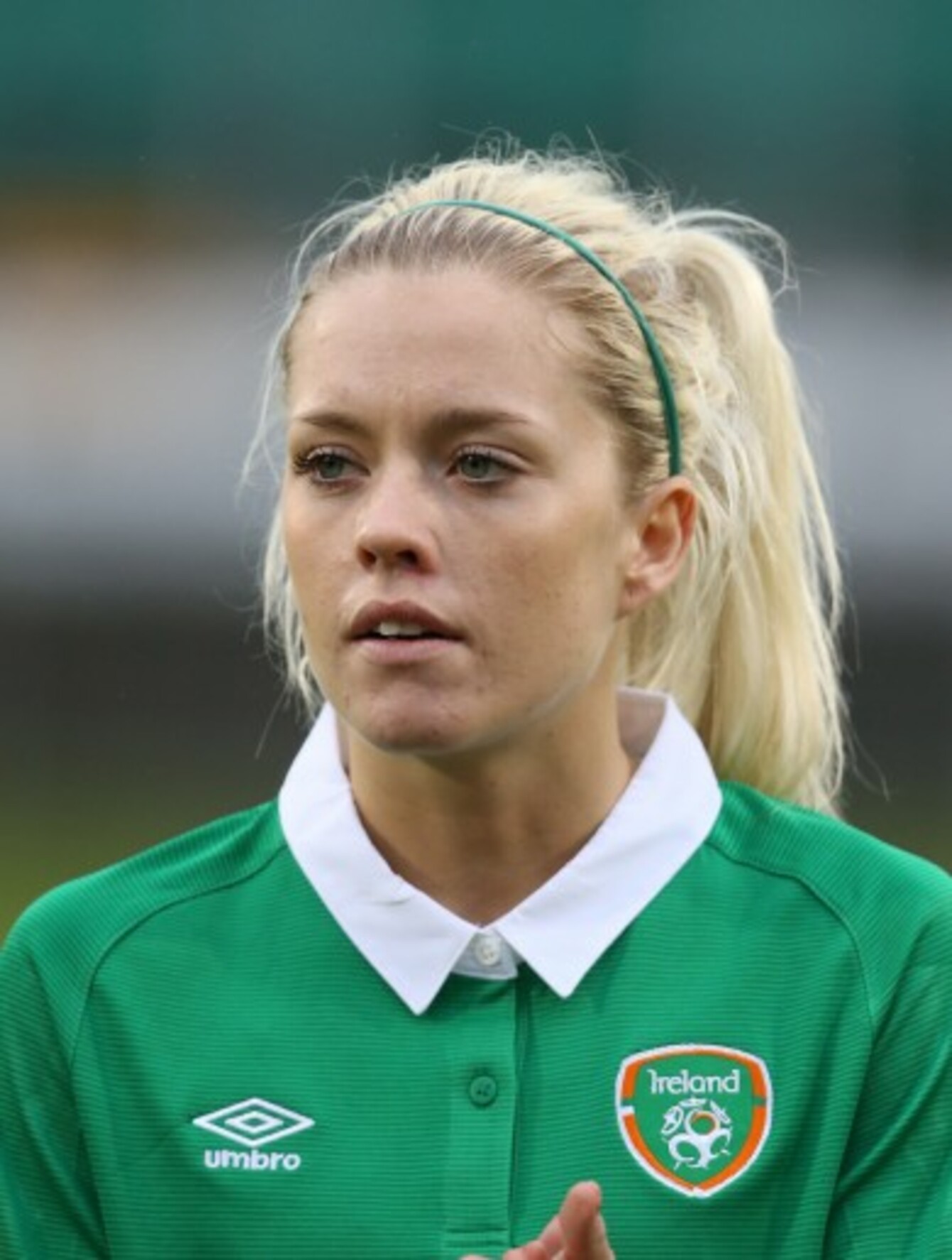 Denise O'Sullivan has impressed since joining American side Houston Dash.
Image: Cathal Noonan/INPHO
Denise O'Sullivan has impressed since joining American side Houston Dash.
Image: Cathal Noonan/INPHO
2016 IS A year Ireland international Denise O'Sullivan will never forget.
Within the space of a week last March, the 22-year-old Cork native was named Women's International Player of the Year at the FAI awards, sat in the hospital as her father died from cancer and fulfilled a long-term ambition by sealing a dream move to top American side Houston Dash.
The death of 63-year-old John O'Sullivan, Denise's biggest supporter, came just five weeks after he was diagnosed with cancer. It was a shock to the Irish international, amid what was a surreal few days for a number of reasons.
"At the start it was tough," she tells The42. "Just a few weeks before (I moved to the US), my dad passed away. Making the decision, I thought 'Will I get on well over there?'
It was difficult the first few weeks being away from family when all that was happening. But I was really welcomed into the team. I've made friends and you just do stuff with them. You go train and do a lot of things to keep your mind off things.
"It was fine (after a while). I missed my family, but I think the soccer just took my mind off things completely and I was enjoying it so much."
Before making the move stateside, O'Sullivan had already forged a reputation as one of Irish football's brightest stars.
Despite still being relatively young in football terms, she has already made 51 appearances for the Irish team, scoring eight goals to boot, though she experienced disappointment this year, with the team failing to qualify for the Euros.
Moreover, she was sad to see the recent departure of Sue Ronan, the manager who handed a 17-year-old O'Sullivan her debut in a Euro 2013 qualifier against Wales, with the youngster immediately repaying the faith shown in her by claiming both goals in the 2-0 win.
Sue gave me the opportunity (to make) my debut. So I'm very grateful for that… It gave me the confidence to know I could really do well.
"She'll definitely be missed, but we're all excited to see who's going to come in and to see what changes will be made."
Having impressed as a teenager for Peamount United, she made the move to Glasgow City in 2013, scoring on her debut, rapidly becoming one of the team's most influential players and racking up an incredible eight trophies during her highly successful time there.
Yet Houston Dash was a different prospect entirely. Playing professionally in the US had been a long-term ambition of O'Sullivan's, and she was not the first Irish female soccer star to try to break America. Her Girls in Green teammate Stephanie Roche signed with the Texan outfit in February 2015, though she struggled to make an impact and was released the following May having played just 24 minutes of action with the team.
Nevertheless, Roche's disappointing experience there did not make O'Sullivan think twice about taking on the challenge.
I didn't even think of (Roche's time in the US) to be honest," she says. "I was very positive about the decision. When it first came up, it was on my mind all the time that I really wanted to make the move.
"I was still in contract with Glasgow so things were kind of confusing and there was a lot of talk going on between the clubs. But I had my mind set and I just wanted to go and take that step.
I was in Glasgow for two and a half years, I had the best time over there and the club was fantastic, but I just thought it was the right time for me to go and develop my game."
And did Roche, O'Sullivan's Irish teammate, offer her any advice about Houston?
I didn't really talk that much to her. I had actually talked to her when she was there at the time and I had no idea that I would be there the next year.
"She was just saying that training was good and she really loved the lifestyle. It was the only thing I really talked to her about."
To some young players, the challenge of moving so far away from home would have seemed daunting, but O'Sullivan appears to have taken to it quite well.
It took me a few games to get into it," she recalls. "I came on at half-time on my debut. I think after that, the manager saw that I was a hard worker. I fit in with the team after that."
O'Sullivan was initially signed as cover, with seven of Houston's players heading to the Olympics.
"What we really liked about Denise was her quickness, she's dynamic and she's extremely skillful," Houston Dash head coach, Randy Waldrum, said at the time the signing was announced.
We think she is going to be a great fit for our midfield. Especially when you look at our midfield with players like Morgan Brian who is very technical or Andressa, Carli Lloyd and Amber Brooks, she fits the profile."
Waldrum also revealed that he was scouting another player when O'Sullivan caught his eye.
I received film on a different player and I actually liked Denise more than anyone else," he added. "We felt that she would bring a different approach with her international experience.
"This will be crucial when we lose our national team players to training camps and the Olympic Games later this year. With Ireland not participating in the Olympic football tournament, we expect to have her the whole season."
Ultimately, the Dash had a disappointing 2016 season, finishing eighth out of the 10 teams in the National Women's Soccer League. Yet there were plenty of positives for O'Sullivan personally. She featured 18 times in what is a 20-game season, starting in 14 of those appearances. In addition, even when world-class stars such as Lloyd and Brian returned from Rio, she managed to hold down a regular spot in the starting XI.
But while she has coped relatively well with the challenge overall, getting used to the nuances of US football has not always been easy.
It's physically very good and I think that's a good thing for me to work on. I'm a small player and I need to work on my strength, so I think it's really helping me.
"It's definitely a big step up from playing in Glasgow. The pace of the game — players are really fit, they move the ball really quickly, you can't have more than two or three touches or someone's on your back. It's just very fast and players are strong and very athletic."
Speaking to The42 last month, former League of Ireland player and current Bethlehem Steel star James Chambers spoke of US football's obsession with stats, and O'Sullivan backs up this assertion.
We have this thing every game that tracks our distance, how much we run and basically everything. After every game, we get an email with all that stuff tracked and written down — how many passes we made, how many through balls, how many headers, how many sprints. So they're really big into that."
She continues: "It's just for ourselves to look at. They're not saying 'you need to do better at this'. But they expect you to go look at it — you're a professional player. You look at it and pick out the things you can do better at."
With the American season having finished, O'Sullivan has been back in Ireland since the start of November. To describe it as a 'break,' however, would be doing a disservice to how hard she continues to work.
Between coaching kids, working in a sports shop and training with her brothers and the local men's team, she barely has any time to relax.
There are a lot of sessions I need to take throughout the week, so with work, I'm basically working every day almost. It's tough times, especially trying to get in my own training and to keep fit as well. But I'm managing somehow anyway."
And while she may miss the relentlessly warm weather of Houston, meeting up with a few of her teammates for lunch after training and the occasional opportunity to do something "pretty cool" such as jet skiing, there is at least one thing America cannot compete with: "My mum's cooking," she laughs. "That's a big thing — she'd cook every day for me when I'm back here."
The42 is on Instagram! Tap the button below on your phone to follow us!