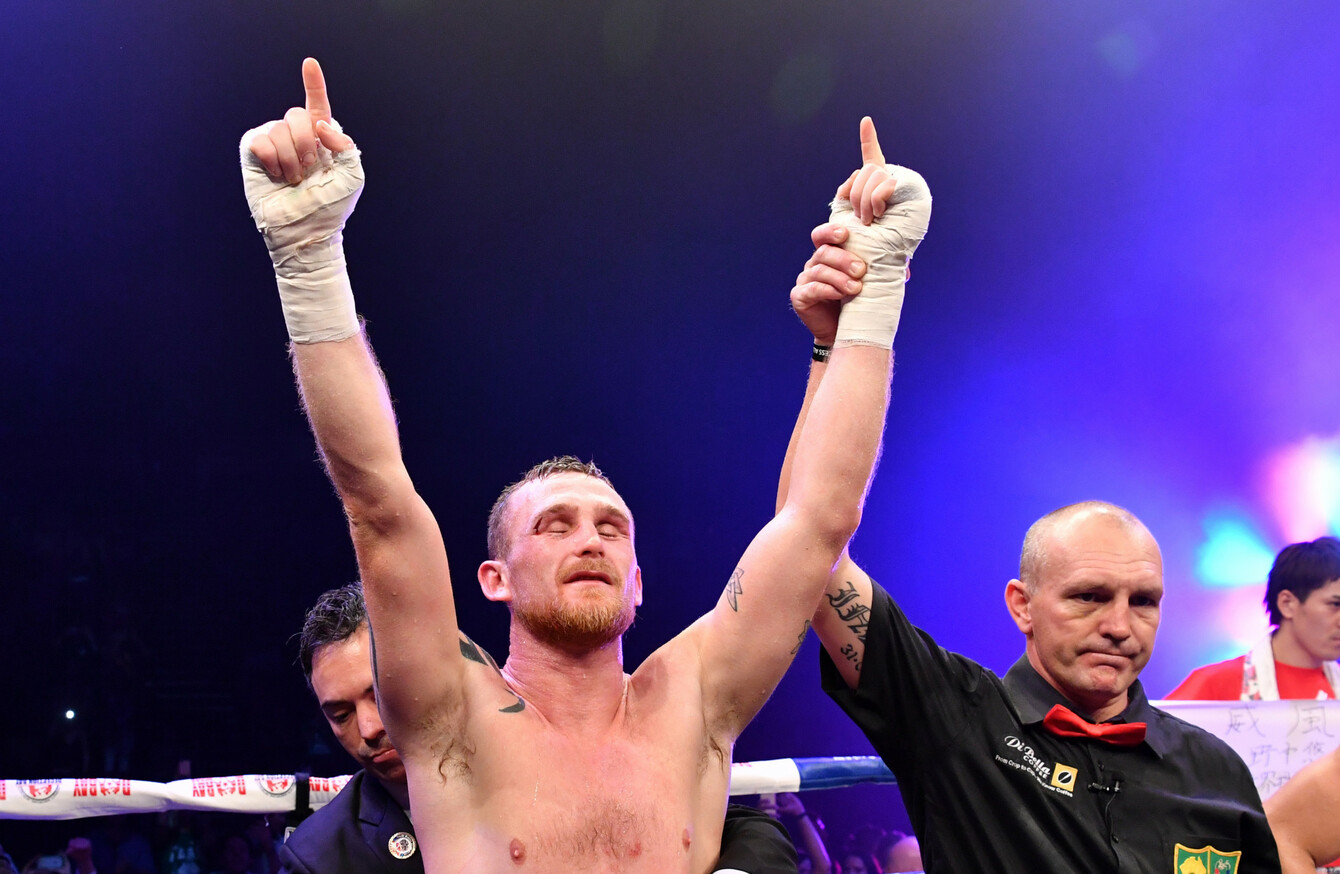 Image: AAP/PA Images
Image: AAP/PA Images
KILDARE'S DENNIS HOGAN sealed a shot at the WBO World light-middleweight title with a hard-earned unanimous-decision victory over Manchester's Jimmy Kelly in Brisbane on Saturday afternoon (Irish time).
Hogan, a native of Kilcullen, was awarded a close and mostly cagey contest on scores of 119-109, 117-111, 117-113 – the first two of which were wild – but was the deserved winner on a massive night in his adopted hometown.
The 33-year-old 'Hurricane' becomes the mandatory challenger for WBO world honours, and is set to face the winner of champion Sadam Ali's 12 May title clash with Liam Smith later this year.
Kelly, who had no complaints with the decision, revealed post-fight that due to personal issues the scrap was almost cancelled at the 11th hour. Hogan and his promoter, Gary Keegan of DPP Promotions, praised Kelly for seeing to it that he took to the ring in difficult circumstances – the details of which are currently unclear.
In round one, it was Hogan who immediately took the initiative, trying on three occasions to land his overhand right to little success. Kelly ultimately produced the more solid work in the opener; the Mancunian landed a sharp right hand to Hogan's rib cage before popping the Kildare man with a solid right uppercut.
The Irish Aussie – a native of Kilcullen – was more rhythmic in the second, jabbing his way in towards Kelly and landing his first shot in anger by way of a cuffing right cross. The taller Kelly again found Hogan's body but to less effect, while the more mobile Irishman continued to tip-toe in an attempt to find his way past a tight guard.
Hogan controlled the distance far better in the third, exerting control with clever bursts; a lunging right hook got Kelly's attention to begin with, before Hogan – seemingly growing in confidence – enjoyed the better of fleeting exchanges towards the bell.
Kelly responded impressively in the fourth – his body work again prevalent while Hogan struggled to build on the momentum he'd gained a verse prior. The larger Brit bundled him towards the ropes as the first third drew to a close, eventually finding his target with a thudding right to Hogan's solar plexus.
Kelly might well have been up 3-1 at this juncture, but Hogan scarcely looked panicked when they emerged for the fifth; it was the Kildare man, on this occasion, who fired a couple of bullets to Kelly's side and got out of dodge. He finished it the stronger, too, rubber-stamping his momentary superiority with a tidy left hook to close proceedings.
He began to motor nicely in the sixth, and – a thudding Kelly left hook to the temple aside – enjoyed his most dominant round to that point. Looping right hands invariably found the Englishman's whiskers, while a sharp left hook at the tail-end of a mid-round exchange was bang on the money. In what had been a nervy bout for the 18 minutes, there was a swagger to Hogan as he strutted to his corner at the halfway mark.
A couple of stinging bursts were probably enough for him to nick the seventh, too, though his best shot – a snapping straight right to the jaw – was met by a concrete left to the body from his adversary.
Halfway through eight, Kelly started to prowl forward in an attempt to impose his will physically. He backed Hogan to the ropes, and though the adopted hometown fighter initiated the exchange which followed, it was Kelly's jarring right to Hogan's left cheek which particularly caught the eye in what was another clear round for the visitor.
Having interrupted Hogan's brief momentum, Kelly again marched forward to begin the ninth, but was thwarted by a clever right uppercut in a neutral corner. Kelly, though, found a home for his jab and kept Hogan on the back foot. 'Hurricane' replied with a huge right cross to the temple, drawing a roar from the raucous Brisbane crowd. Tidy work at the death might have been enough for him to steal a round Kelly had controlled for almost two minutes.
A couple of nice 10th-round counters by Hogan were the pick of a messy stanza, with both men frequently tying up and doing the funny waltz; another cheeky right uppercut was the only other moment of any real quality as Kelly for the most part spoiled.
The penultimate round saw Hogan really grab the impetus, and in stark contrast to the 10th, it was he who did most of the prowling as a tiring Kelly began to retreat. A couple of flashy combinations saw the Irishman rattle Kelly with two chopping rights – one of them bouncing the admittedly unhurt Kelly back towards the corner. Hogan's footwork was particularly prevalent as the 11th progressed: with a pep in his step, he manipulated proceedings nicely, finally opening the fading Kelly up for the odd barrage. It was the most definitive round of the fight, and it went in the Irishman's favour.
The final entry was a bit of a write-off as far as quality was concerned, and difficult to score for either man. Kelly did land a decent left to Hogan's jaw, but the only real moment of note saw him almost fall out of the ring as the pair bounced off each other near the ropes. With Kelly slumped backwards precariously, Hogan attempted to take his head off but didn't do too much damage with three wild swings. Both men wrestled to the final bell, which seemed to sound a couple of seconds prematurely as Hogan launched one last attack.
This writer scored an extremely close contest 115-113 in Hogan's favour, but even prior to the scores there seemed to be no doubt in either fighter's mind who had edged it: Hogan was swarmed by his celebratory team and gym-mates, most of them – including WBO World welterweight champion Jeff Horn – green-clad. By contrast, Kelly headed for his corner looking forlorn in spite of his stellar effort.
Any suspense vanished when the first two scores of 119-109 and 117-111 were read to an already jubilant crowd, many components of which had by this stage unfurled tricolours.
Hogan marches on towards the title, while Kelly – a descendant of Carlow and Kilkenny – loses only a title shot in gallant defeat.
"It feels exactly like I imagined it for the last couple of weeks, you know?" Hogan said post-fight.
"I visualised it. I have a great team around me. I have great support. At home, my family life is great – everything is looked after.
"The fans that came along tonight – unbelievable support. Thank you very much. Everyone watching back home, everyone watching around the world – thank you very much.
The best is yet to come, so sit back, relax, and watch me become a world champion.
Hogan, who has been through the mill himself in the past, then alluded to some private difficulties Kelly had endured in the lead-up to their bout, thanking the Mancunian for following through on their fight regardless:
Also, before I stop, I want to sincerely thank Jimmy and his team for coming out here. It was a great fight with Jimmy. Jimmy put up a great battle – excellent for the fight fans. With everything in the build-up, everything that was said, and everything that happened here tonight, I'd just like to say that everyone is going through their own adversity – everyone has their own hills to climb; my message here tonight – and Jimmy's – is: 'Just go for it. Keep your head held high, come twice as strong.
"Thank you very much to Jimmy for overcoming his adversity. Everybody else, keep your chin high: you can get over it."
He invited the magnanimous Kelly to take the mic.
"All I want to say is congratulations to Dennis," Kelly said. "I got beaten by the better man tonight. All I can say is I miss my family. There's been an awful lot of stuff that's been going on behind the scenes this week, and I'd just like to say thank you to every person who pulled with me this week to get this fight over the line.
Not many people know, but the fight was touch and go until a couple of hours ago. The people that were supposed to protect me weren't protecting me. But we pulled through. We got the fight, and Dennis was the deserved winner. He'll go on to win a world title.
"We said it – whoever loses – we should do it again. I have huge respect for Dennis.
"Even though I'm a loser tonight, I've got a moral victory feeling. I showed that I'm a warrior tonight. I can't say a lot about the situation, but I showed I have a lot of bottle, I got in the ring."
Hogan replied: "Jimmy Kelly, I'll definitely negotiate with you for a rematch when I'm a world champion – back in the 3Arena in Dublin!
"Mandatory for the world title. I've dreamed about this for the last nine years. It almost feels real to me. I'm just bridging the gap, now."
Hogan's promoter, Paul Keegan of DPP Sports, added:
I just want to say one thing: Jimmy Kelly – we've talked a lot of shit in this camp, between both camps – but Jimmy Kelly has the heart of a fucking lion. He could have walked away. The shit we went through over the last 24 hours to get this fight across the table… He's a real man standing in the ring.
"This man deserves everyone's gratitude, here. He put himself in this fight tonight. We would love to work with his team again.
"We want that world title right here in fucking Brisbane."
The fight will be broadcast on delay – free-to-air – on eir Sport this Monday evening.