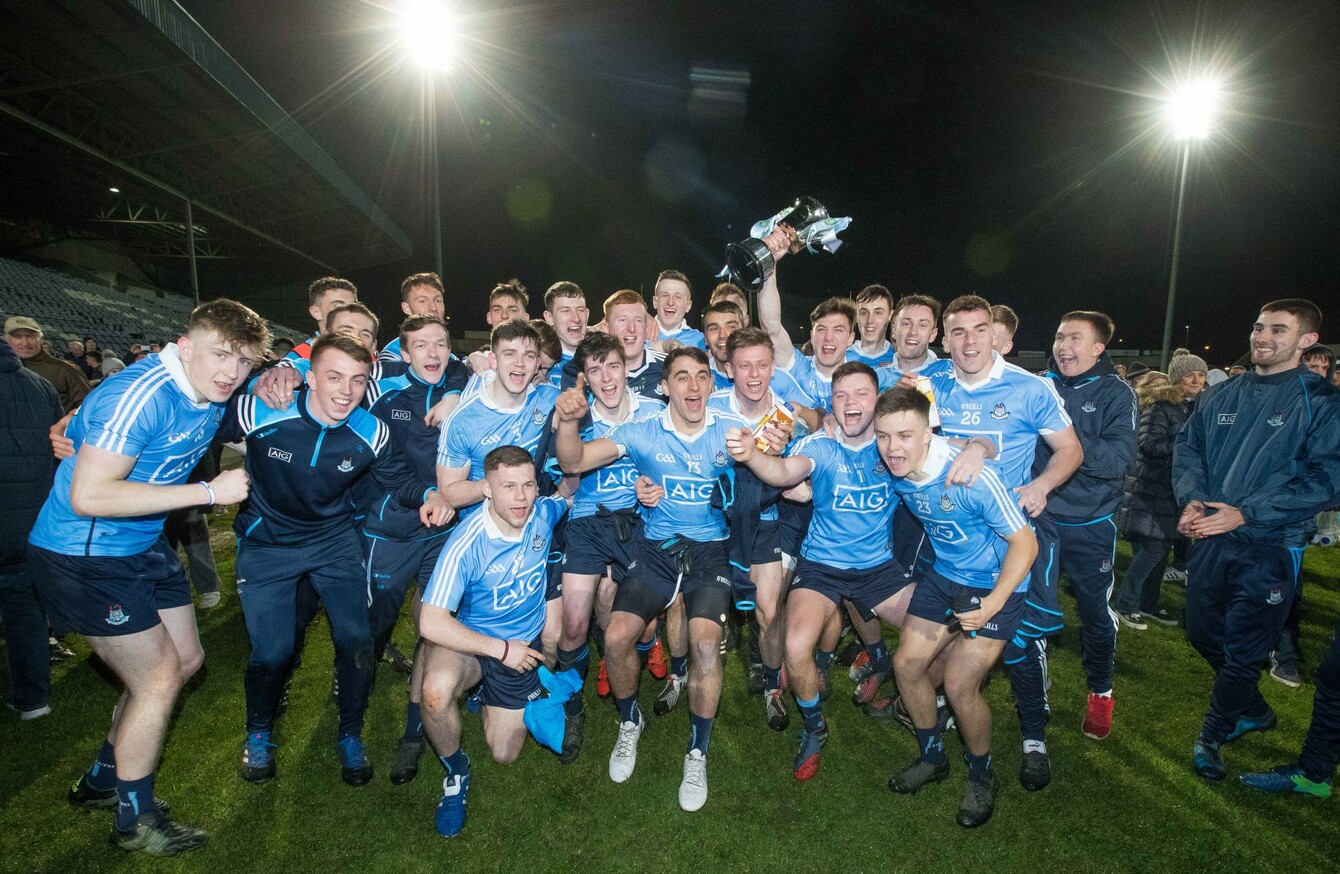 Image: Morgan Treacy/INPHO
Image: Morgan Treacy/INPHO
DUBLIN'S PREVIOUS THREE Leinster U21 finals were won by an average of just four points, but they had 12 to spare over Offaly as they sealed a sixth provincial crown at this grade since 2009.
The Dubs looked comfortable throughout in what was the biggest margin of victory at this stage of the competition since the Sky Blues themselves hammered Longford back in 2003. They never really threatened to catch fire in a game riddled with unforced errors and poor shooting from both sides.
Still, a fourth provincial crown in-a-row was annexed for Dublin, and a record 14th overall.
Now in his fifth campaign as U21 boss, Dessie Farrell hasn't suffered a defeat in Leinster since 2013, but he's well aware of the greater challenges that lurk outside the province.
He led his native county to All-Ireland glory in 2014, but Dublin were beaten in the All-Ireland semi-finals of 2015 and 2016.
Farrell believes their performance level needs to go up a notch or two if they're to go all the way this time around.
"Definitely, I don't think that will be good enough," he said after the game. "I think everyone got a sense of that, the players, management and whatever support that was down from Dublin.
"Sometimes that can be a good place to be and the challenge for the group is can we move it to another level because we simply have to.
"The U21 competition is very different to the senior competition. It's a much more competitive age group and the competition is stiff. We're very happy of course to have won four in-a-row.
"We've got to this point for the last number of years, three years running and we've gone no further, so that's the challenge for us is what lies ahead at this stage.
"There's some really strong teams left it in. Kerry are an amazing side at the minute and Ulster will be really, really strong so. But look we're in the mix and that's what we set out to do coming to Portlaoise this evening and we've achieved that."
Less than two weeks on from lifting the All-Ireland hurling title with Cuala, Con O'Callaghan was delighted to pick up more silverware in O'Moore Park.
"You take the trophies as they come, you won't always get them," he said. "Take them whenever you can. It was really important for us to get out of here with the win and that's what we came to do.
O'Callaghan continued: "We're not anywhere near an All-Ireland final yet, we'll play a semi against the Ulster champions. I'm sure we'll have a celebration tonight but it'll be straight back into work soon."
His four-point show wasn't quite as electrifying as his semi-final performance where he bagged 2-5, but O'Callaghan was more supplier than poacher and gave the pass for Tom Fox's first-half goal.
The 2o-year-old said he had no trouble settling back into the squad after his club commitments ended.
"You just have to reset goals, reset targets and just get back into work, get back into the team. There's a great buzz around the squad so it wasn't too hard."