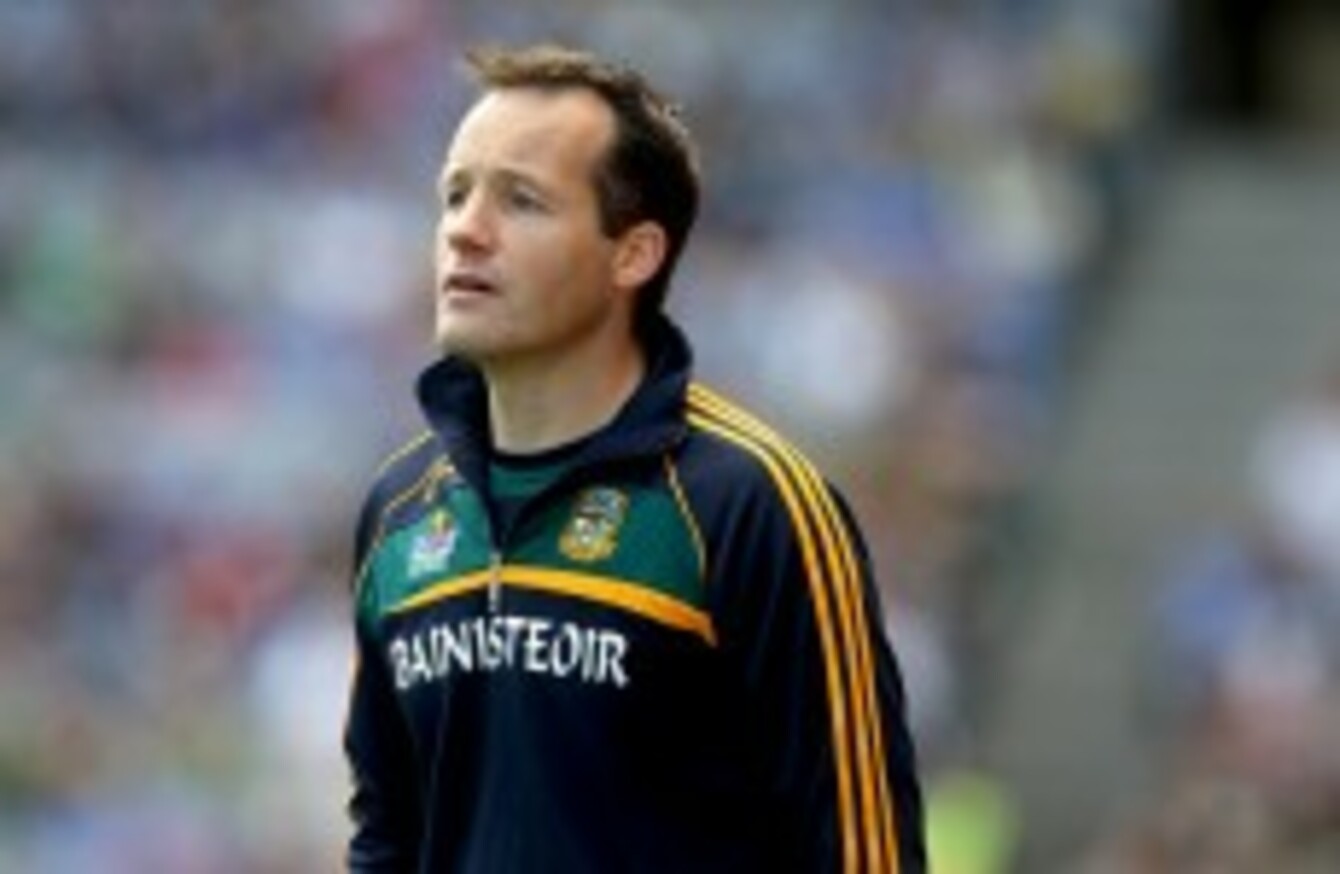 Image: Ryan Byrne/INPHO
Image: Ryan Byrne/INPHO
MEATH MANAGER MICK O'Dowd conceded his side were well and truly beaten, as they lost out 3-20 to 1-10 against Dublin in Croke Park yesterday.
While complaining that a "crucial decision didn't go our way" during a "crucial moment in the game," O'Dowd insisted that he was "not making excuses" and suggested his team can only improve by playing against top sides more regularly.
"Coming into the game we knew that Dublin would show us huge respect from the progress that we've been making," he said. "We were expecting one of their best displays of the summer, which I think they gave, but we were bitterly disappointed with the performance we gave because I don't think it reflected us properly.
"Look, there's a gap in terms of that physicality and intensity that you have to be comfortable playing at, as a unit. I think some Meath players gave outstanding displays but as a collective, Dublin had a higher standard. For us to improve and develop we have to become a top-eight team, that we're more comfortable as a group and that each individual is comfortable playing at that level."
Asked why Dublin's victory over Meath was so much more comprehensive compared with their encounter at the same stage last year, he suggested the Dubs were much improved and no longer underestimate the Royals.
"I'd say there might have been an element of surprise in our performance to them last year, which wasn't there this year. I think they are probably a step on from last year looking at them. They were quite clinical. I know there were a couple more chances they could have took. We weren't as clinical as we needed to be. We were the challengers today. We needed to take every chance."
O'Dowd felt his side may have suffered a "nervousness," while also expressing frustration at the fact that a seemingly legitimate Stephen Bray goal was controversially disallowed.
"You obviously wouldn't come in here and say it was the difference, because it wasn't. But at that moment in the game we wanted to withstand the onslaught that would come… I think there were six points in it at the time, that would have been reduced to three and that would have been good for our momentum. As the challenger you need the decisions going your way."
The 40-year-old manager also dismissed suggestions that it would be difficult to re-focus for their upcoming qualifier, while once again emphasising the need for his team to be playing regularly at a higher level.
"I think you have to be consistently competing with the top eight, because that's how players adjust to it and adapt to it and develop as individuals. There were some Meath players out there today that were outstanding in my book. A couple of young players came in as well and did really good things. That's what we'll keep doing. We'll keep developing the squad and developing the team.
"Dublin were in this position five years ago against Kerry. You either sink or swim, either stand up and become better by playing teams like the All-Ireland champions, or you just walk away from it. That's one thing we won't be doing."