Liveblog
Flag
Flag
Throw-in is at 3.30 and we'll hear from our man at GAA HQ, Fintan O'Toole, a little later. But plenty of pre-game material to whet your appetite.
First up, Mayo star Aidan O'Shea, who gave his thoughts to The42 this week. He knows Dublin better than most and he offered his take on what makes Jim Gavin's men tick.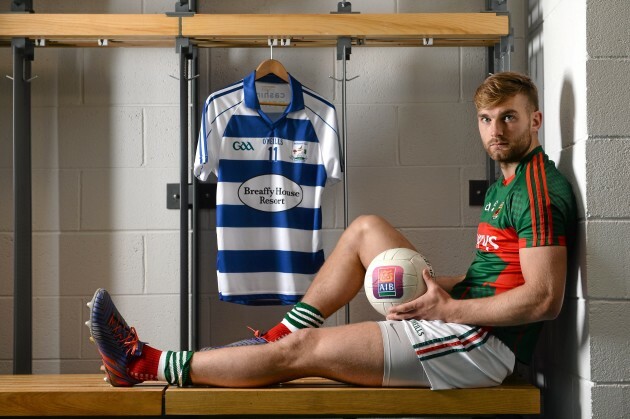 Breaffy GAA Club are official suppliers of Aidan O'Shea to Mayo GAA. AIB are proud to be backing Club and County this season Source: Brendan Moran/SPORTSFILE
Dublin's efficiency in front of goal compared to ourselves in the replay was a lot greater. Their bench is very, very strong. We didn't cope with it the second day with MacAuley, Fitzsimons, Kevin McManamon and Alan Brogan all making a difference. They were probably the two key areas that they had the edge."
Flag
O'Shea reckons Cian O'Sullivan – who has been named in the Dublin team despite a hamstring injury – will be a crucial element in today's clash: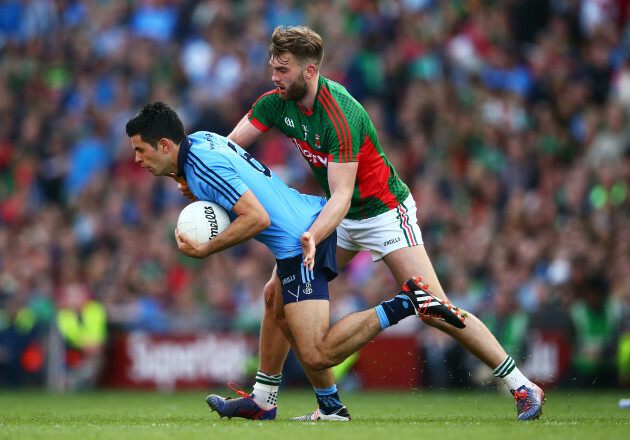 Source: Cathal Noonan/INPHO
I think Cian O'Sullivan is critical to the game. I don't see an obvious replacement to fill his shoes if he's not playing. I think they've missed Ger Brennan at number six in the last year but he's filled the void quite well. He can play anywhere and if he's not playing, it'll be a big negative for Dublin.
Flag
And how does O'Shea feel this game is going to go?
"You'd have to say Kerry have an advantage at midfield. That's where Cluxton comes into the game in keeping the ball away from them and limiting their involvement. David (Moran) and Anthony (Maher) size wise alone, they're hard to play against.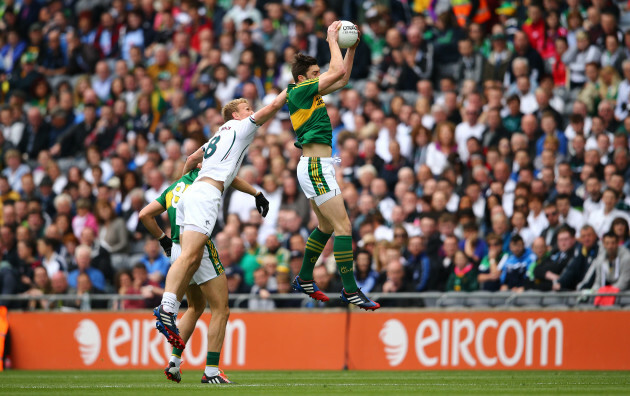 Anthony Maher rises highest during the quarter-final win over Kildare. Source: Cathal Noonan/INPHO
"It's a very short turnaround for Dublin, by the time you come down from the high of the semi-final win. But I do think Dublin have probably had a tougher test in the last couple of games. I fancy Dublin just by two or three."
Flag
It's already been a terrific day for Kerry – their minor team absolutely cruised to the minor title after a one-sided affair at Croke Park a little earlier.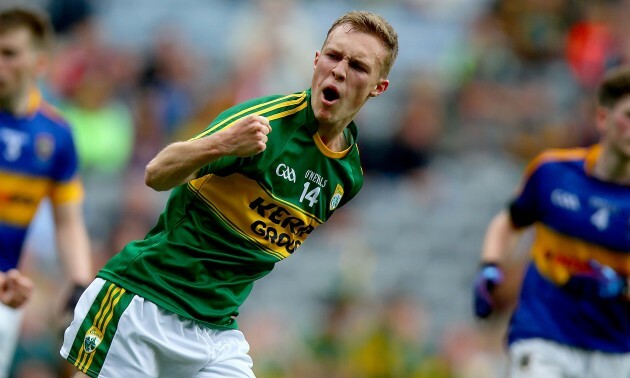 Source: Donall Farmer/INPHO
That's successive titles for Jack O'Connor – whose trophy cabinet is over-flowing at this stage.
Read Fintan O'Toole's report right here.
Flag
The Kerry team are out on the pitch for their warm-up. No late changes expected for the Kingdom – in contrast, according to RTE's Colm O'Rourke, to their opponents today. He's anticipating Jim Gavin has some tricks up his sleeve regarding team selection.
Flag
They're finally on the field right now! They like to keep us waiting, don't they?
Flag
The latest from our man at Croke Park, Fintan O'Toole.
Big news is that Dublin are starting Cian O'Sullivan and that the rain is cascading down upon Jones' Road.
Twenty minutes to go to throw-in here, finishing touches being put to both sides warm-up's. Cian O'Sullivan, Marc Ó Sé and Paul Murphy – the injury concerns this week – all taking a full part.

Weather conditions not great here as the rain is falling, Kerry have come through two monsoons already this year against Cork and Tyrone, could that slight edge tip the scales?

Cracking clash in prospect but I'd expect a cagey start with both sides easing into it."
Flag
So, we can remind you all of the lineups for both teams now that the starting XVs are confirmed.
Here's how Dublin will look:
S Cluxton (capt.);

J Cooper, R O'Carroll, P McMahon;

J McCarthy, C O'Sullivan, J McCaffrey;

B Fenton, D Bastick;

P Flynn, D Connolly, C Kilkenny;

P Andrews, D Rock, B Brogan.
Flag
And here's how Kerry will start the game.
B Kealy;

F Fitzgerald, A O'Mahony; S Enright,

J Lyne, P Crowley, K Young;

A Maher, D Moran (C)

S O'Brien, J Buckley, D Walsh;

C Cooper, P Geaney, J O'Donoghue."
Flag
Flag
Flag
We're almost ready to go. Conditions will surely be central to how the game goes. It's damp, the pitch will be greasy and footing will surely be affected. Anyway, the parade has started. And we're very close!
Flag
Both coaches rocking the heavy-duty tracksuit and baseball-cap combo. The RTE cameras are doused with rain drops. It's grey, overcast and a real soggy day at Croker. Here's hoping the football will brighten things up.
Flag
Flag
Dublin 0-01 Kerry 0-00: And just 15 seconds gone it's Fenton who points from distance after good work from Diarmuid Connolly. At the other end, Maher puts it wide.
Flag
3′ - And we've started frenetically here. Paddy Andrews does well down the right, pushing his way towards the end line before fizzing in a low ball across the square.
Flag
4′ – VERY CLOSE! Dean Rock is suddenly one-v-one with Kealy but the keeper makes a superb stop from close range. Dublin have been terrific in these opening exchanges but that's a big early moment.
Flag
8′ – Dublin 0-02 Kerry 0-02: Rock taps over an easy free but will probably still be thinking of that missed goal chance. It was Bastick who created the space with a forward surge. Meanwhile, James O'Donoghue gets the Kingdom off the mark and they needed that from play. They've been second-best for the opening 8 minutes.  Paul Geaney adds another one after a quick free works a treat.
Flag
Kerry are frustrating Dublin's foundation though – that's Cluxton's kick-outs – and are pressuring them into going long. Just what the Kingdon want.
Flag
10′ - Kerry really should be in front but Buckley has kicked a poor wide from close in. Geaney tries his luck too, moments later, and it takes a touch on its way for a '45.
And that's a poor effort from O'Donoghue, stabbing the attempt low and wide. But moments later, another psychological edge gained by Kerry as Cluxton's latest kick-out is plucked out of the air by a pair of Kerry hands.
Paddy Andrews has clashed with Anthony Maher and the Dubliner has come off second best. A heavy blow and he's receiving treatment.
And that's a fifth wide for Kerry inside the first 15 minutes and the game has turned scrappy here after a superb opening. Donncha Walsh the latest to miss the target.
Rock puts it wide for the Dubs after a neat build-up – Brogan changing the angle of the attack and laying-off to Rock bursting through at pace. Poor effort.
Dublin 0-02 Kerry 0-03: The Kingdom in front for the first time as Cooper creates for O'Donoghue and he has his second of the afternoon.
Dublin 0-03 Kerry 0-03: Rock sends over his second free of the game and we're all-square again.
Dublin 0-04 Kerry 0-03: Dublin are getting a bit of joy in their right corner. The latest move sees Philly McMahon drive through and almost set up Kilkenny for a goal chance. Still, moments later, Dublin get a free and call Cluxton up to take it. He lands it. And they're back in front.
As we mentioned, the greasy pitch isn't helping the demonstration of football skills. Players are losing their footing so even the most simple of tasks are proving difficult occasionally. David Moran has put another effort wide and Kerry need to stop being so wasteful in front of goal.
BOOKING! The ball bounces away from Connolly as he tries to drive towards goal. But it's Colm Cooper (who's dropping really deep) who is there to pick up the loose one. Connolly slide tackles with his studs up to try and regain possession but only succeeds in catching Cooper. It's very reckless and he's booked. Conditions or not, that's silly.
Dublin 0-04 Kerry 0-04: O'Donoghue picks it up wide right and does well to pick out Geaney inside. He shoots just before being clattered by two Dublin defenders and it's over the bar. Still, he requires some treatment. Conditions getting worse, by the way.
Dublin 0-05 Kerry 0-04: Bernard Brogan does well to take control, when everyone is slipping and sliding and falling around him. Conditions playing havoc here but Dublin in front again and Brogan is up and running.
Colm Cooper chases a ball that's about to bounce out of play and, for some bizarre reason, flings himself in the air in an attempt to, eh, try a bicycle kick? James McCarthy is right behind him, gets whalloped and crashes to the ground in a heap.
Dublin 0-06 Kerry 0-04: McCaffrey just about squeezes the ball over the bar – Kerry players want it to go to HawkEye but referee David Coldrick is happy with it. Dublin by two.
Dublin 0-07 Kerry 0-04: Arguably the best score of the game. It's well-worked and Paddy Andrews knocks it over.
Kerry are really struggling to find any gaps in the Dublin defence and are being bundled up, hassled and harried. They have no answer and are probably desperate for the break here.
Dublin 0-08 0-04: And that's huge for Dublin. It's Philly McMahon who gets this – we mentioned him getting forward earlier on – and he's scored in this final, the man he's marking – Colm Cooper, hasn't. That says plenty.
A chance right at the end of the half for Kilkenny to make it a five-point lead for Dublin. But he drops it short after Kerry cheaply gave away a free further out. Brogan did well and offloaded but his colleague in the Dublin attack couldn't deliver a killer blow.
Dublin 0-08 Kerry 0-04 – AND THAT'S HALF-TIME! 
Well, Kerry have struggled after initially doing well in reading Cluxton's kick-outs and frustrating Dublin but as the half has gone on, Jim Gavin's side have adapted much better to the game. They've taken the scores , Kerry have kicked a lot of wides and don't have much in the way of creativity in the key attacking zones.
James McCarthy can jump very high.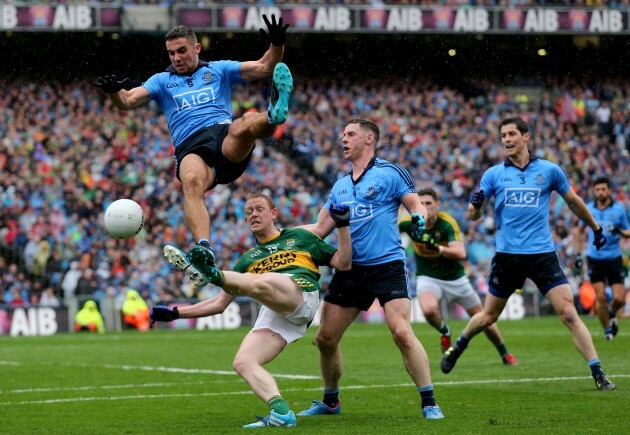 Source: Ryan Byrne/INPHO
From our man at Croker, Fintan O'Toole:
A double score lead looks huge in these testing conditions. Dublin took control in the second quarter and Kerry have plenty problems to contend with before the start of the second-half. Really difficult game to play in, it's a lottery frequently trying to claim possession. Dublin in the driving seat though."
Darran O'Sullivan is on for the second half here. Stephen O'Brien has made way. And Kevin McManaman is on for the Dubs. It could be Dean Rock who has made way.
Dublin 0-08 Kerry 0-06: Well, a good start from the Kingdom as Lyne curls over an excellent score. Moments later, O'Sullivan – just introduced – whips over a magnificent point. That's quite a response.
The other thing about Kerry getting scores is that they have Dublin's number on their restarts. Cluxton again hit a poor kick-out after O'Sullivan's point.
VERY CLOSE! Another goal chance for Dublin as Andrews bears down on goal and fires a shot that bounces just wide of the post. What an opportunity.
Dublin 0-09 Kerry 0-06: Bernard Brogan knocks over a free with Dean Rock having been replaced by McManaman. And another change for the Dubs – MDMA is on and Bastick makes way.
Dublin 0-09 Kerry 0-06: Cluxton is summoned to take on a difficult-looking free and it drops short. Kerry make a mess of clearing their lines and Paul Flynn puts it wide from a good position.
Another wide from Kerry as O'Donoghue takes it on from miles out and it drifts wide. Meanwhile, Bryan Sheehan is on for Buckley as Kerry call in the cavalry.
Dublin 0-10 Kerry 0-06: VERY CLOSE! Well, Flynn has tapped over a point but the big moment came just before it when Fenton ran through on goal and suddenly it all opened up. He seemed set to take his point but then decided to go for goal. The low shot smacked the post and what a let-off for Kerry. At the other end, Darran O'Sullivan drives a shot well wide. Kerry all over the place.
Dublin 0-10 Kerry 0-08: O'Donoghue turns and whips a left-footer over the bar and Kerry badly needed that. Meanwhile, Dublin have made another change as Fitzimmons is on for Cooper. But the big news is that Kieran Donaghy is off the bench for Kerry and there's O'Sullivan who's dropped another one over the bar. Well, they're enjoying these quick two-point hits, aren't they?
The changes keep coming here and John Small is in for Dublin and McCaffrey is off. That's surely injury-related? Cluxton is being called up for Dublin again here and Donaghy gives him a little tip as he heads forward.
And that's wide from Cluxton. You'd forgive Dublin for thinking 'How are we just two points ahead?'
Brogan tries his luck but it's high and wide. Kerry are still in this, have lived a charmed life on occasion and haven't even started playing yet. And here comes Paul Galvin…
35-year-old Galvin comes in and it's captain David Moran who makes way. Could Kerry do this? Where is the inspiration going to come from?
BLACK CARD! It's Aidan O'Mahony who takes down McManaman and he's gone. Paul Murphy is sprung from the bench. Another potential game-changer? Well, Brogan makes a mess of the subsequent free and it's still a two-point game.
Dublin 0-11 Kerry 0-08: Darren Daly on for Cian O'Sullivan while Barry John Keane is on for Kerry – James O'Donoghue is off. Meanwhile, Paul Flynn knocks over for the Dubs and that's his second of the game. Less than ten minutes to go.
BOOKING! McMahon has got a yellow after Coldrick is alerted to his, ahem, treatment of Colm Cooper. The referee has a word and dishes the card.
Big chance for Kerry from a placed ball but Bryan Sheehan puts it wide. A pretty central position and it drifted wide at the last minute. Is the game drifting away from his team here?
Dublin 0-12 Kerry 0-08: Cluxton is called up for a '45, the clock winds down and it's wide.    
Dublin 0-12 Kerry 0-08: There's your moment. At one end, Donaghy plays in Young who only has Cluxton to beat and he fumbles the ball in the slipper conditions with the goal gaping. Dublin get it forward and Alan Brogan – just after coming on – kicks a wonderful score.
Kerry can't keep the ball and are conceding cheap frees in desperation. We're mightily close to the 70th-minute and Dublin thoroughly deserve this, to be honest.
Kerry are furious that a penalty wasn't awarded for a foul on Donaghy. We've just seen a replay here and he was dragged to the ground with no attempt to play the ball – in fact, the ball was still in the air.
Dublin 0-12 Kerry 0-09: Bryan Sheehan has tapped over a free and we've still got 2 minutes of injury time left.
AND THAT'S FULL-TIME!
DUBLIN ARE ALL-IRELAND CHAMPIONS! 
Flag
Well, only one team deserved the victory. Dublin controlled things in what was an under-inspiring, weather-affected final, really.
Kerry never got going and were frustrated for long periods. They desperately hung in though – Dublin had a great goal chances in both halves but spurned them. In the end, it was a three-point game but easily could've been six, seven or even more such was Kerry's inability to create anything of note.
It was scrappy but the Dubs will take home Sam for the third time in four years.
Thanks for staying with us throughout the afternoon. Plenty more reaction and analysis on its way this evening.
Contribute to this story: