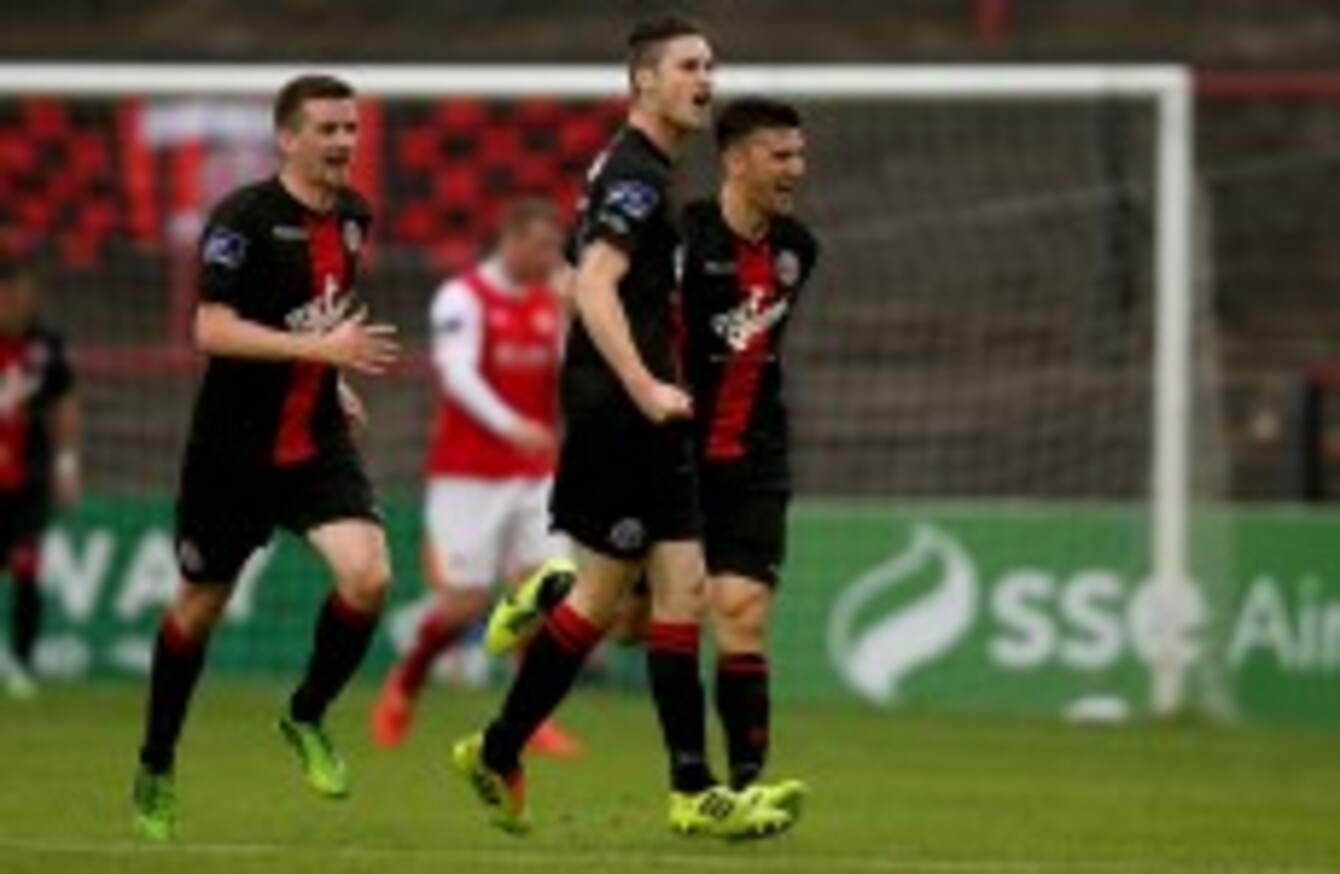 Wearen celebrating his goal against St Pat's a fortnight ago.
Image: Donall Farmer/INPHO
Wearen celebrating his goal against St Pat's a fortnight ago.
Image: Donall Farmer/INPHO
WITH TWO VITAL goals in his last two matches, any League of Ireland fans previously unaware of Bohemians' Eoin Wearen will certainly be familiar with his name by now.
The former West Ham United youngster signed for Owen Heary's side back in May, a fairly low key acquisition outside of the season's two big transfer windows.
The 21-year-old had been training with Bohs since March, initially in a bid to keep his fitness up as he searched for a new club.
Long term injuries had cut short his time in England and trial spells at several clubs, including Mick McCarthy's Ipswich Town, Colchester United and Southend, ended in disappointment for the Dubliner.
Now though, having signed on at Dalymount Park until the end of the season, Wearen has become established in the Gypsies line-up, proving himself an invaluable fixture in a new look midfield pairing with Roberto Lopes, his former Republic of Ireland U19 team-mate.
His two goals in two games, against Limerick and champions St Patrick's, have helped his team to a valuable four points in a season where they've struggled for consistency.
Contributing goals from a defensive midfield position has firmly put Wearen in the spotlight too. He was earmarked for special praise on last week's Soccer Republic by Stuart Byrne.
The more games I play, I'm getting consistency and getting better," Wearen told TheScore.ie ahead of tonight's visit of title-chasing Cork City to Dalymount.
"I'm up to speed now. Clubs across the water told me that after ten months out, I was a gamble but I'm confident now that there's no doubt about my fitness.
"After a week or two of training with the team, the manager sat me down and said he wanted to bring me in, if I was interested. I needed games, first and foremost.
"When you take that into consideration, and I only live ten minutes down the road, I took them up on the offer straight away. I just wanted to get back playing football."
Wearen has endured his fair share of setbacks. Two major ligament injuries put paid to his cross-channel hopes, for now at least. In terms of playing regular first team games, he admits he has some catching up to do.
"When I signed, I was drooling at the prospect of three games in a week. By the time the season ends, I won't miss it!" he admits, although ideally a chance to return to England is high on his agenda.
The versatile midfielder never made a competitive first team appearance for West Ham before his release a year ago. A short loan spell at Dagenham and Redbridge in League Two comprising of two substitute appearances was the sum total of his first team experience across the water.
After rupturing his ACL in 2012, the Glasnevin man was released from his contract at West Ham the following June. Alongside senior pros like Carlton Cole and Gary O'Neill, Wearen was among the many players shipped out to slash an excessive wage bill.
"Looking back, I was harshly treated. When I got injured, I was told not to worry and that whatever time I'd miss, I'd get back. By April, I was running again and close to a return. Ultimately, it was Karen Brady who made the decision, not the coaching staff. She slashed the wage bill and didn't take my injury or position into account."
A trial at Southend followed and soon after another serious injury, this time his medial ligament on his other knee.
"That was frustrating," he recalls. "But now, I'm just glad to get some stability and have a base to work on with Bohs."
When a young player finds their time at a top side at an end, finding another professional club can be a precarious business, especially with serious injury to contend with. Bohemians' latest star is taking nothing for granted these days, however. 2014 has been a harsh one.
In April, Wearen saw two close friends in the game lose battles with cancer; Graham Parkinson, who the 21-year-old regularly played against while at St Kevin's Boys, and Dylan Tombides, the young Australian who he played with at West Ham for four years.
Long term injuries have put his career in jeopardy but nothing compares to the loss of his friends.
"I played with Dylan for four years. It was a shock to hear the news although obviously we knew he was ill for a long time. You never think someone you see every day and who has that character, charisma and life about them will be taken away. It was a hard time for everyone.
"Graham was a fantastic player. He was someone I had played against at a very young age, when he was playing in midfield for Belvedere," he remembers.
"Probably even to this day, he was the player I hated playing against the most. He would snap at your ankles and he was lively even though he was only half my size. He never gave me time on the ball. He was a fighter on the pitch and he fought for many years off it.
When you see people like Dylan or Graham and what they had to go through, it puts things in perspective.
"Football is perhaps, other than family, the most important thing in my life, but you forget that your health is as well. You can't take this for granted. I have the opportunity that many people want. You have to take that with you. You want to grasp this opportunity with both hands."
The next opportunity for Wearen and his team-mates is the chance to de-rail Cork's title hopes at Dalymount Park tonight and pick up a long overdue first home league win of the season in the process.