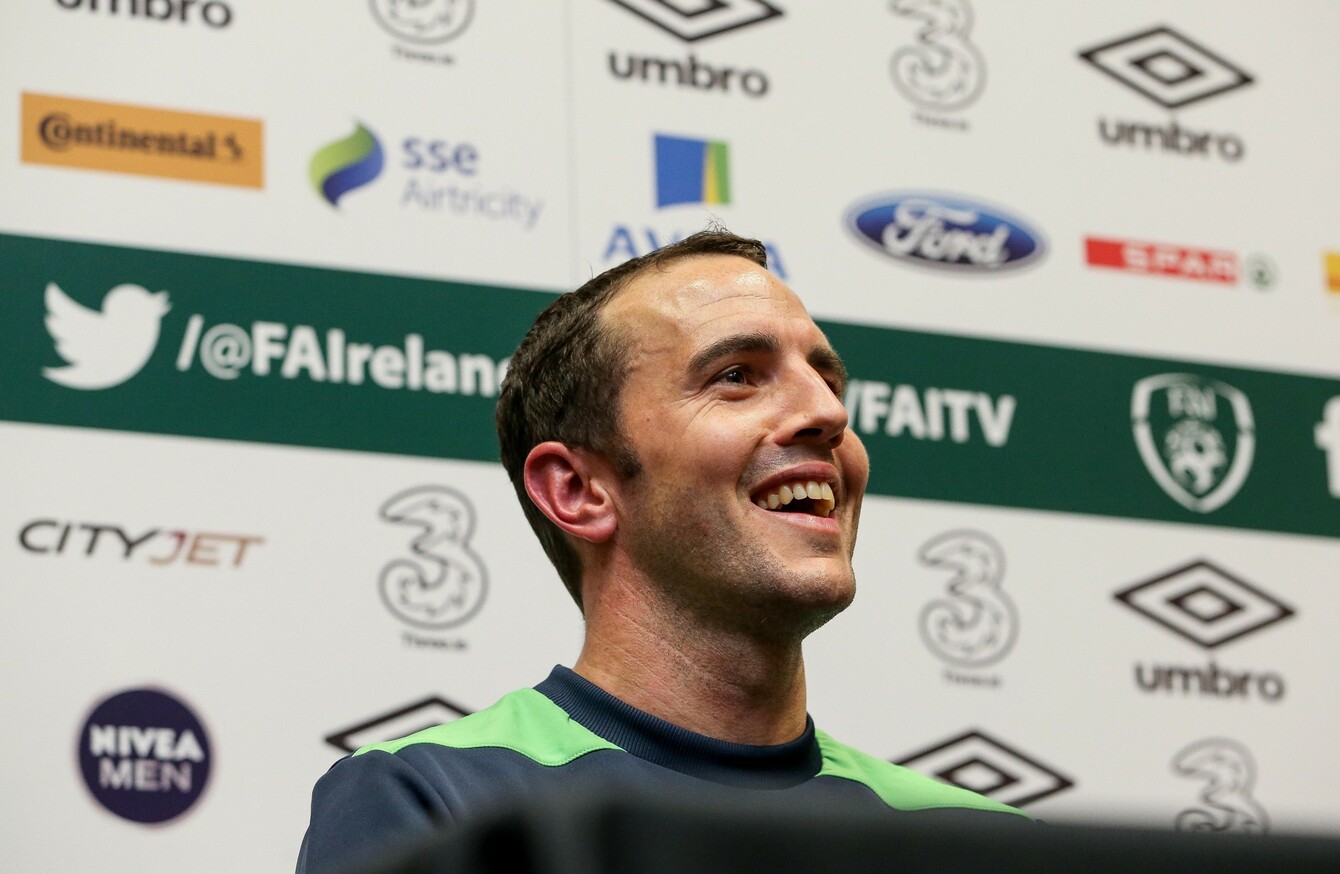 John O'Shea pictured at the Republic of Ireland Press Conference today.
Image: Gary Carr/INPHO
John O'Shea pictured at the Republic of Ireland Press Conference today.
Image: Gary Carr/INPHO
JOHN O'SHEA HAS admitted it's "a case of waiting to see" if he makes Ireland's starting XI for Euro 2016.
O'Shea was dropped from Sunderland's team for the end-of-season run-in, but the player insists the setback won't have an impact on his Ireland form.
"I've played plenty of games throughout my career for club and country to know that I'll be ready if needed and when called upon.
"Fitness has never been a problem for me throughout my career.
"When you're out of the team you're doing extra work and different things to stay on top of things and making sure you're ready."
Martin O'Neill confirmed the veteran centre-back will start against the Dutch tomorrow night, explaining that he "needs a game," but whether the Waterford native has a prominent role in France is less certain.
Asked whether losing his place at Sunderland could mean he misses out on an Ireland starting spot, O'Shea replied:
I hope not. It's one of those things where, when I picked up a knock, the lads came in and did there stuff, and thankfully we stayed in the Premier League
"Competition for places is key and that's what we need to make sure performances stay high, so that's something I'll be looking to do if I get the chance to play."
Recalling the 2002 World Cup, a young O'Shea missed out on selection then, but the former Manchester United player said it was no surprise that he wasn't picked.
"I hadn't come in to train or meet up with the squad in 2002. It wasn't as if I got very close to going.
But if the manager is telling you there's still a possibility of some places available, you'd be delighted all day with that, because then what you do in a match can get you in that 23 and even then, if there's a last-minute injury and you've impressed, the manager's mind is made up — he has a lad ready to go who's shown the right attitude."
O'Shea is also confident the Boys in Green can avoid a repeat of their disastrous Euro 2012 campaign.
"The atmosphere and enthusiasm around the group has obviously got stronger throughout this campaign… It's a different squad, different management, there are lots of different elements involved in it to make you believe that it's going to be very different."
With the experienced centre-back now 35, there has been speculation that O'Shea will retire from international duty after Euro 2016. Yet the player dismissed reports that he had already indicated his intention to hang up his boots.
What I was trying to say is I'm not going to get involved with that to say 'this is the last tournament' or this or that.
"I'm just enjoying the next game as it comes and that's all I'm going to do going forward."
The42 is on Snapchat! Tap the button below on your phone to add!