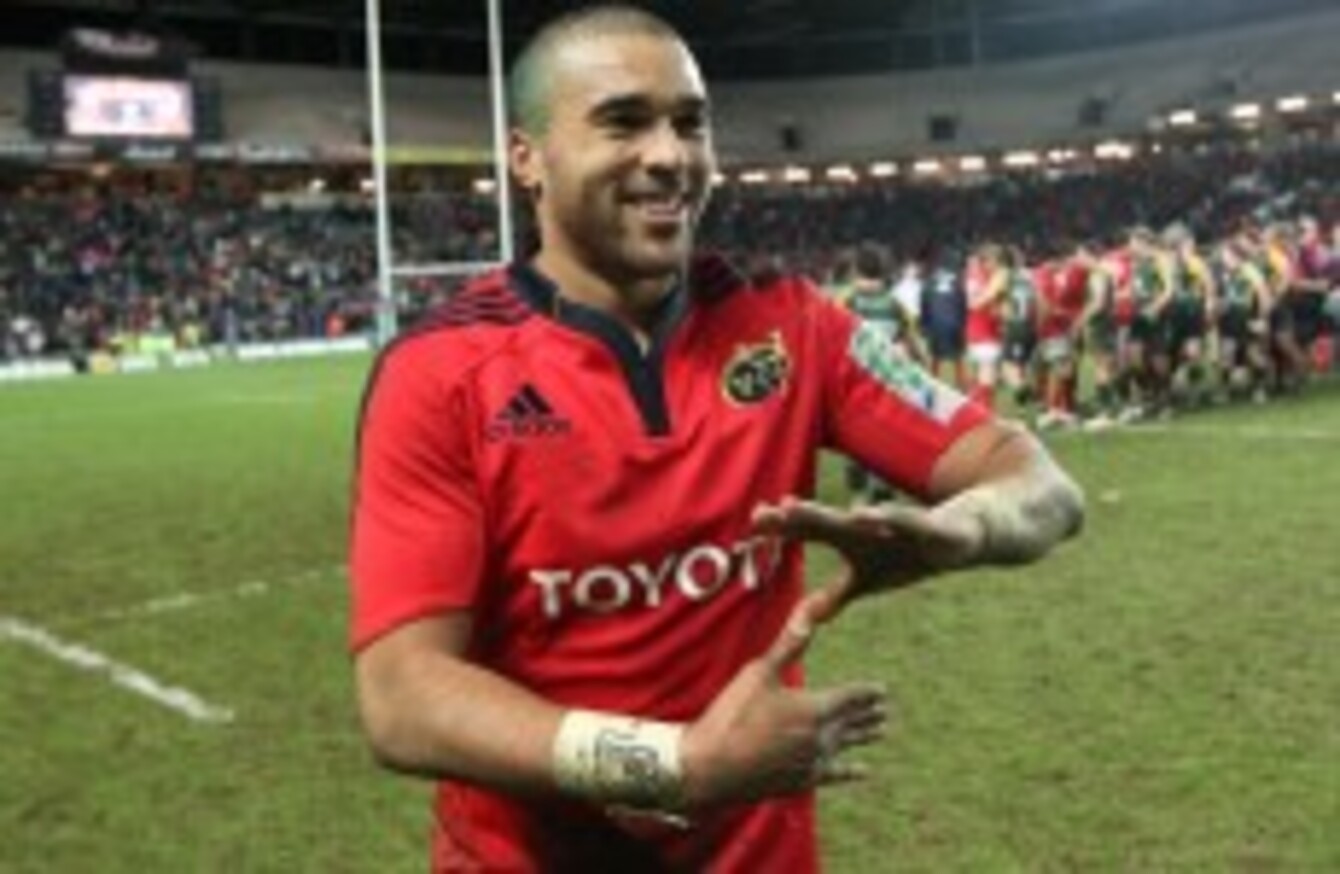 'You've been Zeboed!'
Image: ©INPHO/Billy Stickland
'You've been Zeboed!'
Image: ©INPHO/Billy Stickland
SECOND TIME LUCKY Ireland will (keep those fingers crossed!) play France in the Six Nations this weekend.
So who better to follow than a man who, not only has some in-depth knowledge of the Ireland camp, but also has a familial rivalry with the French.
Simon Zebo is more than a lightning quick winger and expert finisher. He also considered turning pro at table tennis after watching Forrest Gump three times in a row.*
Luckily for Munster, that didn't quite work out.
Unfortunately for his Munster teammates, he must he sated by thrice-daily trips to the big green table with the net down the middle – as it's known round the Zebo house*.
Something else, you may not have known about the 20-year-old is that he's Gooner, but he hasn't always been.
When he's not beating his team-mates at table-tennis he's schooling them at FIFA and he can regularly be found tearing it up round Havanas.
So don't get too close to the man or he'll make you feel slightly ineadequate at any of your favourite hobbies.
Follow him  from a safe distance on Twitter @SimonZebo. A helpfully straightforward handle
The Z man on: Screen sirens.

The Z man on: Rebelling against your parents.

The Z man on: Better things than Havanas of a Friday night.

The Z man on: Keeping his options open.

He chose poorly.

The Z man on: Heroes on the wing.

Now that he mentions it, his build is not dissimilar to Joe Rokocoko, is it?

The Z man on: His meteoric rise.

You've come a long way since the A squad baby.

The Z man on: That big commute.

The Z man on: His first tweet after THAT hat-trick in Northampton.

The Z man on: One wild night.

Well... actually, he was just watching Ross Kemp on Gangs.

The Z man on: Lording a table-tennis win over his rival for the Ireland no.11 jersey.

The Z man on: Family trust issues.