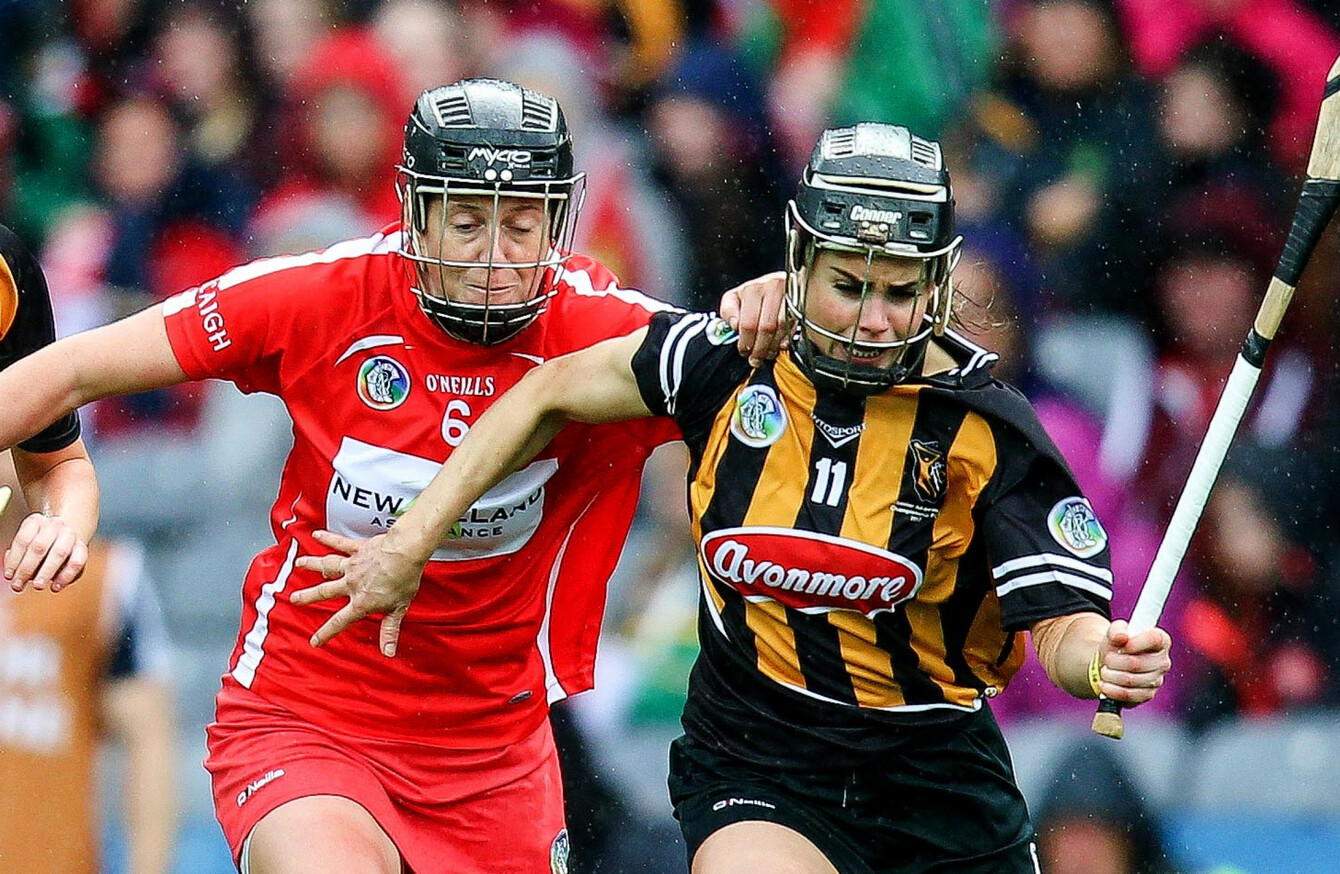 Cork's Gemma O'Connor battling for possession with Katie Power of Kilkenny during yesterday's All-Ireland final.
Image: Gary Carr/INPHO
Cork's Gemma O'Connor battling for possession with Katie Power of Kilkenny during yesterday's All-Ireland final.
Image: Gary Carr/INPHO
CONTROLLED AGGRESSION WAS one of the key factors for Cork as they regained the O'Duffy Cup at Kilkenny's expense.
That was the verdict of the Rebels' veteran centre-back Gemma O'Connor in the aftermath of their 0-10 to 0-9 victory over the Cats at Croke Park yesterday.
Despite carrying a knee injury into the game, O'Connor defied the odds and played the full hour of her 13th All-Ireland senior camogie final.
The win delivered an eighth medal for the decorated St Finbarr's clubwoman, as her side avenged their defeat to Kilkenny in last year's final.
O'Connor struck a huge point to bring Cork level late in the game, before Julia White fired over the winner in the dying seconds. Afterwards, O'Connor told Newstalk's Oisin Langan that it was the most satisfying of her eight final victories.
"Coming into this game, we had won seven and lost five [finals]. Sometimes you concentrate on the negatives, you think about the ones that you lost," she said.
"Last year we never got going from the get-go. We failed to get into the game. We didn't have a performance. Mentally or physically we weren't where we wanted to be. We knew this year that we were definitely capable of it.
"Coming into the second half, Kilkenny really got on top and we were kind of saying to ourselves: 'Oh no, is this their purple patch here?' It could have been a draw as well but yeah, this has to be the sweetest win I think."
O'Connor also admitted that the Cork players felt they had a point to prove this year after falling four points short against Kilkenny in the 2016 decider.
The 32-year-old said: "I suppose there was a lot of negative media and press towards us this year. We just wanted to kind of prove ourselves. We knew what we were capable of. We didn't want to kind of focus too much on other teams.
"We needed that performance. Look, it wasn't a great performance by any means but I think psychologically we were probably fitter, we were kind of mentally tougher and I think it came down to a psychological battle."
O'Connor, who was sent off in last year's final after being shown a second yellow card, also explained the significance of the letters 'CA', which were written on her arm during yesterday's game.
"I've always kind of worn my heart on my sleeve and tried to go out and give it my all. By no means am I a dirty player but I do sometimes feel that I'm a bit targeted coming out. Sometimes I feel like I have to kind of hold back, like I'm going to get pulled for frees or anything like that," she said.
"That just means 'Controlled Aggression' — just be on the ball and have that bit of control. I was devastated after getting sent off last year. It was a great turnaround this year. I suppose composure and patience is what did it for us today."
The nine-time All-Star added: "Coming into the championship this year, we just had to say 'don't give into the bullies', I suppose. 'Don't be drawn out by it'. I remember in the Wexford game that we played down in Páirc Uí Rinn, I got hit off the ball numerous times. If I didn't react then I was never going to react.
"Sometimes players are targeted and that's just the nature of the game. Just control yourself, have that aggression to get on the ball and hit the ball with conviction, but don't be giving away silly frees or don't be getting drawn out."