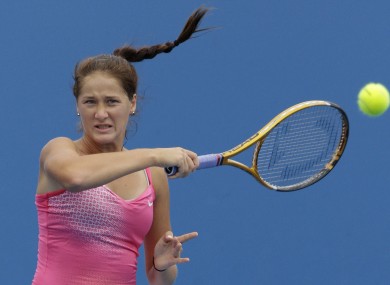 Jovanovski arrived at the correct venue just minutes prior to her match.
WORLD NUMBER 53 tennis player Bojana Jovanovski found herself in an embarrassing situation recently.
Not only did the player lose 3-6, 6-4, 6-1 in the San Diego Open to ninth-seeded Roberta Vinci, but she only arrived at the venue 15 minutes before she was due on court following a mix-up with travel arrangements.
The BBC reports that the player had accidentally travelled to Carlsbad, New Mexico – 900 miles away from her intended destination of Carlsbad, California.
Recalling her mishap, Jovanovski told reporters: "They said they were at the airport and looking for me. I said I was the only person here."
The official then asked: "Are you in Carlsbad in California or in New Mexico?"
The mistake was quickly discerned by both parties and Jovanovski took an early flight to California on the morning of her match, arriving just in time to participate.
19-year-old Jovanovski is considered to be one of tennis' brightest prospects. She made her Wimbledon debut in 2010 and was the youngest player in the top 100 at the end of that season.