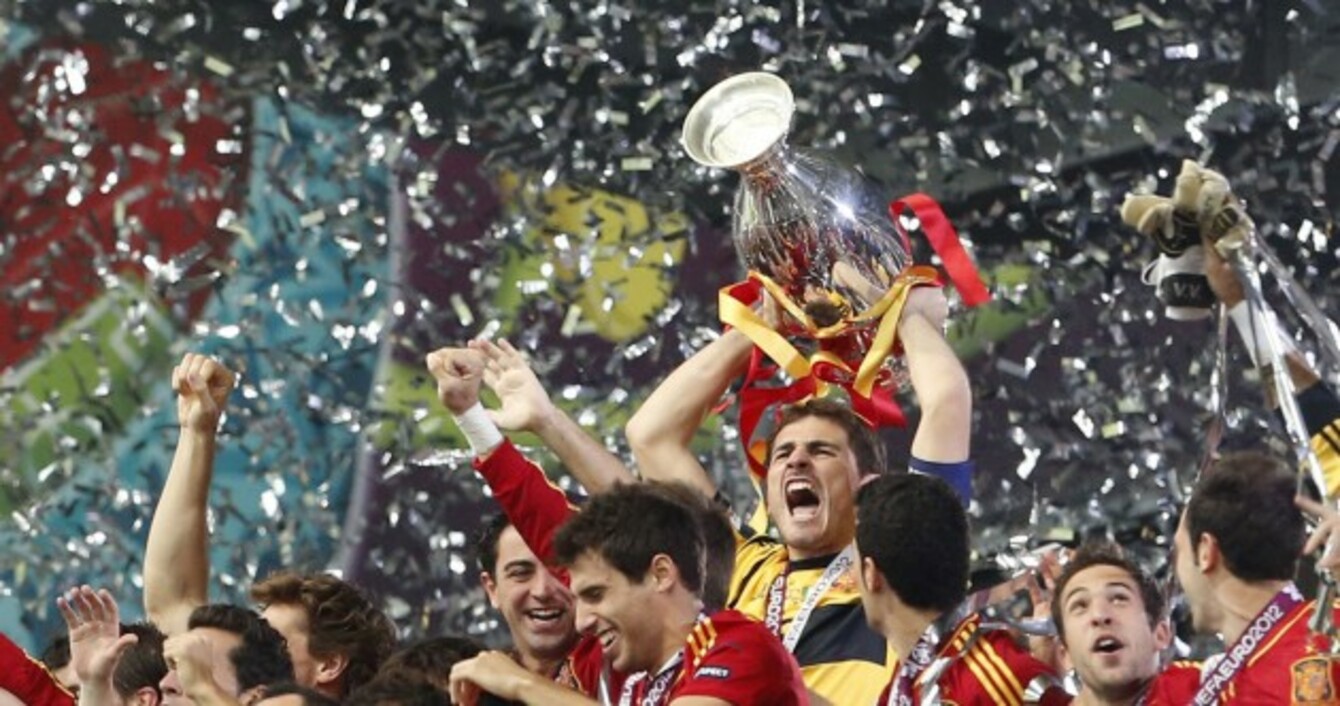 Spain goalkeeper Iker Casillas lifts the trophy after the Euro 2012 final between Spain and Italy.
Spain goalkeeper Iker Casillas lifts the trophy after the Euro 2012 final between Spain and Italy.
"THE GROUP OF people whose souls I fear for and who I won't condemn as outright halfwits are those who are sheep-like and see an emotion and follow it."
It's past 1.30pm on a Friday and Graham Hunter hasn't had his lunch. He is, by his own admission, a little cantankerous as a result. However, it's unlikely his answer would be much different were it conceived on a full stomach. I have just asked him about the critics who — during Euro 2012 — accused Spain of being boring.
He suggests the individuals in question "f**k off… And you can quote me on that!"
His response is hardly surprising though, given that he has just dedicated a considerable portion of his life to writing a book, entitled Spain: The Inside Story of La Roja's Historic Treble, in which he documents what he believes is "the greatest achievement in the history of international football" — namely, as its title suggests, the Spanish national team's triumphs in three successive major tournaments.
His passion for this subject shines through, and thus, he reacts almost as if he has been personally insulted upon being reminded of those skeptics who are less than enthused by La Roja's success.
Yet while Hunter can be "aggressive," as he admits himself, when discussing football, his responses are the antithesis of rants. In general, he speaks in a slow and methodical manner, carefully covering all aspects of a question and expanding upon it, before pithily returning to the original point and summarising his feelings in a sentence or two.
"I do accept that people are entitled to interpret things the way they wish to," he says. "But I also fear for the souls of people who want Premier League football to get better but are blind enough not to accept there's an intelligence and a strategy behind the way Spain play.
"And these same people want their clubs to be successful and dominant. They're unwilling to sacrifice anything about the kick and rush or the theatrical football they see. They don't want to see any element of chess involved. When opponents try to blunt you and block you and tire you and put up a stone wall against you — games may have boring phases, but Spain use their possession not to kill other teams off in terms of 'we'll bore you to death'. Spain always want the ball in order to attack. They will always attack. Spain are in a constant search for gaps so they can exploit them and score. And if there was anything boring about the 4-0 game against Italy in the final, then somebody's got to tell me what the hell it was.
"Where I get angry is — Spain scored exactly the same amount of goals in Euro 2008 and Euro 2012 — and in Euro 2008, they were rewarded for spark and intelligence and technical ability and they were the darlings of the world. At Euro 2012, people said [in a moany voice] 'yeah, well, there weren't enough goals and they weren't exciting enough'."
(Spanish fans watch the Euro 2012 semi-final match between Spain and Portugal — Andres Kudacki/AP/Press Association Images)
Hunter at times speaks with a near-religious fervour when describing the Spanish team and it figures. You would need to be pretty passionate to leave your natural surroundings, when under no obligation to do so, and go live in a foreign land, primarily for a love of their national sport and the manner in which they play it.
Yet, this is exactly the path Hunter chose in the early 00s, moving from London to Barcelona after being originally bedazzled by Spanish football and culture after witnessing the 1982 World Cup first hand. He has since produced a book apiece on Barca and the national side. Yet it was hardly a calculated decision to cash in on their respective successes. When he moved to the country, the international team were seen as notorious chokers, while Barcelona had not won a major trophy for a number of years. It was simply good fortune that both sides were about to undergo a period that would encompass unprecedented levels of success.
And unsurprisingly, amid this footballing renaissance, having only attracted sporadic interest in Britain and Ireland previously, Spanish football is now regarded as box office, with several games currently being screened on Sky every week.
"It's been packed full of genius," Hunter explains. "Irrespective of the fact that Spanish football has been the best in the world over the last ten years by a distance, you can look at trophies — at club level and internationally. You can look at the pound-for-pound records. What seems the most clear-cut answer is that Spanish club football has been backed by brilliant buys like Luis Fabiano and Kanoute and Aguero and Ronaldinho and Eto'o — fabulous talents like Riquelme and greats that other leagues have envied and wanted to buy. Zidane, Figo, Ronaldo…
"If you throw in the fact that Spain has been producing a generation and a half of utterly exceptional footballers whose technical skills, winning attitude and transformation from being glass-jawed internationally to dominant is the stuff of all great sporting tales. It doesn't matter if you're talking golf, swimming or trampolining. If you've got a team or a country where no one can understand why their potential hasn't been fulfilled and then suddenly, their potential is fulfilled, you've got a great human story.
"The thing that inspires me is that I've been around all-time greats like Iker [Casillas], Alonso, Iniesta, Xavi… and Senna. People don't realise what a fabulous footballer he was. He was the lynchpin of that 2008 side. Also, high-quality thinking, high-quality training, over the last ten years."
And yet despite their considerable success, the Spanish players still invariably come across as remarkably grounded and humble individuals.
"It's one of the things that's impacted me most. Not all the players are like that. If you have time to talk to a Ramos or a Pique, they're extremely flamboyant and they're very sure of themselves and while they are good people that have very clear-cut values, you wouldn't immediately say Scholes-like or shy or humble, but the ones you're talking about, whether it be Alonso, Xavi, Iniesta or Iker, they are exactly as you describe them. David Silva, Cazorla — there is a very big difference to the atmosphere in which they work.
(Spanish soccer fans celebrate their victory against Italy in the Euro 2012 final — Angelo Carconi/AP/Press Association Images)
"With humility comes an ability to interact and keep unity within the squad. To make allowances for people that you don't know that well  or who've kicked lumps out of you a few months ago and who you've got to live with in a poxy Polish training camp for six weeks."
Some critics, notably Eamon Dunphy, have argued that international football is not as strong as it once was, owing to a variety of factors, such as player apathy. However, Hunter rejects these claims, and the subsequent inference that such circumstances partially facilitated Spain's dominance on the world stage.
"Look at Del Piero's age. Look at Buffon's age. Look at the way in which South American footballers, in order to play for their countries, have to travel a minimum of 20,000km on an international get together. To go back to play at altitude, to go to three or four time zones, if they're playing three games within the nation, they may travel 30,000 km, they come back to their clubs with their sleep patterns completely f**ked, they may pick up an injury, it may take them three weeks to get their club level back at Juventus, Milan, United or Barcelona — and that may cost them their place in the team.
"You see it happening all the time. You see players clinging on and wanting to play like Cafu or Roberto Carlos, until they can't lift a leg anymore. You increasingly see international footballers go the other way. Veron tried to force his way into the international team aged 35, 36. I have absolutely no identification for anyone that says they've seen a broad trend for increasing player apathy at international level.
"Unless people are talking about footballers in the Premier League who play for one of the home nations and who say, 'we're never going to a tournament and therefore, I'm going to prioritise my club'. And they're in the vast minority.
"When international players are very good, they give away their summers. Summers where they could be with their families, they could be recuperating, they could be on the beach, they could be earning money from sponsors. They go and lock themselves away in boring training camps where, unless you're in Spain, you don't have your family or your kids around you."
And while Hunter believes Spain's achievements supersede any other success story in the history of international football, he believes their level of dominance can be emulated — even by sides who ostensibly lack their technical prowess, such as England.
"I have a giant admiration for Gary Neville as a footballer and analyst — the way in which he picks apart a game on the hoof, with very little time in between seeing and saying. He frustrates me in that he's very bullish and umbilical about 'we are England, we've got a very specific character, we're too down on it and we've got to back it'.
(Spain's Andres Iniesta holds up the World Cup trophy — Bernat Armangue/AP/Press Association Images)
"I'm with him 96% of the way and then, the missing 4%, I think if England would make a shift or adjustment and say, we cannot rid ourselves of the DNA elements about it being quick, about it being aggressive, about there being a fairly small time lapse between winning the ball and getting towards the opponent's goal and winning a lot of challenges aerially and being hungry for the game physically. All these things I wholly agree with and if you attempt to strip that DNA out, then you'll be doing the wrong thing and you'll fail. It's counter-productive.
"Where they are far too slow as a nation to make adjustments is to look at Spain and say, Spain almost always had the technical outlook that they've got now. They didn't always have Xavi or Iniesta or Alonso or Iker or Torres. They put high priority on many of the things that remain high priority now, but one of the things that changed Spain was they identified the crucial 5% of DNA in the English game that they could suck out and transplant into their game and become dominant with.
"Physically, they became more competitive, better able to cope with referees who are more liberal in terms of their interpretation of the game. Playing for 93 minutes instead of 83 minutes. Being better organised on and off the pitch. The vast influx of DNA intelligence that was brought back from Fabregas and Pique and Alonso and Reina and Torres from England to Spain helped them make the leap forward.
"And all that includes essentially the way in which young footballers are formed and taught, both at club and international level. And whether the national association gets a say in the formation of young footballers when they're contracted to clubs. So under certain circumstances, there's no question at all that England could and possibly should be at Spain's level."
It's obvious, both from listening to him speak and reading his words, that the book was very much a labour of love for Hunter. Nevertheless, it was not as romantic an experience as such a term may imply.
"It's brutal," he admits. "It's a complete pain in the arse to do. It swims against the tide for me. I've always been someone who's been involved in match reporting, interviews, press conferences, not investigations, but breaking a transfer story that a club doesn't want to give you. These are all work hard, work for periods of a day, an hour, a week, ten days, then turn it over — write it, review it, publish it, follow it up. This book is partly a product of 10 or 11 years of being in Spain, and it's a very elongated process and you think about it and discuss it for one hell of a long time.
"It's not coal mining and I'm not putting my life in danger, so I'm not looking for anybody to say 'boo hoo'. But if there's enjoyment to be had in putting a book together, for me it's solely when people read it and find it interesting and have enjoyed it. A lot of people from the Barca book said: 'I never normally read books, but I have read this one and I've enjoyed it.'
"If I can communicate a story well, and make readers say 'I've learned something' or 'I've enjoyed it' or 'it's changed my thought pattern' or 'it's made me change my view on a player or an incident or a match,' then I've done my job and I get some satisfaction. Most authors will buy themselves a few months or a year and not do anything except write the book, but I can't do that. Financially, I just don't have that room for manoeuvre, so I'm doing everything else at the same time, and I find it physically and mentally extremely hard work."
(Fans celebrate in a fountain at Barcelona's Plaza Espana after Spain defeated the Netherlands 1-0 to win the World Cup final — David Ramos/AP/Press Association Images)
Before I end the interview and belatedly let Hunter tuck into his lunch, there is one obvious last question that needs to be asked and which he's in a better position than most people to answer: can Spain win the 2014 World Cup?
"They are in a group of teams where they have the talent and the experience and the management and the defence, but I think their goalscoring right now is up for grabs. In their packet of strikers, they have enough to do it, but where will Torres and Villa's physicality and form be in June? How much does a first season in England take out of Negredo? Will Diego Costa fit in?
"They're in a group of teams who can win it. I think that group is extremely tight. I think you talk about Brazil, Argentina, Germany, Spain and I don't see a winner coming from out of that group and as such, and I make no bones in the book, because it's something that all the Spain coaches agree with — during their three-tournament run, they have had lucky breaks. Whether it be a refereeing decision, whether it be where their training camp is selected, whether it be opponents missing penalties or having injuries, these things have combined to be a small help to Spain's progress.
"And they found the humidity and heat — I stress humidity — in the north of Brazil last summer brutal. The first things that will begin to give you an indication of the question will be the draw on the 6th: in whose group do they land, but more importantly, in which part of Brazil does that schedule them to play? How much will they have to travel in order to get to games, because they want to get to games based near Sao Paulo.
"And every team bar Brazil have the capacity to go out in the group depending on the breaks… Brazil have too much going for them. They have home advantage. They ain't going out at the group stage and they must be strong favourites to win the tournament. So all results are available. But do I think there's a possibility that Spain will win a fourth-straight tournament? Yes, it's feasible."
'Spain: The Inside Story of La Roja's Historic Treble' by Graham Hunter is now available. More details can be  found here.