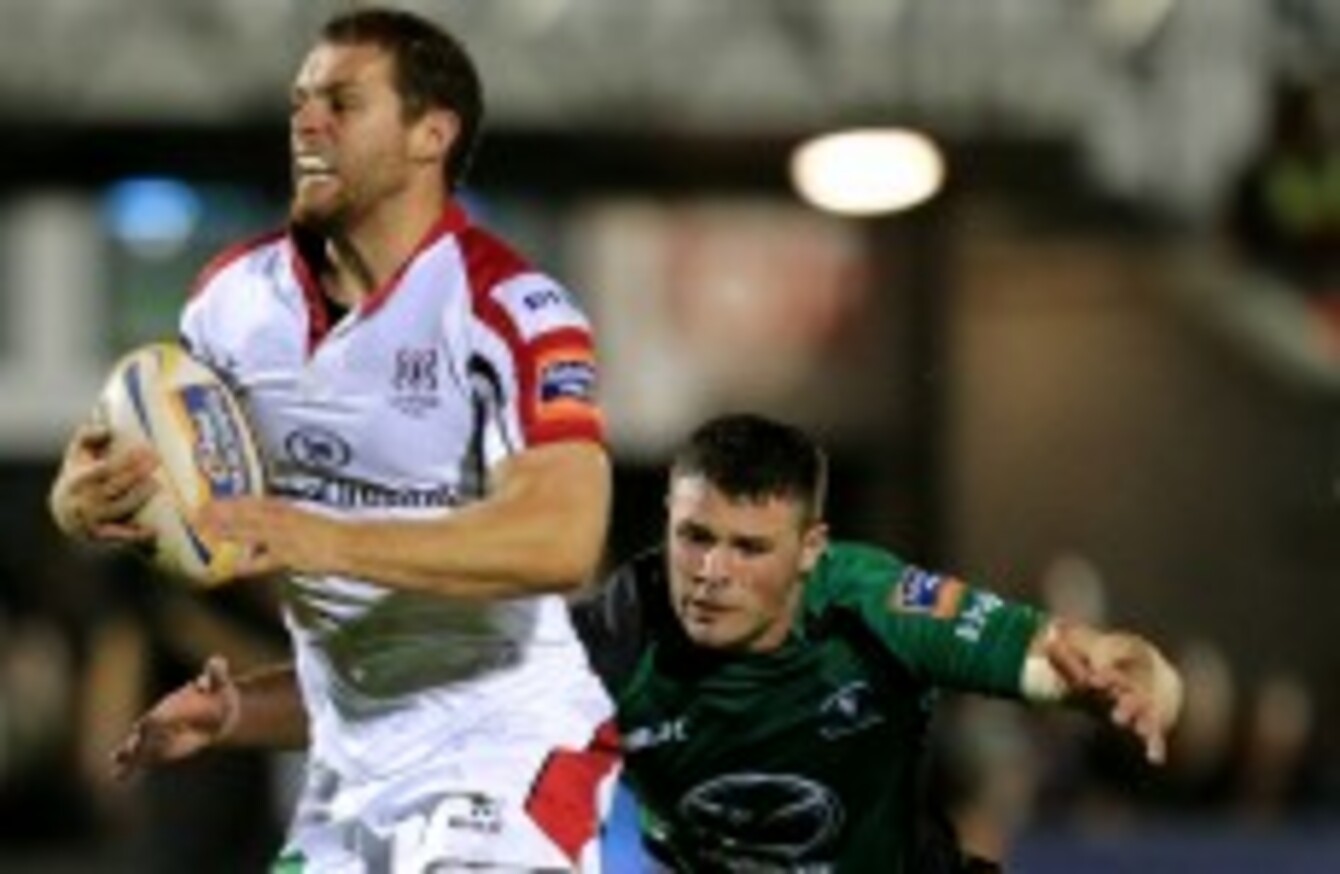 Cave and Henshaw are teammates this week.
Image: ©INPHO/James Crombie
Cave and Henshaw are teammates this week.
Image: ©INPHO/James Crombie
DARREN CAVE AND Robbie Henshaw are likely to be competing to replace Brian O'Driscoll in Ireland's number 13 jersey next season but this weekend, the outside centres will be playing alongside each other.
The Ulsterman and his Connacht counterpart make up the midfield partnership for the Wolfhounds clash with the England Saxons on Saturday, with Cave the man moving into the 12 shirt. It will be one of the most interesting aspects of the clash at Kingsholm, as it is a pairing that not too many would have seen as natural.
Cave has excelled at outside centre for Ulster over the past number of years, and he has always looked an out-and-out 13. Henshaw's form for Connacht with that number on his back this season has signaled that his future lies in the same channel.
Speaking after the announcement of the Wolfhounds XV this afternoon, assistant coach and Ulster back specialists Neil Doak indicated that he believes the duo will work well in tandem. The former Ireland 'A' international says there won't be an issue with balance in midfield.
No, it's about looking at combinations and looking at opportunities for guys. Cavey's played a lot at 13 and Robbie's played at 13. Cavey can bring that experience and that communication just outside Ian [Madigan]. It's just about trying to make sure that coming in from the provincial sides, they get the terminology and the calls clear.
"That's one of the strengths to Cavey's game – communication. That will be key, with Robbie giving us that strength and power on the outside edge as well. If we need to take it to the line, we've got more than enough ball carriers to do that."
Those are fair evaluations of both players, and the strength Doak highlights in regard to Cave is certainly something that is difficult to appreciate when one is not pitch-side. Likewise, the Ulster coach's mention of the physical gifts Henshaw brings to the party are accurate.
These are two different outside centres, with Cave having struggled to gain international exposure beyond Test matches against lower-quality opposition. There has been a legend of rugby barring the route for his entire career though, and at 26, Cave still has plenty of time to establish himself. There are no rules in international rugby that require players to break through before reaching a certain age.
Having said that, Henshaw appears to be the coming man of Irish outside centre play. His natural power and pace make him a frightening proposition to mark, and it would be fascinating to see him in a team that provides regular front foot possession. Unfortunately, the 20-year-old hasn't had that too often with Connacht this season, but his potential is there for all to see.
In a one-off match with several interesting sub-plots, the success or otherwise of Cave and Henshaw will be closely watched by Joe Schmidt and his staff.
[embed id="embed_1"]