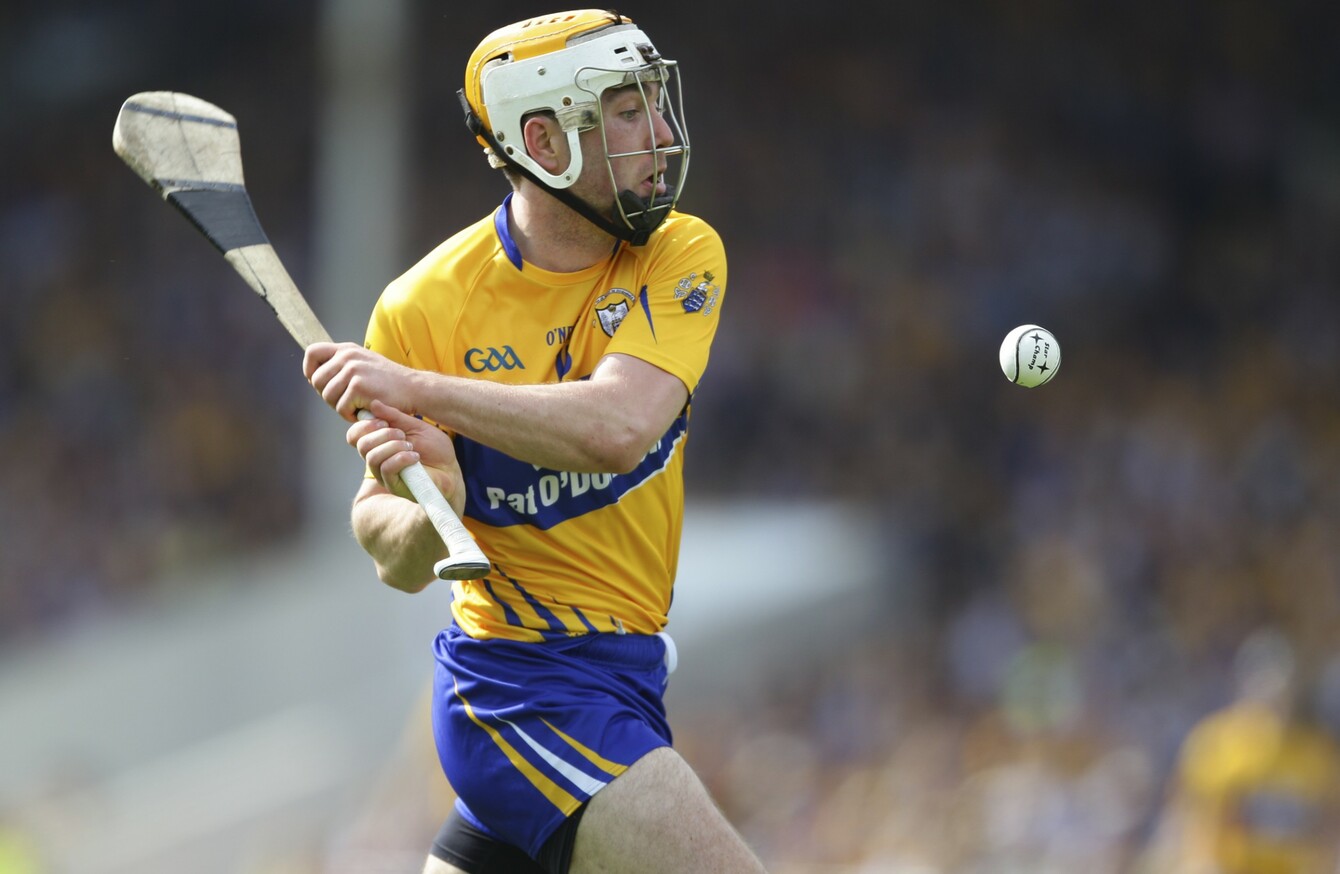 Clare star Conor McGrath was operated on by Patrick Carton, before winning an All-Ireland medal in 2013.
Image: Ken Sutton/INPHO
Clare star Conor McGrath was operated on by Patrick Carton, before winning an All-Ireland medal in 2013.
Image: Ken Sutton/INPHO
RENOWNED SPECIALIST PATRICK Carton has spoken openly about the hip injury epidemic sweeping through the GAA – revealing that 75 per cent of patients he works with are involved in Gaelic Games.
Carton, a consultant orthopaedic surgeon at Waterford's Whitfield Clinic, specialises in hip and groin surgery, and has operated on a host of top inter-county stars in recent years.
Speaking to Tipperary Mid-West Radio's Stevie O'Donnell, Carton said that the average age for surgery has dropped from 31 to 26 years of age in recent times, and he's putting that down to the intensity of training that causes progressive damage to the hip joint.
In a wide-ranging interview, Carton explained how it's not uncommon for players to arrive to his surgery seeking hip repair work, but that the damage is too great and hip replacement is the only option.
In those cases, players are forced to retire from contact sport and Carton says that he's operating every week "on ex footballers or hurlers in their 30s and 40s."
Carton said: "Unfortunately, every week we have a number of players who come to the clinic hoping to have sports hip repair surgery.
"The problems in their hips are there too long, often due to misdiagnosis but sometimes poor treatment and recognition of the problems they've had for years.
"The damage is too far gone and the advice for these players generally is to give up their sports and they're looking forward, unfortunately, to hip replacement in the not too distant future.
"It's a very sad thing – many players will leave the clinic very upset by this.
"It comes back to picking up this diagnosis at an early stage. Sometimes players don't know they have a problem.
The symptoms are often very mild to begin with – you have to look out for stiffness after activity, after training that night, the next morning getting up and finding it difficult to put your shoes and socks on, intimate pain in the groin, tight hamstrings and a feeling you have a general inflexibility around your hips.
"A lot of athletes put this down to a good training session, and down to normal getting stiff as you get older. You should never be stiff in your hips after a training session, other than general muscle tightness. If you have stiffness, you need to get it checked out."
However, Carton explained that early diagnosis is key and that keyhole surgery can lead to players resuming their careers without any great difficulty.
They are then monitored every one, two and five years going forward, and Carton has stressed the importance of screening players for potential problems on an annual basis.
Carton also revealed "a good bit of luck in the last five or so years" when treating a number of All-Ireland winning players.
He worked with Clare trio Cian Dillon, Conor McGrath and Darach Honan before they won All-Ireland senior hurling medals in 2013, and he added: "Plenty of players have come through from Kilkenny and this year we had four or five from Tipperary (including All-Star James Barry and Michael Cahill).
"It's fantastic to watch matches and see players I've been personally involved with doing so well afterwards."
But he warned: "Hip injuries are becoming increasingly more common.
"We're treating people from 16-36 years of age in sports, mainly GAA hurling and football, soccer and rugby to a lesser degree.
"75 per cent are involved in GAA sports, 10 per cent in soccer and six per cent in rugby.
"The average age of a player who we operate on is 31 – surgery at that age group is designed to repair damage rather than replacing in older age groups.
"The average age is decreasing – 2015 figures show that the average age for surgery was 26 years old."
The42 is on Snapchat! Tap the button below on your phone to add!