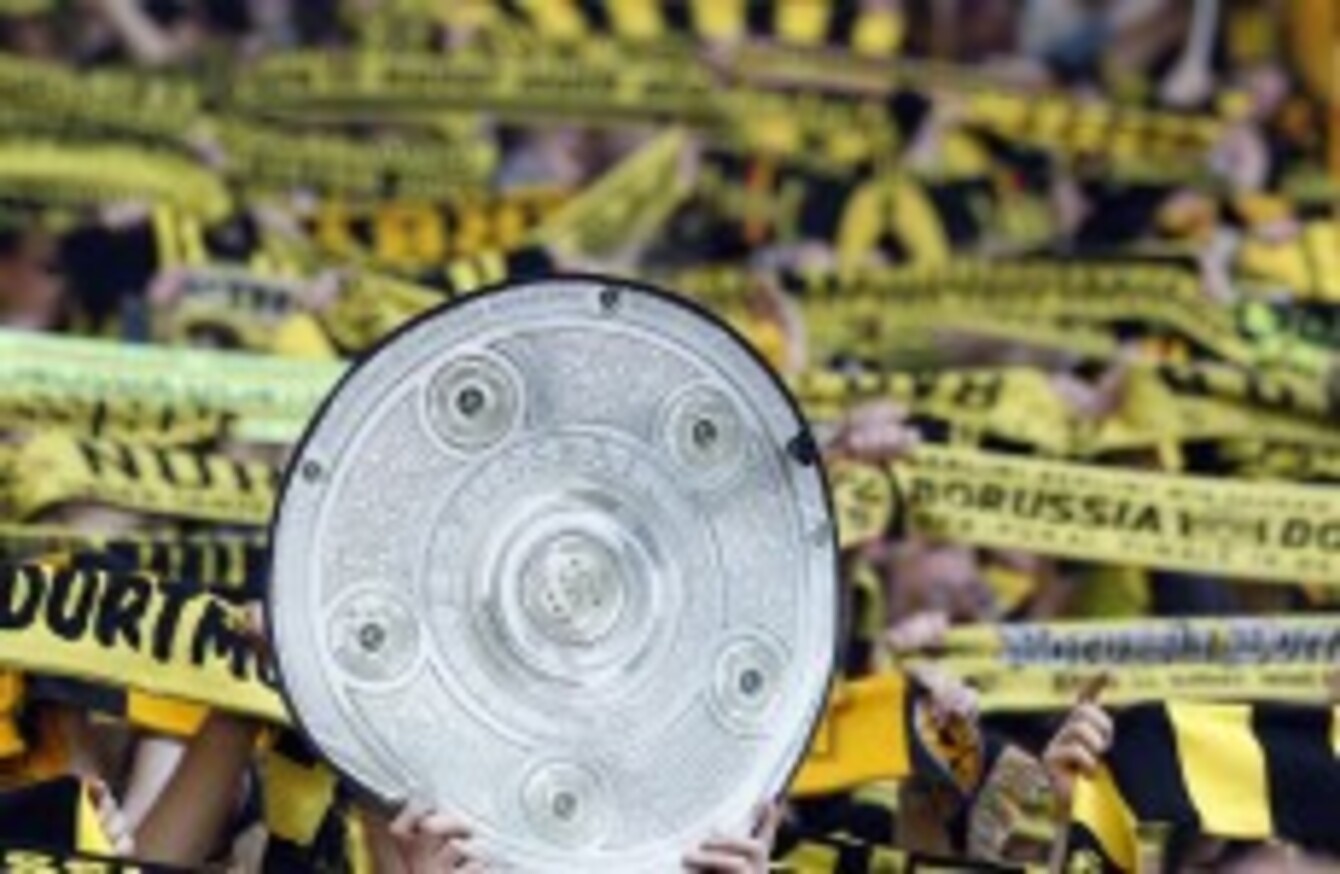 Image: Frank Augstein/AP/Press Association Images
Image: Frank Augstein/AP/Press Association Images
ONE OF WORLD football's sleeping giants has finally awoken once more.
Borussia Dortmund are back.
After nine long years in the doldrums, nine years of ups, but mostly downs, BVB are top of the pile again.
Since 2002 Dortmund have been banished to the shadows, yo-yoing up and down mid-table, helplessly watching their eternal nemesis Bayern Munich claim six Bundesligas and explore Europe at their leisure.
After all they have had to endure, BVB fans could have been forgiven for thinking their day would never come again. A 2-0 victory at home to Nürnberg ensured the spotlight returned to Dortmund, they would be champions with two games to spare.
From their foundation they have always fought back for what they believed in and valiantly opposed the grim fate that has so often seemed stricken upon them. Founded in opposition to the church-funded local team in 1909, BVB staggered through the decades.
They received local league successes and narrowly dodged the bank-man's vice grip. During the Second World War Borussia's president was replaced when he refused to join the Nazi party and the club's offices were used by club members to produce anti-Nazi pamphlets. An act that cost the members their lives in the closing days of the war.
However Dortmund would have to wait until the 90's to capture the attention of the world. The Bundesliga was theirs in '95 and '96. But much bigger things would soon be in store for BVB.
The following year their wildest dreams would come through. Famously they knocked Manchester United out in the 1997 Champions League semi-final at Old Trafford. Alex Ferguson always remembers it as a game where United had 15 one-on-ones and still could not find the net. René Tretschok's 76-minute strike was enough to give Dortmund a 1-0 victory on the night (2-0 on aggregate) and send them marching through to the final.
[caption id="attachment_134994" align="aligncenter" width="630" caption="Dortmund's Mario Goetze scores against SC Freiburg on their way to the domestic title."]
[/caption]
Dortmund would lift their first European Cup that year. At the then home of arch-rivals Bayern, the Olympiastadion in Munich they would defeat Zinedine Zidane's Juventus 3-1.
It was a game that will be forever remembered for a wonder goal from a 20-year-old local boy Lars Ricken. Starting the game on the bench, it would take Ricken all of 16 seconds, after being summoned, to chip Angelo Peruzzi in the Juve goal. That goal and that night will not be forgotten to soon down Dortmund way.
It would be 2002 before Dortmund received another major honour. That season, similar to this, they just pipped Bayer Leverkusen to the title. Only a point separated them from Leverkusen in second and two from Bayern in third.
A steady decline would see Dortmund slide into Bundesliga abyss. The club would take on a heavy debt load and sell their pride and joy, the Westfalenstadion. Borussia was driven to the brink of bankruptcy again.
Renewal
Things are a bit different now. BVB still play at the leased Westfalenstadion, except it no longer goes by that title anymore. To raise capital it was renamed Signal Iduna Park after a local insurance company.
With a capacity of over 80,000, Borussia Dortmund enjoy the highest average attendance of any football club in Europe.
Capturing this year's Bundesliga was, in many ways, a remarkable achievement. They are the youngest side to ever win the German title. Pushing on from this to relive the glory years now has to be the main goal. Central to this will be retaining their key players which will be a difficult task. Already, before the season has even been completed, they have lost star midfielder Nuri Sahin to Real Madrid.
Mario Gotze recently named, by FourFourTwo  magazine in the top 20 players under-20, has also been heavily linked with major clubs all around Europe. Dortmund CEO Hans-Joachim Watzke has been quite bullish on the subject, insisting that Gotze would not be sold even for several oil fields.
With 80,000 fans flocking to watch them play each week and a history that can rival most of Europe's elite, Borussia Dortmund are back in the limelight where they belong.
The sleeping giant has woken, Europe take heed.