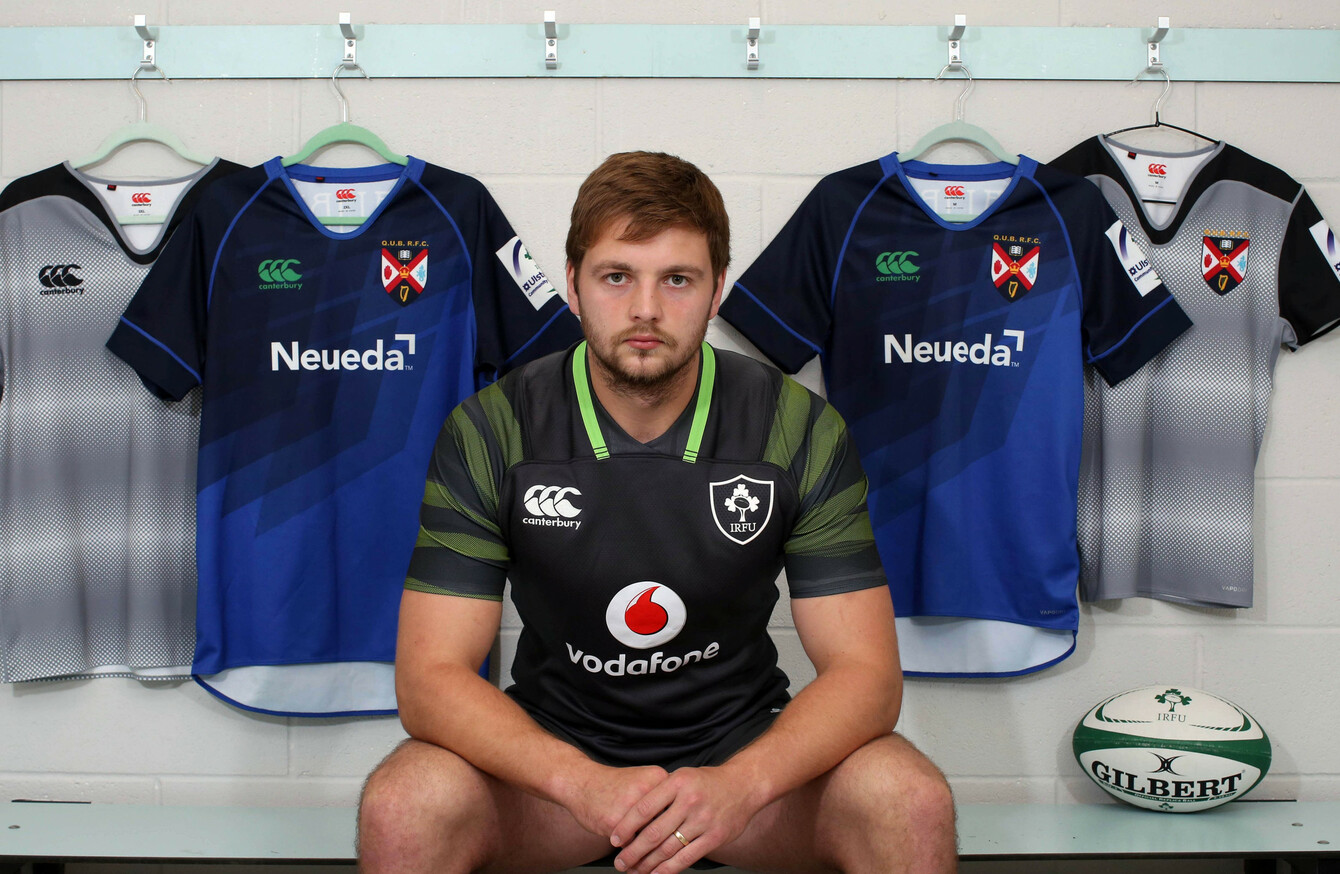 Henderson was part of the Ireland training camp at Carton House this week.
Image: Presseye/Darren Kidd/INPHO
Henderson was part of the Ireland training camp at Carton House this week.
Image: Presseye/Darren Kidd/INPHO
WITH HIS IRFU-FUNDED contract with Ulster expiring next summer, Iain Henderson admits he is not 'completely closed off to the idea' of playing abroad if the chance presented itself further down the line.
Henderson was awarded a three-year central contract by the union back in 2015 following interest from several European clubs, and his future will come into sharp focus again over the coming months.
Now a Lion and 32-time capped international, the 25-year-old's stock has increased substantially again and Henderson admits there has been contact from other clubs enquiring about his availability.
And in the wake of Simon Zebo's confirmed departure from Munster, Henderson says there is certainly more for players to think about now when they're weighing up the options in front of them.
"I think when you grow up and you are watching rugby, initially all you want to do is play for Ulster," he said. "I think your goals are slightly realigned once you have been able to do that and then Ireland becomes the next thing.
"But when you are growing up you aspire to being in those shoes and, like I said about Simon, he has been in there and playing for about six or seven seasons now and I can understand his view to move and why he would want to move on given he's had that opportunity in France.
"I think when that time to review comes up, it is definitely down to a player by player basis. You can definitely tell which players are more settled at your province and which players are, not necessarily not settled, but willing to give something else a go, a try, and make a go of other other things so to speak.
"Yeah my contract is up at the end of the season and after summer tour and stuff there has been some interest from other clubs and places, but Simon leaving and not being selected is like done on a player-basis and the form of his play and a few other factors.
"So it will probably just come back to at the end of the day I will just sit down and have a chat with Joe, and maybe sit down with David Nucifora and see before making any serious decisions.
"But I think those kind of chats and decisions about where to move to all come in to (play) probably a wee bit further down the year than in a while. I suppose it is kind of up for grabs at the same time, you've got to remember that it's players' livelihoods, their jobs.
"Like if they're been offered something like what I've read with Simon, a relatively lucrative amount that he mightn't have been offered the same amount by Ireland, it's a financial decision for him as well as a rugby decision."
When pressed on the idea of pursuing opportunities abroad, Henderson continued:
"I'm not completely closed off to the idea, you've got your family, your friends, a club where you're already familiar with the coaches, the fans, the management — you're already established so there's obviously a side where you have got to understand that you'd have to go away and rebuild all of that.
"On the other hand, like I said about Simon, players sometimes have to think about themselves and sometimes the club a player's at will play on that and say 'well, they're comfortable here so therefore we can offer them a bit less'.
"It's kind of trying to weigh up a couple of options and trying to see what's best for the player. It also depends on what club is approaching the player, there'll be some clubs who are more suitable for some players.
"Some players know other players at other clubs, some would be more suitable depending on languages whether it be France, Italy or whatever.
"Players moving, it's not just all about signing a piece of paper, there's a whole lot of lifestyle changes, house moves and stuff that go with it and that may prove to be slightly more difficult than it might seem at the start."
For the time being, however, Henderson's focus is on the visit of the Springboks in a fortnight.
He may have missed out on a Test place, but the second row was arguably one of the most in-form players on the Lions tour in New Zealand and he has carried that through to the start of this season with Ulster.
Captaining the side in Rory Best's absence, Henderson has really led from the front in recent weeks and now wants to nail down a starting berth in Joe Schmidt's XV for the November internationals.
"The first couple of days have been really good, really positive," he said of this week's camp in Carton House. "There's an awful lot of learning being done and there's a lot of clarity coming out from what we're taking and hopefully it will be a really positive first week for us.
"There's still a lot of work to be done towards the back end of the week, the start of the week has just been a lot of learning and a few new faces in, a few guys who haven't been in that much, making sure they're all acquainted with the calls.
"Realistically next week we'll definitely be hitting the ground running and we'll have a good head start as to where we'll be in terms of a lot of other camps, we've come into games with just a week to prepare and we're kind of fortunate then for the South Africa game, we have almost a fortnight coming up to the game to really prepare us and get everyone back on the same page because there are a few players, whether it be injury, rest, Lions or being away in Japan, we were all over the place in the summer, so it's kind of just focusing everyone's efforts back into the Irish game plan."
Henderson made his Ireland debut against South Africa in November 2012 but has made just 34 appearances in green since, with a couple of injuries — most notably the hamstring problem which disrupted his 2015/16 season — and competition for places leading to frustration for the Craigavon native.
"It has been frustrating," he admitted. "Over the last number of seasons, there has been a couple of unfortunate niggly injuries.
"It would be nice to have had a string of games together yet I am sure if you ask anyone the same question, they would all bite your hand off for it. I feel fresh, good, relatively injury free and am looking forward to these games and hoping to have a crack, and stitch some games together here."
Ireland, Ulster, Lions and former Queen's University rugby player Iain Henderson will feature in official Ireland kit supplier, Canterbury's Rising Strength video series which launches on 6 November on Canterbury's Facebook & YouTube channels. The series looks at the role the club and youth game in Ireland plays in achieving success at the pinnacle of the sport.
Subscribe to The42 podcasts here: