Liveblog
Hello, and welcome to The42's live coverage of this evening's Ireland v Austria World Cup qualifier.
With kick-off at the Aviva at 5pm, we'll have updates throughout and all you need to know before kick-off.
As always, we'd love to hear your thoughts on the game. You can tweet us @the42_ie, or leave a comment below.
Ireland team: Randolph; Christie, Long, Duffy, Ward; Brady, Hendrick, Arter, McClean, Whelan; Walters.
Austria team: Linder; Lainer, Dragovic, Prodl, Hinteregger; Baumgartlinger, Junuzovic, Alaba; Lazaro, Burgstaller, Kainz.
The fans are soaking in the atmosphere before kick-off.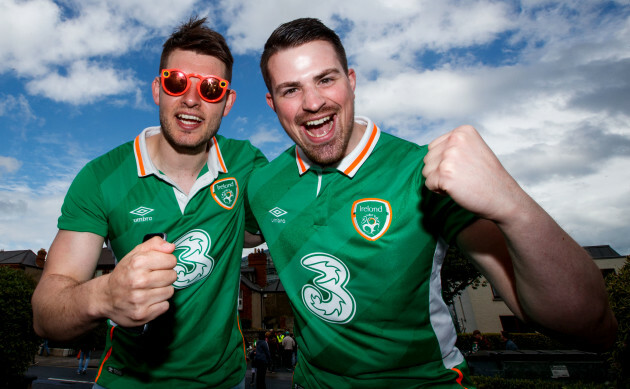 Source: James Crombie/INPHO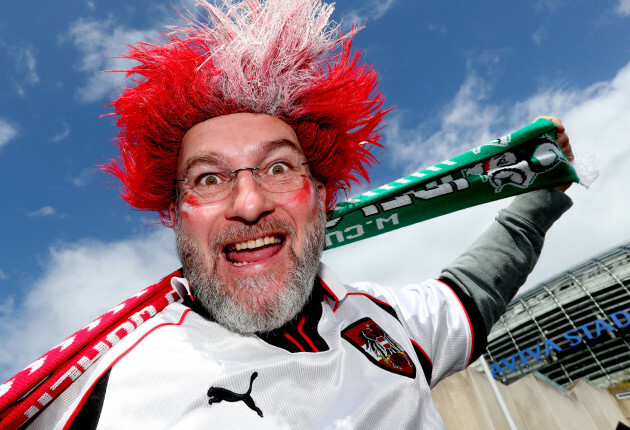 Source: James Crombie/INPHO
Here's a look at the Group D table, as it stands.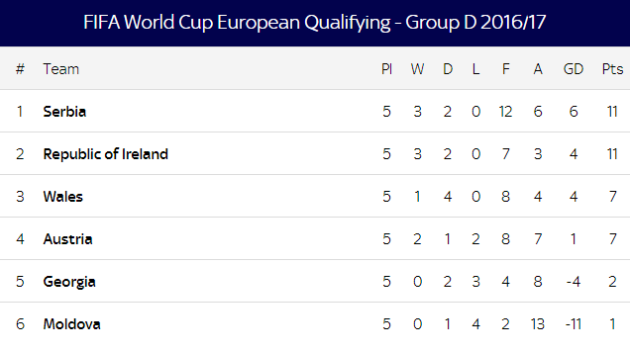 Source: Sky Sports
Here's a look at the Group D table, as it stands – click into the image to see it in full on mobile.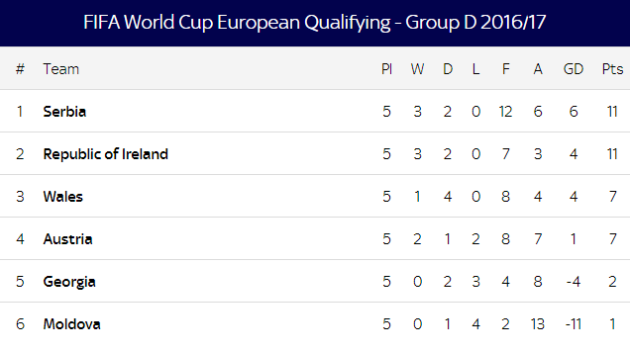 Source: Sky Sports
The teams are on the pitch, and President Michael D Higgins is out to greet them. Not long left to wait now!
Kick-off: And we're underway. The atmosphere in the Aviva is electric.
2mins: Ireland on the first attack, but nothing comes off it. An early Austrian free-kick is headed away by Whelan.
5mins: Austria look dangerous on the attack, but Randolph gets behind Junuzović's effort. At the other end Ward and Walters link up but Hendrick can't make anything off it. Heavy tackle on Walters around the middle — free-kick to Ireland.
7mins: The game's first corner. Austria look sharp in these early stages, but the Boys in Green deal with the incoming threat. They're playing it nicely along the backline.
9mins: Hendrick is fouled and Brady plays the resulting free-kick towards Duffy. He gets his head on it but it's played out for a goal-kick.
11mins: Alaba goes down on the edge of the box, and there are calls for something but the referee lets play continue. Arter gives away a free-kick in Austria's half.
13mins: Brilliant tackle from McClean as Lainer charges down the right wing. Austria are playing the ball around well, but Ireland are coping well with any potential threats.
14mins: Dragović and Walters tussle for the ball and Ireland win a free, not too far out from goal. Brady stands over it.
16mins: The ball rebounds off the wall. Ireland still have possession, and put together some decent passes. It's over the end-line though. Seamus Coleman appears on the screen to cheers from the crowd.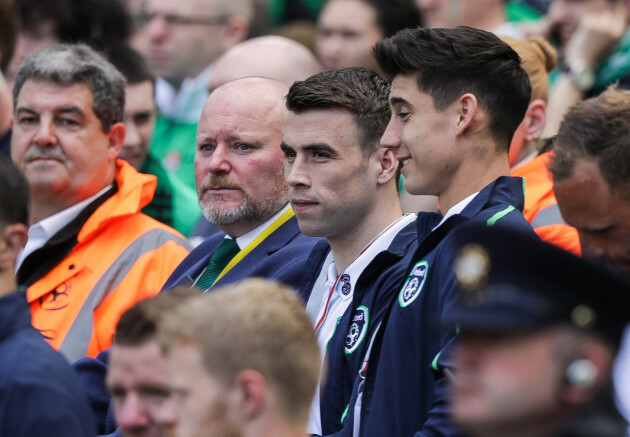 Source: Morgan Treacy/INPHO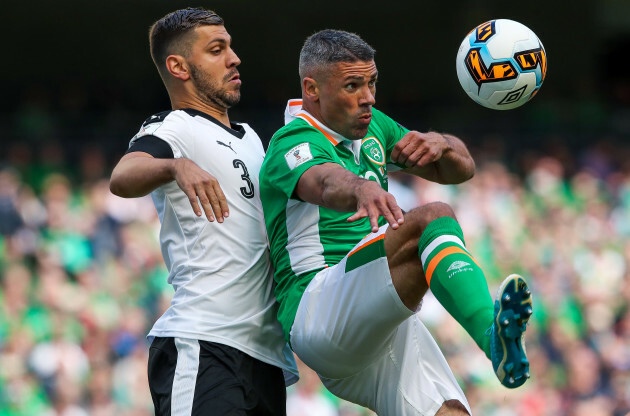 Source: James Crombie/INPHO
20mins: One battle to watch is Dragović and Walters. They both go for the ball, but the referee claims Walters has pushed the Austrian. Dragović handles it and gets his free. Up the field, Austria's corner whisks across the goalmouth, no one connecting with it.
21mins: Whelan to Brady on the attack. The latter opts for a shot but it's blocked down on the edge of the box. Very little in it in terms of possession at the moment, Austria may be slightly on top.
24mins: Brady wins the ball, and plays it to Christie on the right. Austria easily close the door on his cross. Great block at the other end by Long. Walters has a decent chance in front of goal, he tries to find the top corner with a sidefoot, but sends it way wide.
28mins: Much better from Ireland from an attacking point of view. Christie cuts out an Austrian cross with a strong header. Crunching tackle from James McClean — "Welcome to Dublin," as the RTE commentators say.
30mins: McClean is fouled himself, but Brady's free-kick is punched out by Lindner. Calls for a handball from the Ireland fans, but play commences. Brady badly mistimes a tackle, and sees yellow. The tackles are flying in!
31mins: Ireland should have dealt with that corner better. Serious finish by Hinteregger, not much Randolph could have done.
34mins: Incase the scoreboard hasn't updated, it's 1-0 Austria. Christie has since picked up a yellow card for another hard challenge.
36mins: Ireland win their first corner. Arter and Hendrick link up nicely, but Hendrick's cross heads out over the line. Lindner is yet to be tested.
38mins: Christie and Hendrick link up well down the right. No one is in the box to get on the end of Christie's delivery. Meanwhile in Group D, Moldova are beating Georgia 2-0.
39mins: Ireland have another corner. Brady's delivery sweeps across players to find Long, who wasn't quite expecting the ball. It's hoofed away.
43mins: Ireland are too slow on the attack, giving the Austrians time to retreat and cut out any threats. They're playing the ball well around the backs, to boos from the crowd. They want an equaliser.
44mins: Walters takes a pop but it goes wide. Ireland have had no shots on target so far, while two of Austria's efforts have hit Randolph's goal.
Half-time: Ireland 0 Austria 1
No additional time in the first half. What have ye made of that so far?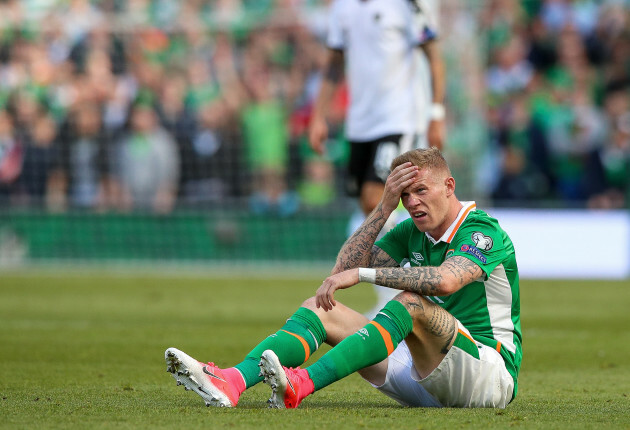 Source: James Crombie/INPHO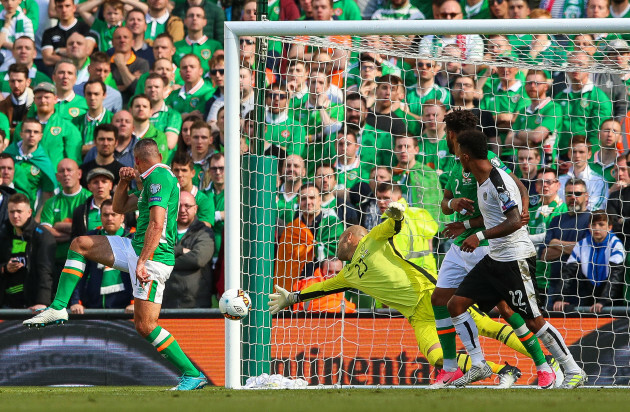 Source: James Crombie/INPHO
"Nothing is going right for us," Dunphy says on RTE. "This team wasn't broken, there was no need to fix it — in terms of the team selection."
Big calls for Hoolahan to come on.
Kick-off: We're underway again.
47mins: Austria have the first proper attack of the second half, but Arter cuts it out. At the other end, Christie's long-range free finds Duffy, but he heads it just wide of goal.
48mins: Austria look dangerous on the attack but Alaba's effort is sent wide. Arter looked to be down injured as himself and Christie went in for the ball, but he's back on his feet.
50mins: Another dangerous Austria attack is kept out. Brady sends in a free-kick, it slightly connects with Ward's head and then onto Long, but it's derailed wide.
52mins: A through ball is played into Walters, who goes down on the edge of the box. There are calls, but the referee correctly lets it slide. Dragović gets the ball. Brady's free-kick from the right is cut out well by the Austrian defence.
54mins: The goal-scorer Hinteregger has a pop from distance, but it's well wide. Austria are knocking the ball around with ease, as Ireland chase. Martin O'Neill looks like he's going to make a change.
56mins: McClean lets a long ball down to Walters, who finds Arter. But he slices his effort wide. Daryl Murphy is on for Stephen Ward, there'll be a subsequent positional change.
60mins: Christie is battling well for Ireland. Brady's free finds Duffy, who heads it across the box, but an Austrian player sends it out for a corner. Nothing comes off it though. Ireland have another corner, Lindner looks to touched it out over the line, unopposed.
60mins: All of a sudden, Ireland have built some momentum and they're creating chances. Arter has another go, but it's blocked down.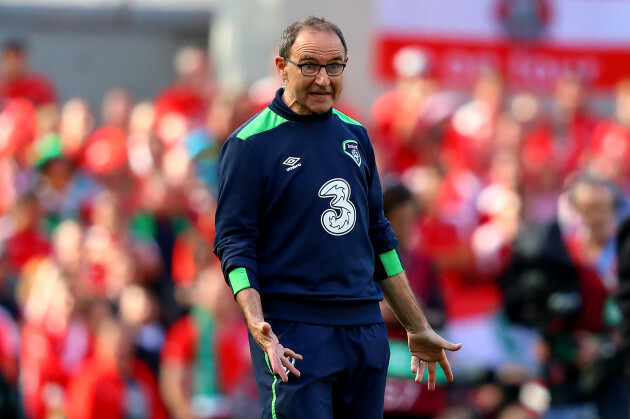 Source: Oisin Keniry/INPHO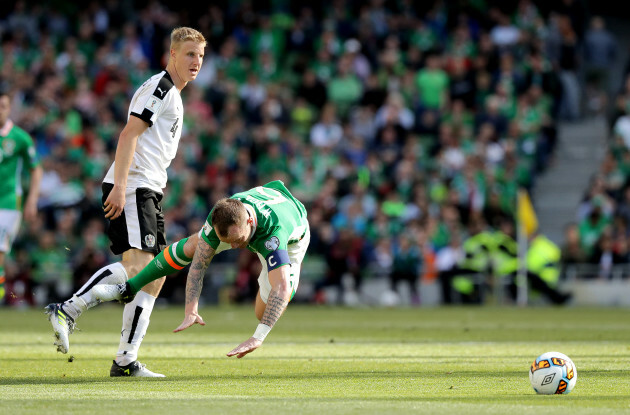 Source: Morgan Treacy/INPHO
65mins: McClean wins the ball, and charges forward to create something out of nothing. His effort goes just to the right and wide. Dragović is down injured, he looks to be in serious pain.
67mins: The stretcher was on the pitch, but he opts to limp off instead. Ireland have drawn confidence from their last few bursts in attack, and they're on the hunt for an all-important goal.
69mins: All sorts of shouts from the crowd as an Ireland player goes down in the box, the players get on with business though. McClean is really standing up and fighting, and it looks to be rubbing off on his teammates.
72mins: Dragović plays the ball out of play, he falls to the ground, but jumps up quickly to make his way towards the line. He plays on though. Hoolahan is set to come on, much to the crowd's delight. He takes Arter's place.
73mins: McClean plays Walters in, but he's stopped. Hoolahan, with his first touch plays an incredible ball in but between an Austrian defender and the goalkeeper, it's kept out of the goal.
75mins: Elsewhere, it's Moldova 2 Georgia 1. Burgstaller is replaced by Harnik on the Austrian end. It looks like McGeady is going to be introduced shortly.
77mins: McGeady is on for Whelan. Walters has the captain's armband.
79mins: Ireland have a corner. Junuzovic is replaced by Grillitsch. McClean has a crucial chance off the corner, but he slices it high and wide. Will Ireland pull one back?
Update — it's all square between Georgia and Moldova.
83mins: Ireland are let off. Kainz fails to get on the end of a dangerous low cross. Randolph cuts out the next Austria attack too. Seven minutes of normal time left now.
84mins: Walters and Christie link up down the right wing, but the latter is called for offside. Huge save from Randolph at the other end after some individual brilliance from Grillitsch, and a decent effort.
85mins: It's 1-1! Beauty of a volley from Walters. Can Ireland push on for the win?
Nearly a second Ireland goal!
Terrible defending from the Austrians and a scramble around the goalmouth. Ward gets his head on the ball and it hits the roof or the net, but there's apparently a foul beforehand and the goal is disallowed.
89mins: The floodgates are opening, Austria are panicking. Walters and McGeady both have chances. It's all Ireland now.
91mins: It's all high drama, very hard to keep up. Gregoritsch is on for Austria. Four additional minutes.
93mins: Walters has been named Man of the Match. Hoolahan is working very hard for a winner. The Austrians have settled slightly more.
94mins: Walters isn't giving up. The ball is in the Ireland half, and Christie plays it out for a throw-in. And that is that.
Full-time: 
Ireland 1 Austria 1
A hard earned point at the Aviva for Ireland, thanks to Walter's brilliant goal ten minutes from the end.
The other Group D game has ended Moldova 2 Georgia 2, while Wales and Serbia face off later this evening.
That's all from me, but Paul Fennessy and Ben Blake will have the full match report, plus plenty of reaction and analysis from the Aviva throughout the evening. Thanks for tuning in.
Contribute to this story: