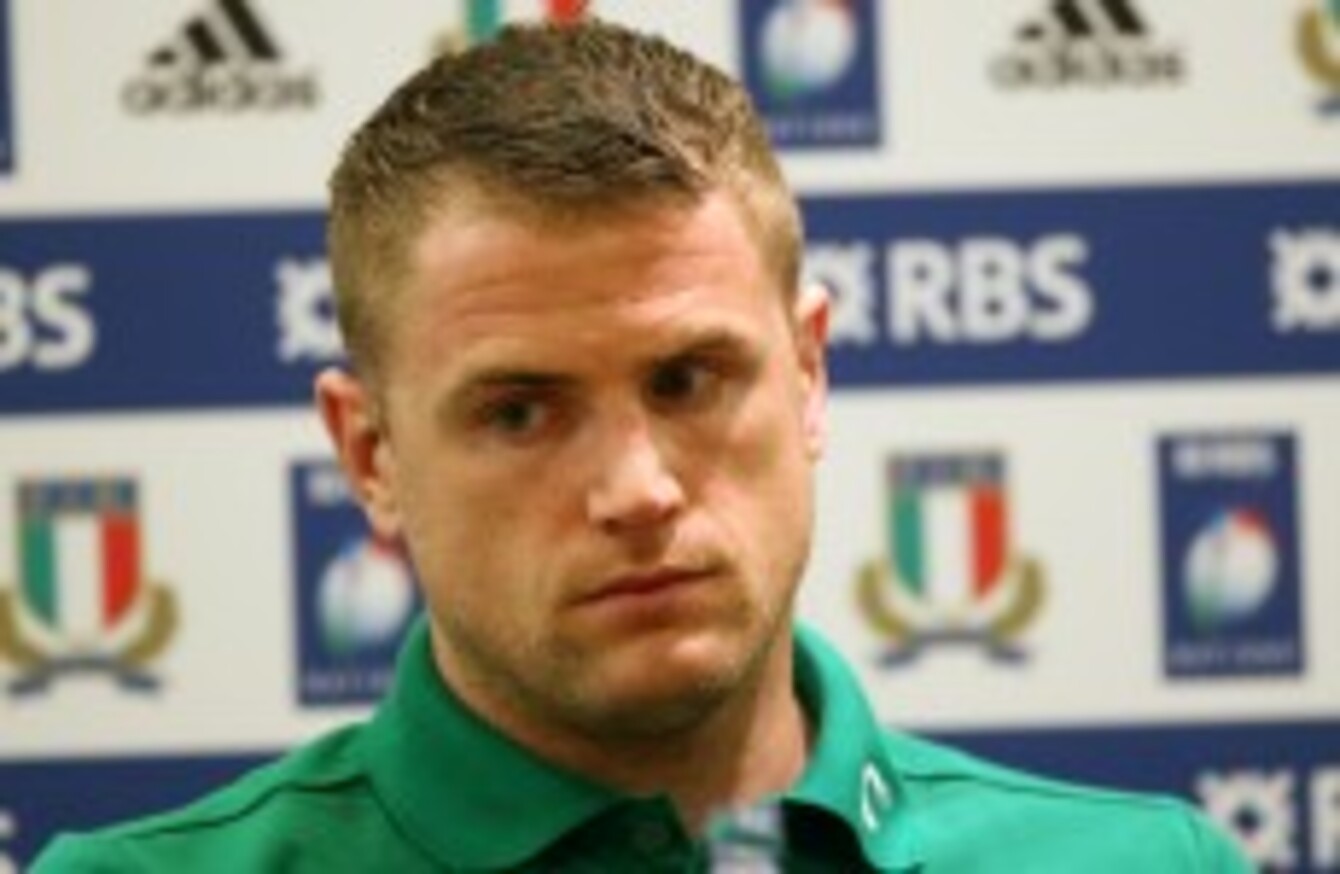 Ireland captain Jamie Heaslip at the post-match briefing.
Image: ©INPHO/Billy Stickland
Ireland captain Jamie Heaslip at the post-match briefing.
Image: ©INPHO/Billy Stickland
IRELAND CAPTAIN JAMIE HEASLIP has described his side's faltering Six Nations campaign 'a mixed bag'.
Heaslip made the statement following Ireland's 22-15 loss to Italy in Rome – their first ever defeat to the Italians in the championship.
Ireland were shorn of at least 10 frontline players before the match and lost Luke Marshall, Keith Earls and Luke Fitzgerald before the first-half was out.
"Bit of a mixed bag to be honest," Heaslip commented. "A lot of guys have taken the opportunity to step up, when given the chance, to wear the green jersey.
"I think of all the new caps we've had and guys who haven't had as much international experience as others. I couldn't be prouder about the way they have gone about their work." He added:
The frustrating part is, in all games we've lost there has been a score or two in it. There's been too many errors, we have given teams shots at goal, turned over too much easy ball at the setpiece and not converted enough opportunities.
"We've got to learn from it. It's a young bunch, an inexperienced bunch but you've got to learn from this moving forward."
Asked to reflect on where the winning and losing of the game was, Heaslip said, "It's too fresh for me to pinpoint but, off the top of my head, we gave away too many easy shots at goal.
"We gave away too many turnovers at the setpiece. They cut it off at the source. That's a big launching platform for any team."
Luke Marshall is helped from the pitch. (©INPHO/James Crombie)
He confessed that the latest set of injuries to befall the team had cost them dearly.
"[It is tough], especially when you see that Peter O'Mahony had to move to the wing for 60 minutes," he declared.
"That's just what happened. You move on. It's nothing new to us in this championship. It's not ideal.
"You have to adapt, move on. Peter on the wing from setpieces. Even with that, God, we were still in the hunt. There was a point between us with 10 minutes to go."
Tough calls
Head coach Declan Kidney believes that Donnacha Ryan was 'committed to the tackle' that earned him a late trip to the sin bin and deflated the Irish challenge. He also noted that the Italians 'lodged themselves on the ball quite well' when Ireland were pressing for a try at 16-12.
Asked to explain Ireland's lineout woes, Kidney responded, "Italy have a good lineout. You have to give credit to them… it's something that we can work on."
"In terms of preparation of the lads," he added, "I couldn't speak highly enough of it. I think we just have to transfer that onto the pitch."
The captain was asked if Brian O'Driscoll had made any announcements about playing on or retiring. He replied, "I don't know whether this is the end for him or not; you'd have to ask Brian."
Kidney added, "I think [O'Driscoll] has had a strong Six Nations, given everything that was going on for him. His game against Wales was outstanding. He was good against France and I thought he played well today.
"He's earned the time and space to be given that to make up his own mind. Players are the only ones that know when the time is."