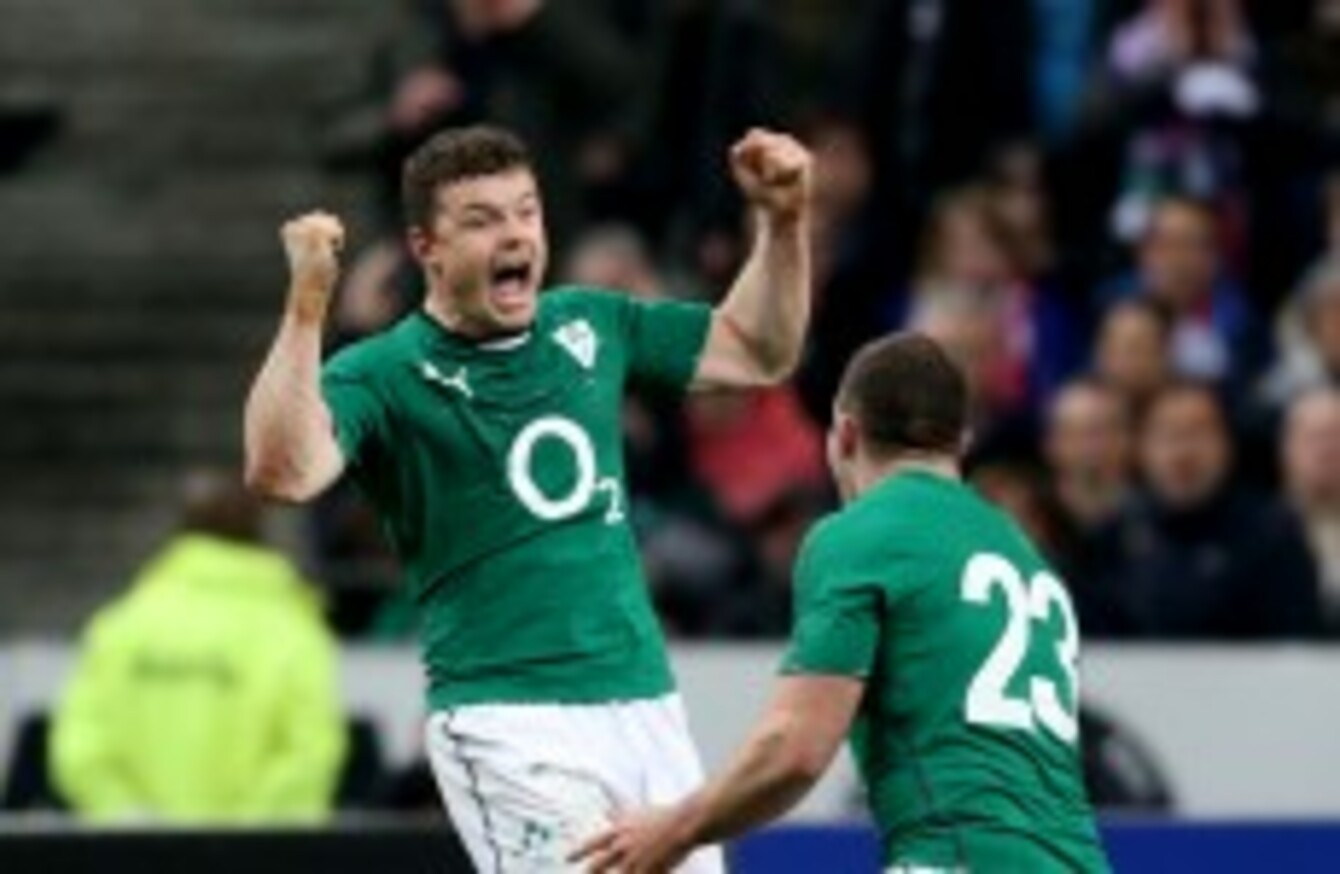 O'Driscoll at the final whistle in Paris last night.
Image: Billy Stickland/INPHO
O'Driscoll at the final whistle in Paris last night.
Image: Billy Stickland/INPHO
THE PREFECT FINALE for a player who has arguably given Irish rugby more than any other individual.
Brian O'Driscoll ended his international career with yet another superb performance, world-class until the end. His six carries, his one line-break, six tackles on the explosive French midfield; those were the tangible factors the centre brought for Ireland last night.
Beyond that, the mental edge O'Driscoll gave this Irish team was vital, the assurance his teammates have felt when playing alongside a legend of the game. He signs off in deservedly memorable fashion, content to end with a trophy.
"I played on for one more year hoping to get a victory against the All Blacks – that didn't happen – and to win a Six Nations, and that did happen. You can't have it all but you take the bits that you get.
"It's been a fantastic Six Nations for us, I've enjoyed every second. I don't really want to take this jersey off yet, because I know when I do it's the last time. I'm dragging the arse out of it a little bit!"
The emotions of the occasion touched all those who watched O'Driscoll on his final outing before retiring from Ireland duty, but the man himself was intent not to allow those feelings to dominate his clarity of thought on the day.
I think I tried to channel the emotions into the performance. I played fair today, and you can't allow the occasion to get the better of you. You have to try to make sure you're the cog in the wheel for the team.
"Emotions come afterwards and they did, I'm sure there will be a few tears later on, with multiple beers on board probably. It's a lovely way to finish out, I've had so much fun over the last 15 years, and I feel very grateful to finish in this fantastic way.
"I got a frog in my throat on the final whistle all right. You're not yourself sometimes when you're being interviewed. It feels as though you're trying to present a certain way.
"After scenarios like today it comes out a bit more, particularly when it's the end, you have to be as natural as you can. Over the course of the next while, when it sinks in, I'm sure it [the emotion] will flood out.
"When I pull the jersey off it will be hard, but it will come with a great sense of happiness to finish off with a great high after a lot of 'nearly' moments."
His last Ireland cap was almost marked by another try to add to his record haul of 46, after Andrew Trimble released him down the right wing on the counter-attack in the second half.
However, the superb covering defence of France fullback Brice Dulin ruined the possibility, though O'Driscoll was happy just to see his side score a phase later.
I thought I might get in. In fairness, Dulin defended it brilliantly, he stayed off, stayed off; I knew I didn't have the gas to burn him. We'd severed their line and we just needed to play a phase or two and we would score.
"Jonny [Sexton] picked a great line; it was important for us to have a potency about us in their 22. We managed that more today than in certain games throughout the Six Nations."
The Stade de France was the scene of O'Driscoll's true announcement of his international ability, with that stunning hat-trick in 2000. To finish his Ireland career with another classy performance in Paris gave an enjoyable symmetry to the day.
"I have lots of good memories in between, but to have had 2000 and our first victory there in 28 years, having not won since then, to finish up here 14 years later is incredibly special.
"Not many people get to finish their career on their own terms, certainly not with high emotions like today. I feel very fortunate and thankful to be part of a great, great team that has massive potential to go on and do more special things."