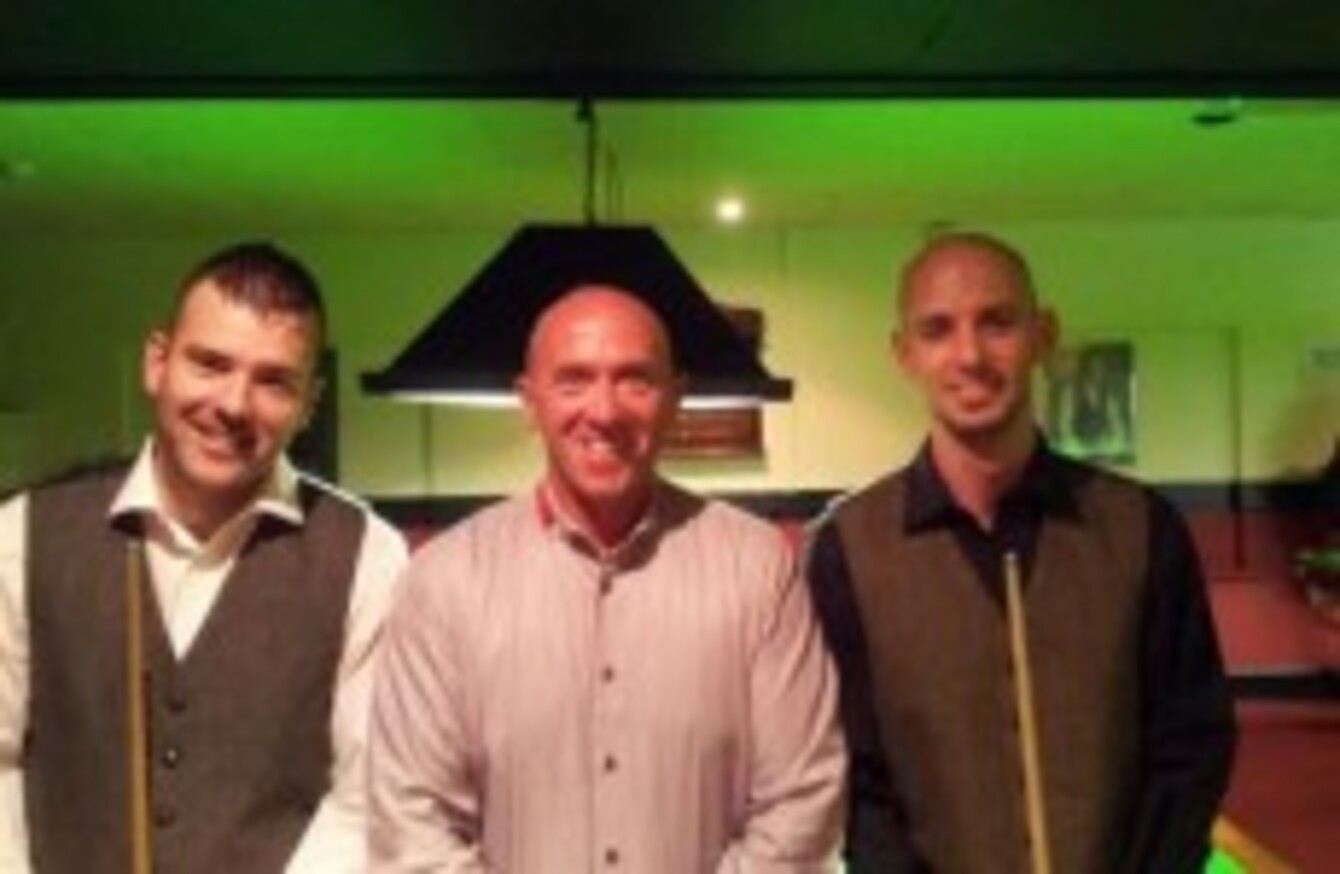 From left to right: Keiran Ferns, Gerry O'Loughlin and Gordon O'Loughlin pose for a pic.
Image: Gordon O'Loughlin
From left to right: Keiran Ferns, Gerry O'Loughlin and Gordon O'Loughlin pose for a pic.
Image: Gordon O'Loughlin
Updated at 16.19
GERRY O'LOUGHLIN'S BUSINESS had not been doing particularly well.
The Lisdoonvarna native had only acquired and re-opened his snooker club last February after three years of closure, and he subsequently wondered how to attract people to his workplace in these difficult economic times.
One night, however, while browsing through the internet, he had a brainwave.
A Guinness World Record had recently been broken. Two men in England had managed to play an incredible 72 consecutive hours of snooker (and two others have since allegedly played for 76 hours pending confirmation).
Emulating or even bettering the stunt would be an enormous coup, which would surely draw considerable publicity to his previously ailing business, re-invigorating interest in the sport around County Clare in the process.
Yet would anyone be crazy or brave enough to agree to attempt this unenviable challenge? To Gerry's amazement, he quickly found "five or six" people who were willing to tackle it.
Ultimately though, he had to narrow it down to two, as given the number of volunteers required for one record attempt alone, undertaking several at the one time was simply not feasible.
In the end, he chose Gordon O Loughlin — a DCU psychology student, who is not related to Gerry despite coincidentally sharing a surname with him — and truck driver Kieran Ferns, both of whom are from Ennis, County Clare.
"The first time I met Gordon was in March or April," Gerry tells TheScore.ie. "He played here when he was younger in the club. But the very minute I met him, I knew I was on to something, because this guy has run marathons.
"The two guys I picked, they seem to get on, they play well together — you really have to like a guy to be looking at him for 80 hours. So I think they're the best team we have right now."
(Gordon O'Loughlin (left) and Kieran Ferns (right) are set to play 80 consecutive hours of snooker for charity – credit: Gordon O'Loughlin)
The guidelines for the challenges are strict, with only five-minute breaks permitted every hour, though the option is there to play on and eventually accumulate up to four consecutive breaks, thereby enabling 20 rather than just five minutes of rest. They also require two witnesses switching on and off table duty every four hours, with at least one of them having to be an expert in the field.
And while the initial idea may have been initiated on a whim, there has been nothing casual about the competing duo's preparations since then. They already undertook a 30-hour preparatory game last week, with Gordon then doing training for a 10k run and playing yet more snooker the following day, while they plan on playing a 50-hour game at some stage prior to the actual event, which gets underway on 15 August.
"They were hoping to do a bit more," Gerry explains in reference to last week's lengthy session. "But Kieran was dying with the flu, so they pulled out after 30 hours. The suffering wasn't doing him any good really."
As part of the challenge, the three men are attempting to raise money for Sláinte an Chláir — a cancer support centre based in Clare.
"It's a very good charity that we're raising money for, and the idea would be to try to promote it and get people in [to watch the event] at the night-time. I'll also be making tea for a couple of people who'll come in. And coffee from Bewley's and ham, and provide them with sandwiches, so they might donate to the charity then as well. They might be coming in at night-time, coming off shifts and stuff like that, and they'd hopefully give a hand to them."
(Ken Doherty is due to make an appearance during the event)
Gerry is also hoping to persuade sports personalities to appear at the event and he has also secured the services of one Irish snooker legend — Ken Doherty.
"Ken is coming down. Sunday night, the guys will still be going strong, so hopefully we'll have an exhibition, and there'll be people going in and out. He's aware of what's going on and thinks it's great. He'll be there on the Monday too, so hopefully he'll be there to promote it when they break the record."
Meanwhile, as a seasoned marathon runner and student used to "long sessions in front of a laptop or a book" and "40-miles-a-week training," in addition to planning on competing in the world-renowned Ironman Triathlon in the near future, Gordon O'Loughlin is no stranger to daunting tasks. Yet even he acknowledges that this latest challenge is uniquely arduous.
"We played 66 games of snooker the other night," Gordon recalls. "Every time we put our hand down on the cloth, the tips of our fingers were getting burned from the chalk, because we'd been putting them on the cloth so many times. I had blisters on my feet from walking around the table. Your back gives in after about four hours because you're doing the same thing — it's very repetitive.
"What I do is I eat a lot of wheat, energy, fruit and I watch my diet, stay away from the caffeine, keep myself well hydrated, keep up the running and the fitness level and get plenty of rest. That's all you can do."
He continues: "Mentally, you have to be able to respond to it. After four hours of doing an intense mental activity, your brain is gone and you're on auto-pilot. But you keep yourself fit to keep going. When I was first approached about doing it, I thought 'I like snooker and I'm well able to stay awake and keep doing it'.
(A shot of the club in which the action is due to take place — credit: Gordon O'Loughlin)
"But every time you get to the table, you're making mental calculations, totting up your score seeing what's left. You're getting down for a shot, you're plotting visual information in front of you as well, your brain is just running on overload without you actually knowing it, because it's generally a leisure sport, but after two hours, the leisure has gone out of it.
"It pushes your brain to the limit. The only way you can rejuvenate your brain is rest and sleep. You can rejuvenate your body by using the right fuel and stuff, but you can't rejuvenate your brain. We did 30 hours there last week. That session was invaluable for us. It put in perspective what we were facing. It's not an easy task and I wouldn't recommend it to anybody that hasn't got a high fitness level and a strong mental will.
"We've learned how to slow the game down, to bring our endurance on, little tricks. If one player is struggling, you can take your time going around the table.  Slowing your game down to give the other player a rest. Small things like that."
And once he finished the 30 hours of snooker the other week, did he feel confident he could go on for another 50 if necessary? While Gordon says he'd rather do "10 marathons 10 days on the trot" than have to play an 80-hour marathon of snooker, he is surprisingly positive when reflecting on his first flirtation with excess snooker.
"To be honest, I felt great. I could've gone the whole way. On hour 29, I felt as if I was only playing my first game. But it comes in stages — at three o'clock in the morning, when there's nobody else there and only one light on the table, and you can only talk to someone for so long, it makes the night very long. You're trying to stay mentally strong."
(The trio are hoping to raise funds for Sláinte an Chláir — a cancer support centre based in Clare)
And although Gordon is quietly confident ahead of the task, he is under no illusions as to the potential difficulties he faces. He will also be required to undergo a medical ahead of the challenge to ensure he is fit to endure it.
"The biggest factor is going to be tiredness and sleep deprivation. As far as I'm aware, it doesn't cause any cardiac problems, or issues with your strength or anything like that. But sleep deprivation can cause hallucinations and stuff.
"The two guys that did the 76-hour task recently submitted a load of documentation with video footage and stuff like that… What they have on YouTube is a quick video discussion of what they went through when they did it. One of them had physical problems after about hour 30 where his back gave in, while the second guy had mental problems, he was having full-blown conversations with people who weren't talking to him at all. That just puts in perspective what you put yourself through."
Furthermore, aside from the medicals and the actual challenge itself, there is one other obstacle — the need for volunteers to help oversee the challenge.
"I'm hoping now, over the next couple of weeks, we'll get volunteers in," he says. "That's what it's all about with this charity. The whole idea is to get people to chip in. There are many professions out there — doctors, physios, everything and we'd be hoping to get a couple of them in to do a few hours over the weekend. So we need people pulling together in the one direction — it's about Clare and it's about people supporting one of their own. That's the ultimate goal really."
For more info on Sláinte an Chláir, click here to visit their official website.