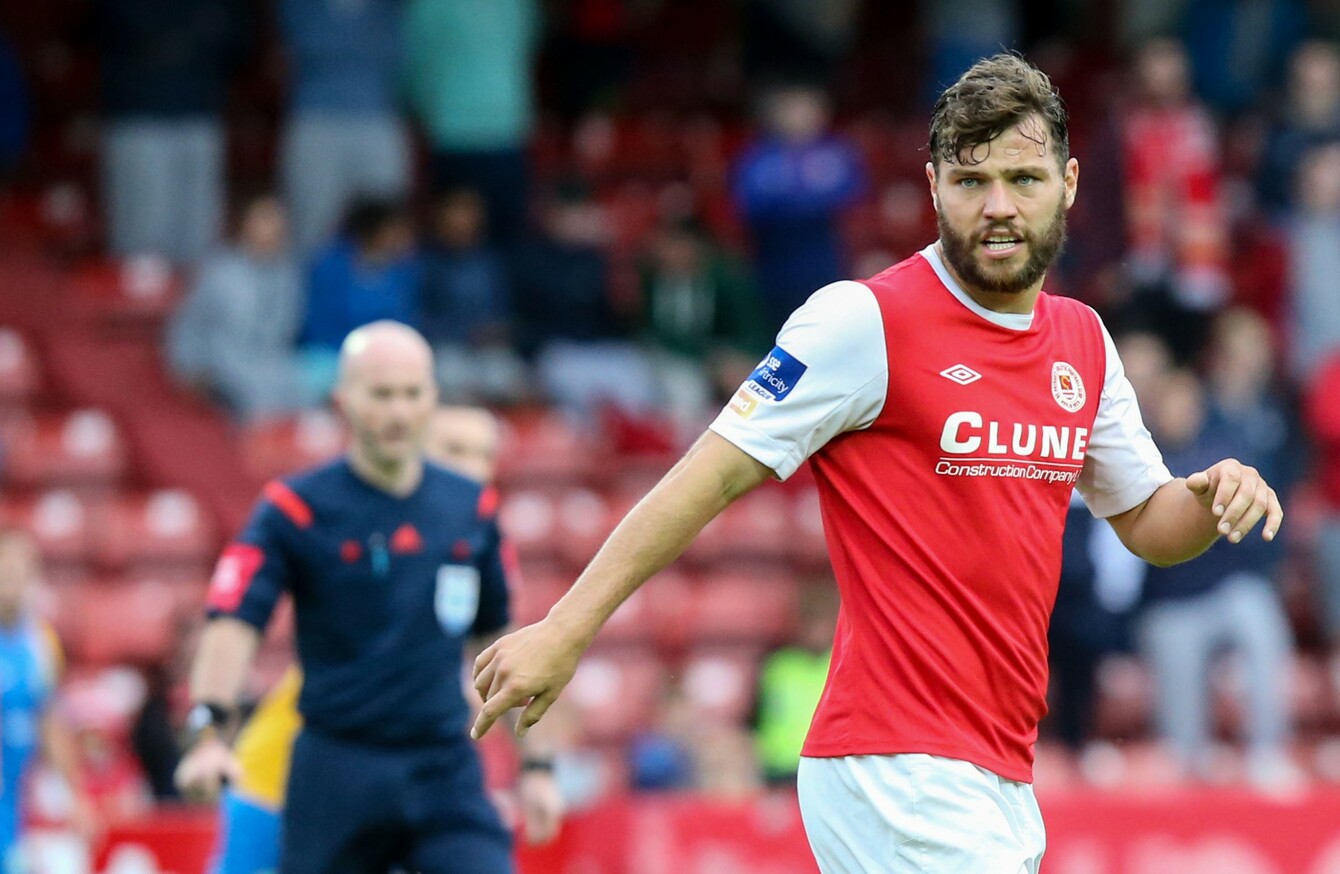 Chambers in action for the Saints.
Image: Gary Carr/INPHO
Chambers in action for the Saints.
Image: Gary Carr/INPHO
THE CLOCK TICKS on in the Aviva Stadium but the seconds are only getting longer, the final whistle inevitable but at the same time unreachable for St Patrick's Athletic.
The club and its supporters have had their hearts broken too many times before to believe in a 1-0 lead, even with less than sixty seconds left on the clock.
But as Christy Fagan rolled the ball past Ger Doherty into the far corner of the Landsdowne Road net, sending hearts racing, flares alight and Brian Kerr, as George Hamilton put it, "into tears", belief was restored and the result was at last confirmed: St. Pat's 2-0 Derry City.
After 53 years of hurt and seven consecutive final losses stretching from 1967 through 2014, the Saints finally had their hands on the FAI Cup again. Anticipation followed by elation and now, finally, vindication.
As the party was just getting started, on a rambunctious sideline where celebrations were kicking off, James Chambers was quietly preparing for his introduction.
With seconds remaining — his substitution undoubtedly planned long before Fagan's winning goal in order to see out a closely guarded 1-0 win — Keith Fahey trundled off and Chambers took his place in midfield with the clock reading 93 minutes.
Less than two seconds later the final whistle is blown and the game is over. St Pat's had won the Cup but Chambers, he concedes, had not.
"I was still dealing with stuff then," Chambers tells The42. "I didn't start the season, towards the middle of it I was flying and doing well. But then I got injured around July and was out for six weeks. It was hard to get back into the team because the lads were doing so well. We got to the Aviva and it was huge. I knew what it meant to the fans because I had been there in 2012.
"I understood what it meant to everybody, but in my mind I didn't win an FAI Cup winners' medal. I got on the pitch for probably half a second. In my mind, it doesn't count. My dad always wound me up saying 'you're the only person to have been in the Aviva three times and never played.' I would tell him that I did play the first time, but he joked that I had played so poorly I might as well have not been there."
Chambers had made it to three FAI Cup finals. In 2010, Shamrock Rovers were defeated by Sligo Rovers on penalties, two years later in 2012 it was Derry City who added a chapter to the St Pat's book of hoodoo failures, before 2014 offered his first winners' medal.
I was delighted because I'm quite close to Christy and he is the best striker in Ireland. I was delighted for him and you're delighted for everybody because you are a part of the squad. But you don't feel like you've won it. That's just my personal opinion. When you're celebrating with the trophy with everyone you're thinking 'that's not my trophy'.
"I had played in some of the earlier rounds and in the semi-final against Finn Harps — and I had spoken to Ken Oman who was also on the bench that day about this — you just don't feel like you've won it unless you participated in the final.
"If you got 15 or 20 minutes, that's a little bit different. But if you only got a couple of seconds… nah, not me for, sorry."
James Chambers is an intriguing figure. At 30-years-old and having left the League of Ireland over a year ago, his trophy cabinet is stacked full of medals: one Premier Division title, one FAI Cup, two EA Sports Cups, two Leinster Senior Cups, one Setanta Sports Cup, one Presidents' Cup, two entries in the PFAI Team of the Year and one St Patrick's Athletic Player of the Year award.
He has been a member of some of the great modern Irish club sides: Shelbourne in 2004 under Pat Fenlon, Michael O'Neill's Shamrock Rovers in 2010, Liam Buckley's St Pat's in 2014. As it would transpire a career in domestic Irish football which lasted 12 years began as a fan and traces its origins to his father bringing the young James to Tolka Park.
"I went to all of the Shels games as a kid," he says, now playing in Philadelphia for Bethlehem Steel in the United Soccer League having left Ireland at the beginning of 2016.
"My dad brought me when I was younger. I remember all of the cup games and the games against St Pat's. It's certainly something that I grew up with and was familiar with."
Not long after he was swapping the terraces of Tolka for the playing surface. Working his way up through the youth ranks, a fresh-faced Chambers would line out alongside his heroes. He still name checks them all today: "Owen Heary, Alan Moore, Dave Rodgers, Colin Hawkins, the list goes on".
A player of constant self-evaluation and reflection, he realises how lucky he was to grow up as a footballer in that environment. This was at a time when Shelbourne were 90 minutes away from playing in the Uefa Champions League group stages, he points out, and the league as a whole enjoyed a period of respectable professionalism which has yet to be replicated since.
"It doesn't happen now, that's the truth. You really don't get that lucky and I don't think people at the time understood just how good these players were and how professional they were.
It's something that I always tell people about. I was lucky and blessed. I only made two substitute appearances in 2004 but I was learning how to be a professional. That education that I got at Shels, you can't beat that. Being around people like Jim Crawford and Owen Heary every day."
Cutting his teeth at 18 and 19 under Fenlon after moving up from the club's U21s, being on the inside to experience the Shelbourne machine in action was a learning environment beyond comparison.
After all, it was at this time that Wes Hoolahan was forging his reputation as the diamond in the rough of Irish football, slicing LOI defences apart with the guile, precision and impeccable technique of a genius operating at another level. The last street footballer of a bygone generation.
"He did incredible stuff in training every day", Chambers recalls. "But he's actually just such a lovely fella. He really is. I always hear stories about top, top players and I only ever really like the ones who are top people as well. It goes hand-in-hand, because you can be a top player but still be an absolute plonker and nobody will have any time for you.
Weso was both: a great player and a great person. He was so, so good. Just to see him every day and to be around him. You knew he was going to go on to bigger and better things. I was just surprised that it was Livingston that he went to. But he went there and he climbed the ladder because he believed in his ability."
Has fame and fortune changed him since his days at Tolka? "He's still Wes."
Chambers is adamant that Shelbourne side on a par with Stephen Kenny's Dundalk team. The Lilywhites became just the second Irish side to qualify for the Europa League last season and have won the Premier Division every year since 2013.
"I played against this Dundalk side before they were in Europe last year. I think the fact that they did get into the Europa League was incredible, but I don't think that Shels team were far behind. They weren't that far away from beating Deportivo in 2004.
"I know Dundalk went and toppled Bate Borisov, but that Shelbourne team weren't that far away from getting to where Dundalk did. People will now put Dundalk down as one of the greatest sides that ever played in the League of Ireland, and rightly so. But I don't think that Shels side is by any means lesser."
Chambers still has ties to the league and admits to watching the results come in on his phone even in the early hours of the Philadelphia sunrise.
"I still have some really close friends who are still playing in the league and I'd keep in touch with them and I'd keep up with the matches on Livescore on a Friday. It's maybe half four, quarter to five in the morning over here when the results come in. I certainly flick through and see who's winning, who's losing and see who is creeping up the table."
Chambers played in the League of Ireland for 12 years and five clubs, accumulating over 300 appearances. From Shelbourne came a loan spell at Waterford. Despite wanting to remain at Shelbourne, he accepted manager Pat Fenlon's view that the teenager needed first-team football.
When he returned to Tolka Park, Shelbourne were in ruins. Amid financial misdealings which centered around iconic owner Ollie Byrne, Fenlon resigned and the club were demoted to the First Division. Despite offers to play first-tier football, Chambers remained at Shelbourne — one of only two players to stay during the 2007 season in the First Division.
Byrne had convinced him that he could turn things around — the shadows were encroaching but it wasn't dark yet at Shelbourne Football Club, he said.
"I had such a good relationship with Jim Crawford. He was telling me that if I stay we will go back up and that I would play every week. I had met with Dermot (Keely) and it felt like the right fit. My father had told me that I should stay and whatever advice he ever gave me was always the right one."
Shelbourne failed to gain promotion and meanwhile Chambers had a career to prosper. Next was Drogheda for a season before signing for Shamrock Rovers, managed by Michael O'Neill. A man, Chambers notes, who would fill you with brimming confidence and a sense of place within his team.
"I loved playing under Michael. I think at Rovers I played some of my best football. Then I moved to Scotland and in Hamilton I had joined a club that was battling relegation. I felt that it was going to be a step in the right direction, but it turned out that it wasn't run how I would like a football club to be.
Michael was different altogether, he made you feel like you were Messi. He signed me and told me he didn't realise how good I was, and he told me to just show him what I do every week.
"Any player will tell you that that's all they really want — praise. If you have a manager that does that then you feel like a million dollars and you play your best football. If you tell someone he's rubbish every day, then he is going to think that he is rubbish.
"Michael would fill you with confidence but if you weren't performing he would be the first to let you know. I think the honest and straight-forward manner which he approached the game with was ideal for any player."
Scotland had left it's mark, however. A season at Hamilton had not gone according to plan as the side were relegated to the Scottish First Division. A time in his life Chambers admits he would like to forget.
A move back home came calling and opportunity was again on the horizon, with Liam Buckley on the other end giving him a chance to make something happen at St Pat's.
"I had come back from Scotland with a bit of a bee in my bonnet. I was disappointed with how things had went and I heard murmurs of people saying that I thought I was this, that and the other when I was in Scotland.
"Liam's style of play was a 4-3-3 and he thought I would fit in perfect as a defensive midfielder, which was ideal for me. At that time I didn't know how to defend, but he saw it differently — he told me that my range of passing was my best asset. So he wanted me as a number six, distributing the ball.
"Liam was terrific, he would just fill you full of confidence. He just wanted you to play the game and do what you can do.
"He was the manager who put me playing as a number six and he said this is where you can play your best football. Most people know that I am not the quickest and I am not going to be running down the wing."
His first stay at Richmond Park brought with it a third-place finish and a 2012 FAI Cup final defeat to Derry City, but also an incredible European run which climaxed against Bundesliga side Hannover 96 when Pat's walked out in front of 25,000 supporters at the Niedersachsenstadion.
"The atmosphere at most League of Ireland grounds is good, but you go out in front of 25,000…", Chambers trails off.
Like last week I played in Cincinnati in front of 19,000 people. To play in front of that many people is something to cherish, because we aren't earning 20,000 grand a week playing in the Premier League or playing in the Championship.
"It's fantastic to experience and to enjoy because those are the games that we, as lower league footballers, thrive for. It's something that no-one can take away from you and it's something you can really be proud of."
Chambers' career took a turn when he made the move to Tallaght Stadium in 2013. After working under Trevor Croly at Rovers in 2010 and again at St Pat's, the midfielder wanted to experience the highly-rated coach in his first managerial position.
But mental health issues left their mark on a season he says was a low point in a career defined by success and winners' medals. It is a topic he openly discussed four years ago, at a time when the stigma of admitting such health issues was not common, or even encouraged within football.
"I had a terrible year at Rovers. I had a good start to the season but then I had mental health issues. I wasn't at the level that I expected from myself and my performances that year weren't acceptable for me. It's not an excuse that I had health issues that year, but I didn't enjoy that year.
As much as football is a job you need to enjoy it and play with a smile on your face. If not then you're not going to play your best football. At the end of the year myself and Trevor had a conversation.
"I knew I needed a clean break and Rovers weren't in a position to sign me again with the performances that I had on the field, which is totally understandable. If someone doesn't do their job in an office, they shouldn't come back.
It was difficult. I had spoken to my dad, my brother, my sister and my best mate and they had encouraged me to go and seek help. It wasn't something that I wanted to openly speak about because the League of Ireland is such a small league. I felt that if someone says something about somebody, then the rumour mill starts to go around.
"I felt that I just needed to nip it in the bud and explain what happened and why from my side of things. If you don't stand up and speak for yourself then people start to think completely different of you. It wasn't something that I felt I wanted to speak about, but when the time was right I felt that I needed to."
But fours year is a long time and so much has changed in football since 2013 in breaking down the stigma attached to mental health within football. With Aaron Lennon, Neil Lennon, Richie Sadlier, Keith Treacy and Niall Quinn all speaking openly about their difficulties, a new environment of encouragement to speak out has developed.
Were there resources to seek help at the time?
"There was," says Chambers. "I had called Stephen McGuinness and the PFAI, who were all absolutely brilliant. They were incredible in the work that they did for me.
"They got me back into a state of mind where I was focused again and then the opportunity arose where Liam (Buckley) came in and said 'I know you've been through a tough time, but I know what you can do and I want to bring you back in.'
"I was grateful for that, because back then people wouldn't touch you with a bargepole because they thought you were fucking crazy.
"It's completely different now. I see Stephen Folan, Aaron Lennon, Keith Treacy now — it's fantastic that people are coming out and speaking about it. These players are not wallowing in self-pity, they're just trying to get the message out there.
"These lads would have a profile in Ireland and it's important to get that message out there that you don't need to put that macho-bravado, male persona out there, to just put your shoulders up and pretend that everything is fine. It's okay not to be okay."
Following his year at Rovers where he won a League Cup, Leinster Senior Cup and Setanta Sports Cup, Chambers re-joined Buckley at Pat's where he won another three titles in one season: the Presidents' Cup, Leinster Senior Cup and the almighty FAI Cup.
All the while playing in a midfield of dreams alongside Chambers, Greg Bolger, Keith Fahey, Chris Forrester and Killian Brennan. Another League Cup followed in 2015, a season which saw him recognised as the club's Player of the Season, before the US came calling and he brought an end to a remarkable League of Ireland career.
"I had some offers from other League of Ireland clubs and had met with Liam and was considering potentially staying. But truthfully when I met with Liam and with other managers I explained to them that the States was an option for me. Not one of them tried to change my mind because they knew it was the right decision.
I had played in the League of Ireland for 12 years and knew what that is. I loved it, but I had done it and lived it and I felt that I needed something different and needed to be stimulated on a different scale."
Still just 30-years-old, Chambers is turning his eye, even if slowly, towards coaching. He is captain of Bethlehem Steel  and also enjoys a proactive duty on-and -ff the field where he represents the club and simultaneously helps to develop younger players. He enjoys his role as the elder statesman, he laughs, as he is six years older than the rest of his squad.
"I want to play at the highest level I can, but I understand that I've gone 30. In terms of winning titles I knew when I came over that it was going to be difficult because there are so many teams in the USL (United Soccer League).
"Bethlehem Steel is more of a developmental team, rather than a standalone that goes out to win things. I understand my role and responsibility in that, but it doesn't mean that I don't want to go out and win every week or try and win titles. It's just the realisation of where we are and what we are looking to do."
Is a return to Ireland on the cards?
"I really don't know. My father passed away a few weeks ago and I think he would have wanted me to stay here. My aim is just to make him as proud as possible.
He always taught me that you just have to live with the cards you're dealt and that sometimes life fucks you. But those memories of him bringing me to League of Ireland games are precious and no one can take them away from me."
Admired by supporters of clubs both sides of the Atlantic for his industrious engine and battling determination on the field, Chambers' selfless honestly in publically battling his demons with mental health has demonstrated an even greater bravery.
And though he would disagree, he, more than most, deserves to wear his FAI Cup winners' medal with an immense feeling of achievement and a remarkable degree of pride.
The42 is on Instagram! Tap the button below on your phone to follow us!