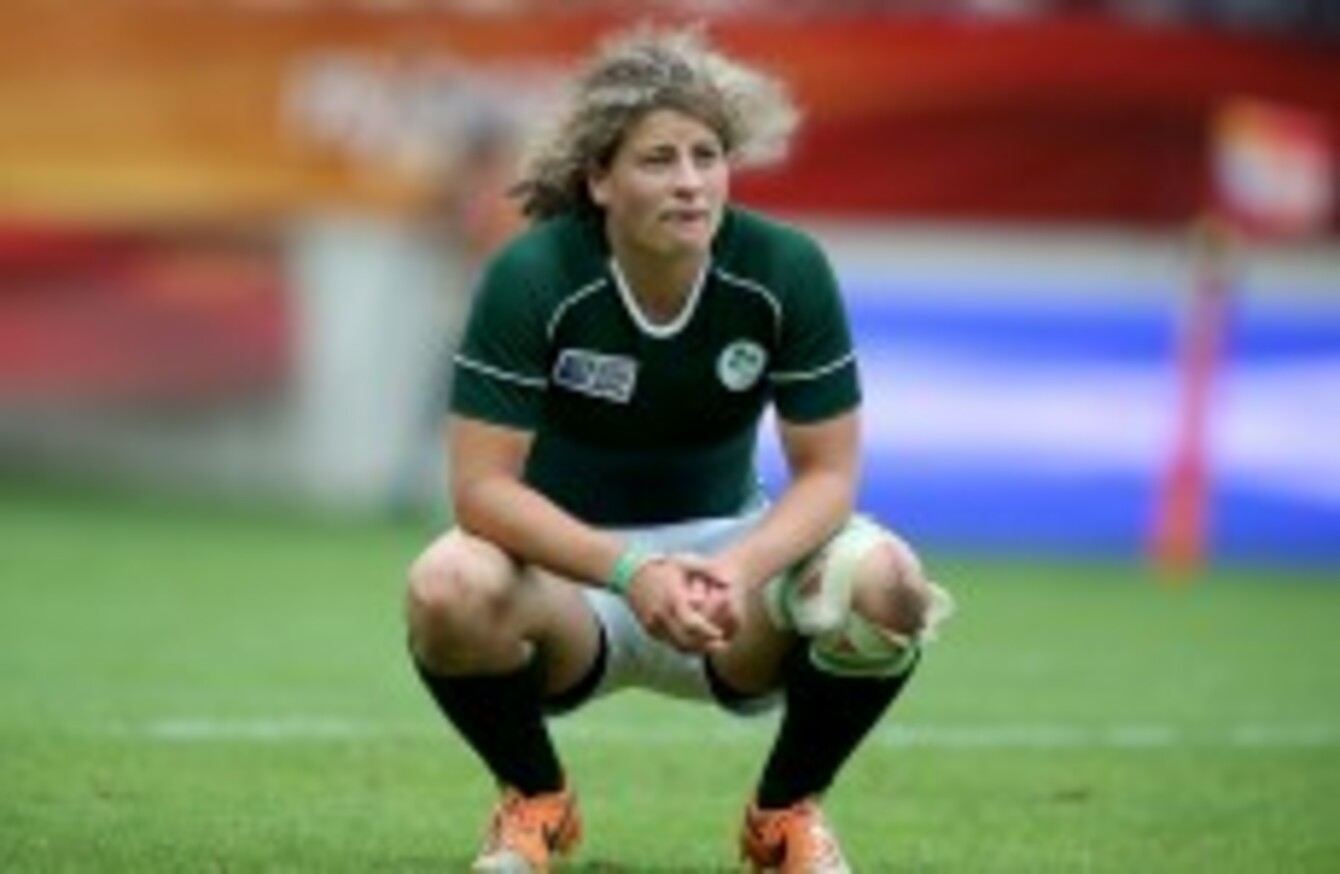 Murphy cut a dejected figure at the final whistle at Stade Jean-Bouin yesterday.
Image: Dan Sheridan/INPHO
Murphy cut a dejected figure at the final whistle at Stade Jean-Bouin yesterday.
Image: Dan Sheridan/INPHO
AND SO ENDS another World Cup cycle for Ireland Women.
Head coach Philip Doyle, attack coach Greg McWilliams, team manager Gemma Crowley, strength and conditioning coach Marian Earls, bagman Andy Weir, captain Fiona Coghlan and defensive leader Lynne Cantwell; all of them move on.
Their campaign in France ended in defeat to the hosts, but these important figures of Irish women's rugby have left the jersey in a good place, a position that now needs to be built upon aggressively and intelligently.
On the pitch, 25-year-old inside centre Jenny Murphy is likely to be a key figure in any future growth, given her explosive power and thirst for tackles. The Old Belvedere midfielder was mainly used off the bench in this tournament, but started against France yesterday.
It's fantastic to put on the green jersey, even it it's from the bench or in the starting team," Murphy told TheScore.ie post-game in Stade Jean-Bouin. "It's an amazing, proud achievement and it's one of the best feelings ever. It was great to put back on the 12 jersey, although it was disappointing not to play with Lynne.
"That said, I got to play with Grace Davitt and they're two phenomenal centres. I'm delighted I got the start. Obviously, I would have preferred if it was in a final, but so it is."
Murphy once again provided a direct ball-carrying option for Ireland, as well as chipping in with a handful of trademark big hits in defence.
The former Peamount United footballer was pleased that Ireland "upped our game" after the England defeat in the semi-finals and admitted "we're not feeling as bad as we did leaving the pitch on Wednesday."
As Ireland review this World Cup campaign, the loss of two of their most important players will be keenly felt in the coming seasons. Whoever the next head coach is would be wise to invest in Murphy in a leadership role.
"I think Fiona Coghlan and Lynne Cantwell's are extremely big boots to fill and I don't envy anyone who has to go into that position. However, it's time for the younger players to step up and the fact that we got to play with those players for three years and more, it's been an absolute privilege.
They're some of the best players that I will ever play with and I know that, hands down. It's important that what I've learned from them, I can teach to other players through the ranks."
Captain Fiona Coghlan will need to be replaced in her capacity as Ireland's loosehead prop, but also as a leader. The 85-cap Leinster front row has left an indelible impression on Murphy.
"Fiona is the captain supremo. You can't say a bad word about her on the pitch or off the pitch. She knows how to drive each individual in their own different way and it's always about the team.
"She's so self-sacrificing and goes beyond what she should have to. She's just such a good leader and she'll be sorely missed."