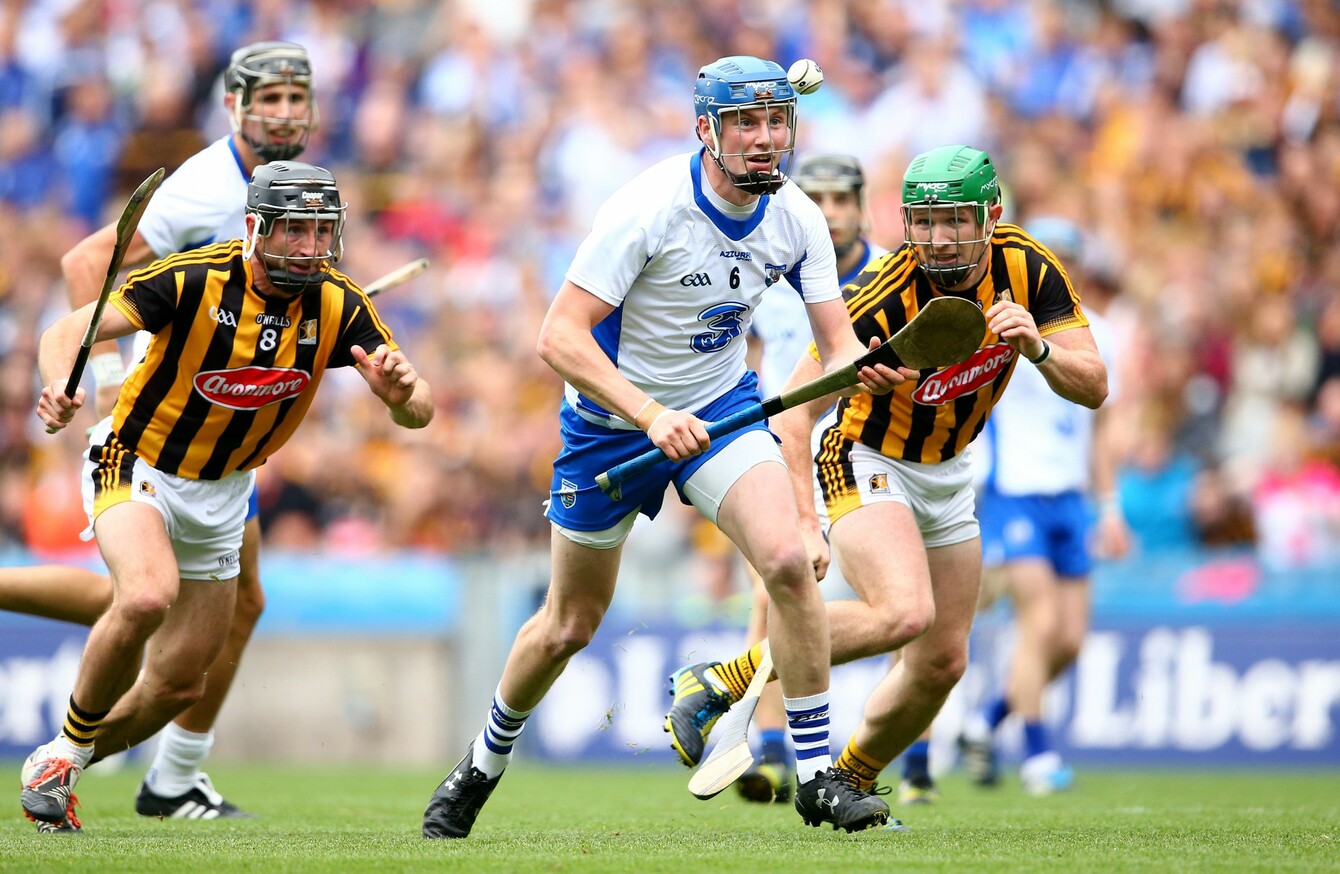 Image: Cathal Noonan/INPHO
Image: Cathal Noonan/INPHO
THE 2016 CHAMPIONSHIP had been desperately poor before today. I didn't really expect that to change when I sat down to watch Kilkenny and Waterford but the game that unfolded was unbelievable.
Last year I believed Waterford would truly test Kilkenny but the match was a damp squib. Today I didn't feel Waterford were in the right condition to push Kilkenny to the wire yet it was a game they were on the brink of winning.
Maybe too much attention was paid to the Munster final. Waterford were not at the races that day in Limerick but that game now looks like an out of character performance that can happen.
Today's performance will delight Derek McGrath. Waterford's physicality was a big plus for them. Now they know they can match Kilkenny physically. That's huge.
It was incredibly enjoyable hurling, largely because it was so competitive. That is the way hurling should be played and the fact that referee James Owens did not give too many frees was a contributory factor.
Usually that type of scenario suits Kilkenny but Waterford were well up for the fight today. No one complained, the players put in hard hits for the 70 minutes and what we got was a brilliant spectacle for supporters. Suddenly the championship is alive again and we've two massive semi-finals to look forward to next weekend.
Waterford deserve huge credit. Consider the key requirements you need to have to compete with Kilkenny. Match them for aggression and physicality. Win your own long puckouts in the half-forward line and disrupt their half-backs. Stop the concession of goals, particularly in the opening stages. Waterford ticked those boxes superbly and but for a drop off in the last ten minutes, they would have won this game.
In the first-half Waterford's defending essentially was in the style we're used to Kilkenny doing. No Kilkenny forward could get regular space, bar Richie Hogan. It was impressive the way they clamped down on Hogan after half-time.
From Derek McGrath's point of view, it happened to be the same player getting the points in the first-half but it wasn't like Waterford's defence was in trouble. They sorted it out and the way they stamped him out was excellent.
A few of Waterford's passages of play were outstanding. They were full of energy and used the ball intelligently. Kilkenny couldn't handle them. It looked like they were getting outplayed but yet when they went in at half-time, Kilkenny were only behind by 0-13 to 0-12.
I was fearful for Waterford then about their ability to sustain that level of challenge. Kilkenny masters of blowing teams away after the interval. But instead Waterford were even better for most of the second-half, that spell between the 48th and 58th minutes of the game looked like the winning of it.
And yet they were caught at the end. Where did it go wrong? You could say they were tired, that all the recent games did catch up on them a bit. They were after putting in a huge effort up until 60 minutes.
But despite any tiredness creeping into their play, they should have still kept more bodies in the latter third of the field. They had nobody up there.
For all the good stuff they did in first-half, in the last ten minutes they winning 50-50 possession but were bombing ball down to no one. That cost them. I wouldn't have taken Shane Bennett off either. I felt he was causing the full back line problems, and had the blend of pace and composure they required.
Still Waterford go so much right in their forwards. Pauric Mahony's presence is the critical difference in their 2016 team to their 2015 side. Your freetaker has to take your opportunities and he did that in style. From general play, sometimes he can drift out of the game, but he was consistently good today.
You have to hand it to Austin Gleeson as well today. It was a brave call from Derek McGrath to push him up into attack when look at how outstanding he has been further deep and how it didn't work out for him in the Munster final.
He was magnificent today and his composure on the ball is beyond his years. He's never afraid to take that extra touch or bit of time on the ball. Brick Walsh is still hugely influential and Kevin Moran's sheer work rate was also key.
We're focusing on Waterford as their emergence is the main story yet you have to salute Kilkenny as well. They played poorly and still survived. Their attack particularly struggled.
Walter Walsh got a goal but was not really in the game. Jonjo Farrell was not involved. TJ Reid was clearly important from frees but Waterford placed the shackles on him in open play. In the overall sense they were too reliant on Richie Hogan for inspiration in open play.
It was notable when the ball broke that Kilkenny weren't winning possession as Waterford came out of the rucks with the ball time and time again. That was the main difference.
Nobody really played well yet Kilkenny showed all the composure of champions. Look at how in the finish they took a short puck out out to the corner back, he played nice simple ball to Conor Fogarty and a point resulted.
No one panicked where there was a lack of experience on the Waterford side in the finale. They were trying to work a score when they badly needed it but they snatched at those opportunities that came their way.
Neutrals will be hoping Waterford can take confidence from this and that they will come back to reach those same levels in Thurles next Saturday night.
But you have to look at the pattern that sees Kilkenny not lose replays apart from against Dublin in 2013. Kilkenny have far more room for improvement than Waterford. That and their experience may give them the edge next Saturday but Waterford's level of performance today should have their confidence levels high.
The42 is on Snapchat! Tap the button below on your phone to add!