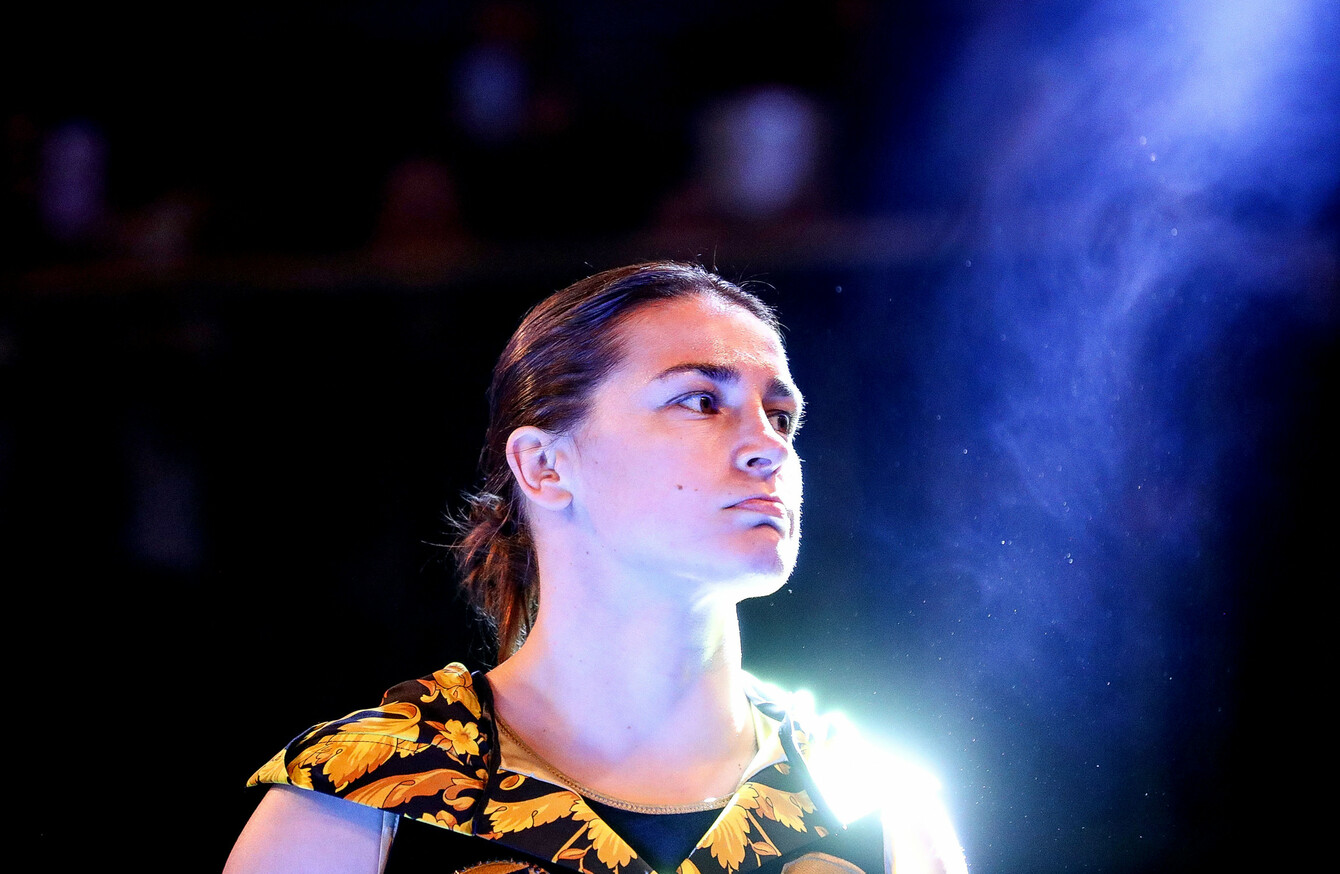 Image: James Crombie/INPHO
Image: James Crombie/INPHO
Gavan Casey reports from London
FOLLOWING A WEARYING battle with one-woman wrecking machine Jessica McCaskill in London, Katie Taylor – still the WBA World lightweight champion – sports a plethora of bumps and bruises, but has plenty to smile about.
She climbs down a flight of seemingly precipitous steps into an unused York Hall dressing room, which is frankly tiny, just 40-odd minutes after defending her belt for the first time.
She's flanked by manager Brian Peters and promoter Eddie Hearn, with trainer Ross Enamait following quietly behind, content with having engineered another stellar outing for his chief charge.
The four Irish reporters hunched around her table witnessed Taylor's cheery segment on The Ray D'Arcy Show back in October but from the other side of the camera, and all of them had laughed that night in the bowels of Cardiff's Millennium Stadium when the new WBA World lightweight champion turned to Peters and wryly asked: 'Do I really have to do this?' some 10 seconds before she was beamed live to Dublin.
Taylor doesn't have a problem with Ray D'Arcy – not to the best of my knowledge, anyway – but to suggest she's not quite in her element in such environments would be an understatement.
On this Wednesday night in London's iconic 88-year-old boxing venue, however, she grins through the latest inquisition more so than merely bearing it.
"No," is her steely response when asked if McCaskill had hurt her with a monstrous counter off the ropes in the sixth round.
The silence which follows is alleviated only by the smile which eventually betrays her earnestness.
"No, I wasn't hurt at all."
Peters interjects mischievously: "She got your attention!"
Taylor laughs before offering a stony-faced riposte: "Yeah, but I still won the round at the end of the day. She was a big puncher, I was aware of that, and I took everything she threw at me, really.
"What else can I say?"
Famously a woman of few words, it was somewhat stirring to watch Taylor say plenty to Chicago's McCaskill as they waged war.
These were hardly sweet nothings, of course, and were snarled rather than whispered during close encounters in a fight born almost solely of Team McCaskill's own preconceived campaign of inflammatory chatter.
"I can't actually repeat what I was saying to her!" Taylor laughs, happy to dispel the notion that butter wouldn't melt. She's reticent to spill too many beans, though.
"No I was just… I can't even remember what I was saying to her.
"I was just egging her on more than anything else."
Actions speak louder than words in the ring, of course, and while there were countless more jabs than there was jabber, a night of firsts did paint the world champion in an refreshingly impudent light: in round five, she flirted with the idea of showboating, extending her right hand wide of her body as if to goad McCaskill before promptly launching her left.
Two verses later, she withstood a barrage against the ropes before shaking her head and smiling at 'CasKILLA', before beckoning the American forward once more – not that McCaskill needed a second invitation.
She repeated this bravado at centre-ring during the final round, much to the palpable excitement of the 1,500-strong crowd who took us to the final bell with a clamourous chorus of 'Olé Olé'.
I was just enjoying myself in there, and showing a bit of attitude as Ross [EnamaitF] says. Why not? Just for the craic!
"I felt very comfortable in there tonight and I was enjoying the occasion.
"To headline my first show was incredible.
I felt quite good in there tonight. I'm definitely looking forward to a nice rest – it's been a busy year. I'm disappointed the Haye and Bellew fight is off this weekend – I wanted to be on that show as well!
Even in a frequently messy encounter, there were few dull moments: Taylor, though cruising on the cards, was docked a point by referee Howard Foster in the seventh for persistently holding the bullish Windy City resident – a call which Taylor herself admits she felt was somewhat unfair and "a bit early".
Speaking to The42 following Tuesday's weigh-in, the Bray woman insisted she was more than willing to make the fight "boring" if she deemed it necessary.
If Wednesday night's victory was boring, then – even while Taylor spent much of it boxing off the back foot – it surely begs the question as to whether we'll ever see her in a legitimately tedious affair at this level.
"No! Definitely not," is Eddie Hearn's immediate answer, and the beaming Taylor is inclined to agree with her smitten promoter.
"No, I don't think so," she says.
"I'll definitely do whatever it takes to win a fight, but what I meant by that [comment on Tuesday] was just that I knew I had to box clever in there tonight, and I couldn't mix it up too much in there.
"I just had to box on the outside and kind of stick the shots and move, and that's exactly what I did."
But on a night where Taylor broke from her norm in the ring on more than one occasion while besting an outspoken opponent, she remains steadfast in her assurance that she won't shout prospective opponents' names from the rooftops – not even her fellow world title beltholders.
The rest of them, as Taylor sees it, can take a leaf out of McCaskill's book and come knocking if they wish to step to it with the biggest name in the lightweight division.
"I don't think it's in my style to call anyone out, really.
"I think everyone's aware that I want to unify the division and I want the biggest fights out there, so, you know, whoever holds the belts, they're the kind of fights that I want."
It's over to her promoter, then, to ensure Taylor lands a couple of winner-takes-alls in 2018.
And Eddie Hearn is confident she won't be left waiting.
"I think it'd be disappointing from now if we don't fight the champions, really," says the Matchroom CEO. "We've had a voluntary defence.
"I don't think she'll fight many who are tougher or stronger than McCaskill, but really, we are wasting opportunities if we don't target the champions.
I think particularly her next fight, it has to be a unification fight, really. And if we're going to go to Dublin, a unification fight will be very special.
"It's only about money, really, as it always is. And we've continuously had to overpay opponents – not Katie, but opponents. Again tonight.
Tonight, we drastically overpaid that opponent. In the world title fight, we drastically overpaid that opponent [Anahi Sanchez], and we'll drastically overpay the next one. It's just how it is.
'The next one' might well hail from Argentina once more, and like American McCaskill, it's not unlikely that she'll find herself traversing the Atlantic to fight the Irish trailblazer.
Indeed, fight number nine might well take place a little closer to home both for Taylor and her potential foe.
"There's a young lady called Victoria Bustos who's the IBF champion, an Argentinian," says Hearn. "She hasn't wanted the the fight [so far], but in the last few days they've shown signs that they want to take the fight.
I'd like to bring Katie to Dublin next, and I'll be talking to Brian and Katie about it. I think it'd be a shame not to go to Dublin, and I don't think it'd make a lot of sense not to fight in Dublin.
"The popularity we've seen on our shows in England, in Wales, has been incredible. If we can bring a unification fight, we'd love to do it in Dublin. I think April would work really well, because it would give Katie the chance to have Christmas and January off, which I think she needs."
Hearn then reflects on his first year-and-a-bit spent promoting Taylor's transition to the pro ranks – a venture which began with Taylor sliding into his Twitter DMs and an initial hesitation on his own part.
In the intervening months, she's fought eight times, won and defended a world title, and on Wednesday night threw down in the first ever women's bout to headline a Sky Sports-broadcast boxing card.
It's a trajectory which even the Essex promoter, in all his experience and in spite of Taylor's pedigree, couldn't have foreseen.
"I keep saying to people: 'Don't worry about men or women, just watch the fight, and if you enjoy it, it doesn't really matter. And you can't not have enjoyed it [Wednesday's fight].
Another win, headlining on Sky – that was one of the things that when we first sat down, we said: 'Wouldn't it be great to be able to do that. Could we headline on Sky?' And we've done it quite early. And we'll do it again.
"I don't really see many places for her on undercards anymore. Obviously we will at some point, on the major shows, but I'd like to see her headline in her own right.
"There's some big fights to do it here, and also in America as well.
"We could have sold another couple of thousand in here tonight, but it was a great atmosphere in here. She's boxed at Wembley Stadium, she's boxed in the Millennium Stadium, she's boxed at Barclays Centre, she's boxed at Wembley Arena, she's boxed at the O2, she's boxed at the Manchester Arena and now she's boxed at York Hall.
"It's been a wonderful 16 months."
The next 12 will likely define Taylor's professional journey, but the WBA World lightweight champion is hellbent on adding other acronyms to her current status.
For an athlete of her ambition and ability, though, unifying a division simply won't suffice in satisfying the incorrigible urge to succeed.
"Even then, I'll still want to achieve more," says Taylor.
I'll never put any limits on myself, really. I just want to continue making history in this sport, and continue to bring women's boxing to new heights. And when I retire I'll know that it's the right time to retire – that I've made history and I've brought women's boxing to a new level, really.
"For the time being, I'm not satisfied. I want more. I want all the belts.
"I think it's very achievable. As Eddie said, that girl – what was her name, Victoria [Bustos]? – it's very achievable, and this night tonight sets up a great 2018 for me."
The42 has just published its first book, Behind The Lines, a collection of some of the year's best sports stories. Pick up your copy in Eason's, or order it here today (€10):