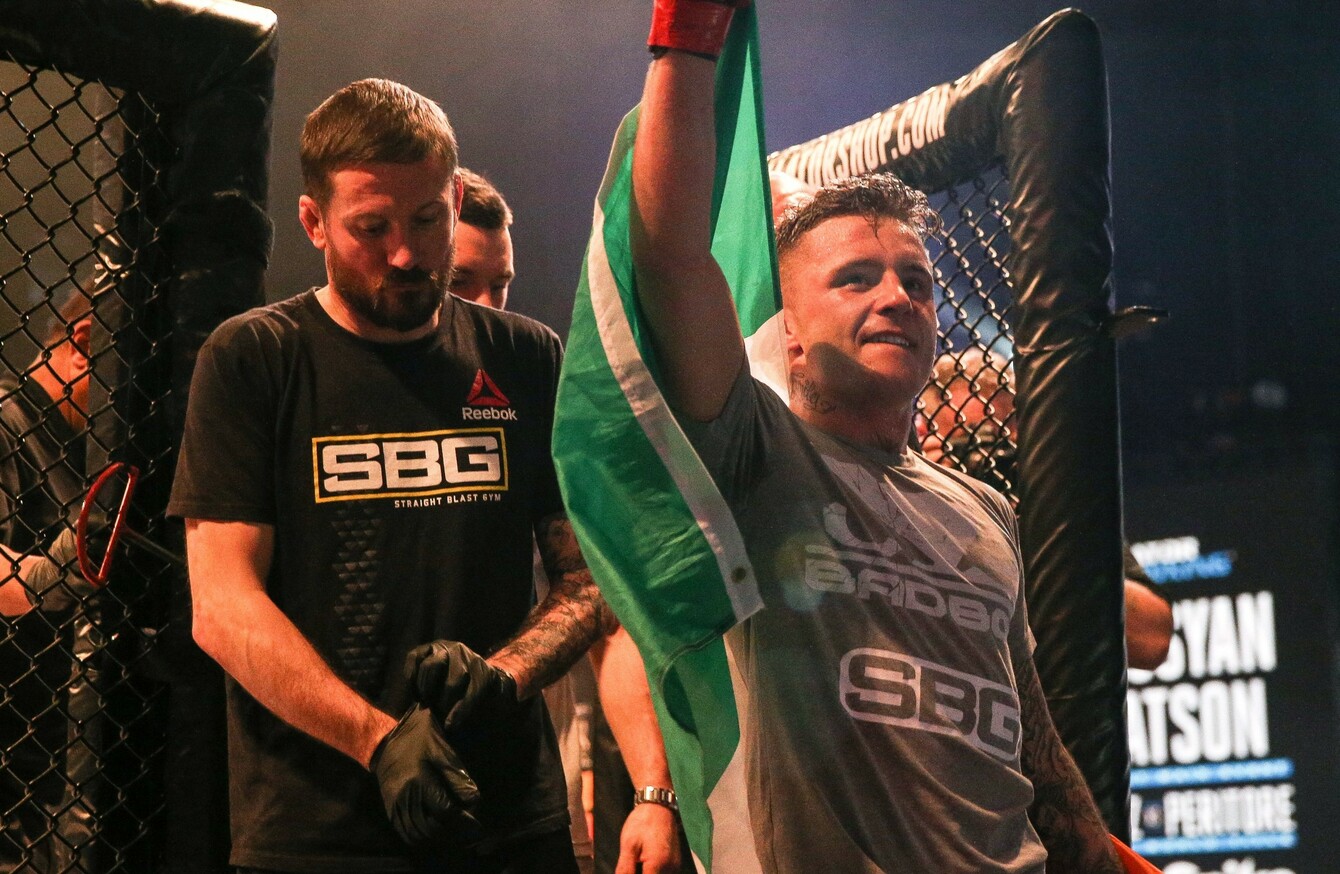 James Gallagher, flanked by John Kavanagh, celebrates after his win against Anthony Taylor last December.
Image: Gary Carr/INPHO
James Gallagher, flanked by John Kavanagh, celebrates after his win against Anthony Taylor last December.
Image: Gary Carr/INPHO
WHEN JOHN KAVANAGH and James Gallagher first crossed paths, the Straight Blast Gym head coach was reluctant to be involved.
It wasn't that he didn't rate Gallagher's ability. Kavanagh was acting as a judge at a mixed martial arts event, where the Strabane native — who was just 13 at the time — took on a 22-year-old.
Kavanagh refused to judge the fight because of the vast age difference, but he was intrigued nevertheless by the potential he saw in Gallagher, who managed to defeat a much older opponent. Gallagher (6-0) eventually moved to Dublin, Kavanagh took him under his wing and tonight he'll fight at the world's most famous venue.
There are parallels to be drawn too between this bout and the aforementioned one that 20-year-old Gallagher competed in seven years ago. His opponent at Bellator 180, Chinzo Machida (5-2), is twice his age.
"That age difference — 13 and 22 — is actually much bigger than this because your testosterone levels are so low at 13, whereas at 20 you've pretty much fully matured," explains Kavanagh, who's also currently helping Conor McGregor to prepare for his boxing bout against Floyd Mayweather in Las Vegas on 26 August.
"It's another big age gap and it's funny; both James and Conor are preparing to face 40-year-old opponents on the biggest nights of their careers."
Gallagher has received a major promotional push since signing for Bellator, who have used him as their poster boy to capitalise on the increasing popularity of MMA in Ireland.
Source: BellatorMMA/YouTube
Having already fought three times for the US-based promotion, Gallagher has taken his overall record to 6-0. There are much bigger tests ahead for 'The Strabanimal' if he's to reach the heights he believes he's capable of, but he's come a long way since making his professional debut in front of a few hundred people at Neptune Stadium in Cork just 20 months ago.
"For James, he's becoming a man now," says Kavanagh. "He's maturing into his body and on the mental side of the game as well. I see this as a coming-of-age fight for a number of reasons.
"He's almost 21, he's facing a veteran, it's his first fight in America and it's on the biggest stage there is — Madison Square Garden in New York. I know it's a massive cliché but things really couldn't have gone any better in the build-up."
Tonight's Bellator bill will feature three title fights, with Fedor Emelianenko versus Matt Mitrione and Chael Sonnen versus Wanderlei Silva rounding off the action. Kavanagh, who'll be on cornering duty tonight at MSG, believes the event offers Gallagher — who has previously only fought in the UK and Ireland — a major opportunity to increase his profile west of the Atlantic.
He says: "There's no comparing the American market to the European market, and this is his introduction to the US scene. You're talking about half a billion people, he's fighting in a city like New York and on the biggest card Bellator has ever done.
"If you look at the rest of the card, it's kind of like a swansong for a lot of legends. But this is the beginning of James' legacy. This is the first big one for James. The door is just opening for him."
Gallagher certainly doesn't lack confidence, particularly given his level of inexperience. He believes he can emulate McGregor's considerable success and has his sights set on Bellator's featherweight title. Kavanagh is confident that as well as possessing the skills to back up his boasts, the youngster is handling his career in the right way.
"I believe his ability is there to back it up. It's just a fact about this sport that it favours and rewards those who are willing to make bold claims and train in a manner which lives up to that," says the SBG boss.
"I know some fans prefer the shy and retiring types, but you can't argue with the numbers that are driven by the fighters who make bold predictions and put on entertaining fights. They're the ones who succeed most in this game.
"James has grasped that since a young age and he's reaping the rewards."