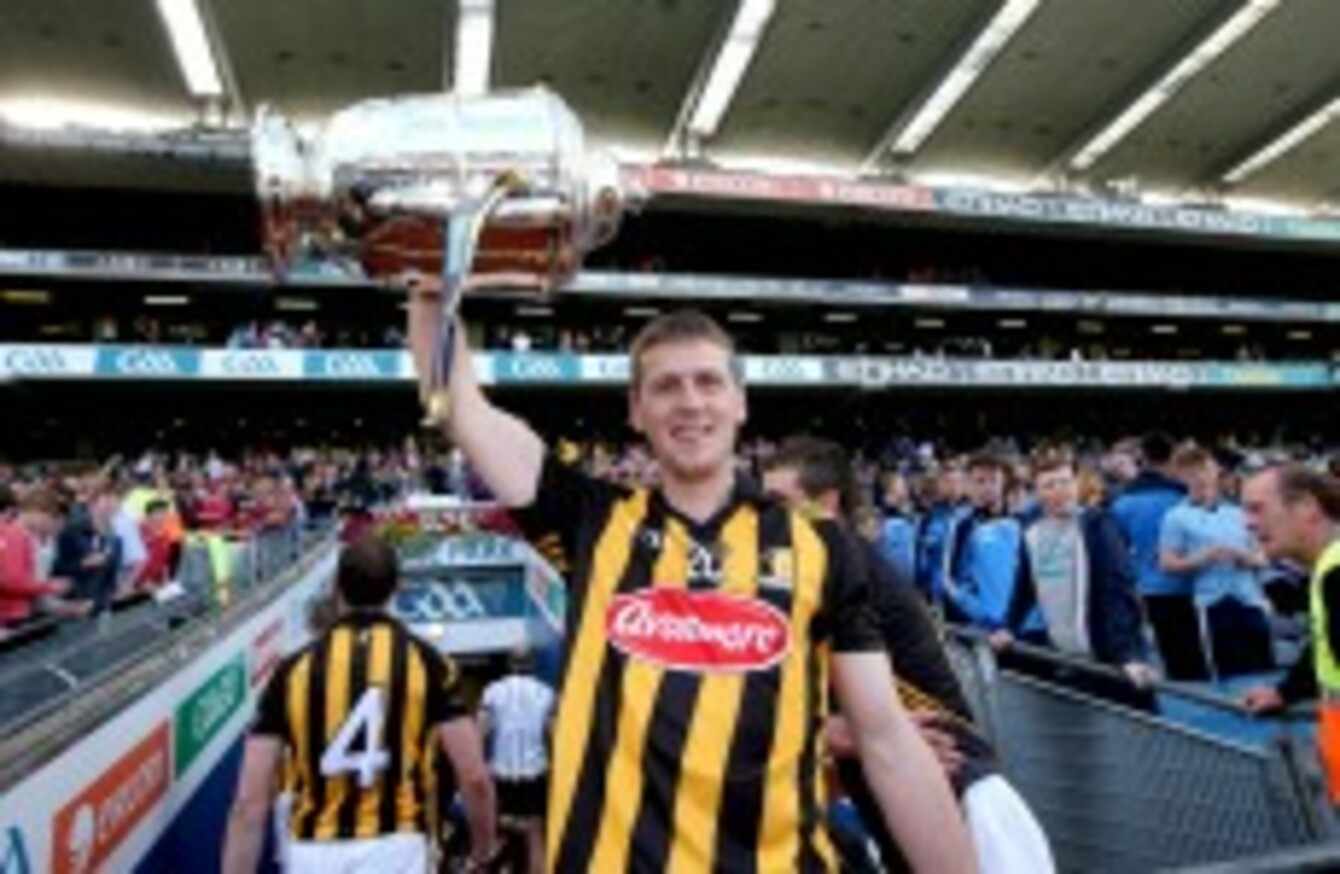 Lester Ryan is bringing the Bob O'Keeffe Cup back home to Kilkenny tonight.
Image: Ryan Byrne/INPHO
Lester Ryan is bringing the Bob O'Keeffe Cup back home to Kilkenny tonight.
Image: Ryan Byrne/INPHO
Kilkenny 0-24
Dublin 1-9
IT WAS NUMBER 13 of the Brian Cody era but there was nothing lucky about Kilkenny's latest Leinster title.
They ran out comfortable winners by double scores against a Dublin side that surrendered their hard-won provincial crown without much of a fight.
As a contest, this was disappointing and a far cry from the barnstormers these two have served up in recent years. The Dubs never hit their stride and as a result, Kilkenny didn't need to be anywhere near their best.
To score 24 points (15 from play) without leaving third gear is an achievement in itself.
After successfully negotiating three games in a fortnight, the Cats now have a five-week break before they return here for their All-Ireland semi-final. As Anthony Daly admitted afterwards, they are worthy favourites to take back their throne come the first Sunday of September.
While Cody plots, Daly's challenge is to pick up his men and try to salvage their summer in the quarter-finals.
The scoreboard will be the area of biggest concern. Dublin might look back on the ninth minute when Conal Keaney chose to point an early penalty rather than go for goal. When Colm Cronin did raise the green flag in the 22nd minute, it was their first score from play.
When the game was still in the balance, Dublin managed just three points in the entirety of the second half.
All the while Kilkenny found the space to keep the scoreboard ticking over without too much difficulty. Six of TJ Reid's 10 points came in the first period, opening up a four-point gap at the break.
After being outplayed, that margin would have given Dublin hope but they never got any closer.
They did have two great chances to reel in Kilkenny but Joey Holden stopped Johnny McCaffrey with a fine diving block and then goalkeeper David Herity was sharp to deny Cronin his second goal of the afternoon after Paul Ryan did superbly well to keep play alive.
Reid aside, Kilkenny found scorers all over the park. Colin Fennelly contributed three from play as did Henry Shefflin with a rapid-fire treble when he came off the bench for the final 15 minutes.
The King may be needed later this summer to tilt a game that hangs in the balance but today, the game was won before he had a chance to pull on his helmet.
For Kilkenny, another All-Ireland final is only 70 minutes away. For Dublin, there are plenty of questions to answer.
Scorers for Kilkenny: TJ Reid 0-10 (4f, 4 65), Colin Fennelly, Henry Shefflin 0-3 each, Padraig Walsh, Richie Hogan (1f) 0-2 each, John Power, Walter Walsh, Brian Hogan, Aidan Fogarty 0-1 each.
Scorers for Dublin: Colm Cronin 1-1, Alan McCrabbe 0-3 (3f), Conal Keaney (1p), David O'Callaghan, Danny Sutcliffe, Conor McCormack, Paul Ryan 0-1 each.
Dublin
1. Alan Nolan
2. Shane Durkin
3. Peter Kelly
4. Paul Schutte
5. Stephen Hiney
6. Liam Rushe
7. Michael Carton
8. Joey Boland
9. Johnny McCaffrey (c)
10. Ryan O'Dwyer
11. Alan McCrabbe
12. Danny Sutcliffe
13. David O'Callaghan
14. Conal Keaney
15. Colm Cronin
Substitutions: Conor McCormack for O'Dwyer (29), Niall McMorrow for Boland (41), Paul Ryan for Sutcliffe (41), David Treacy for Keaney (50).
Kilkenny
1. David Herity
2. Paul Murphy
3. JJ Delaney
4. Jackie Tyrell
5. Joey Holden
6. Brian Hogan
7. Cillian Buckley
8. Richie Hogan
9. Conor Fogarty
22. Walter Walsh
11. Padraig Walsh
12. TJ Reid
13. Colin Fennelly
15. Eoin Larkin
25. John Power
Substitutions: Henry Shefflin for W Walsh (55), Aidan Fogarty for Power (59), Lester Ryan for C Fogarty (69).
Referee: Barry Kelly (Westmeath).