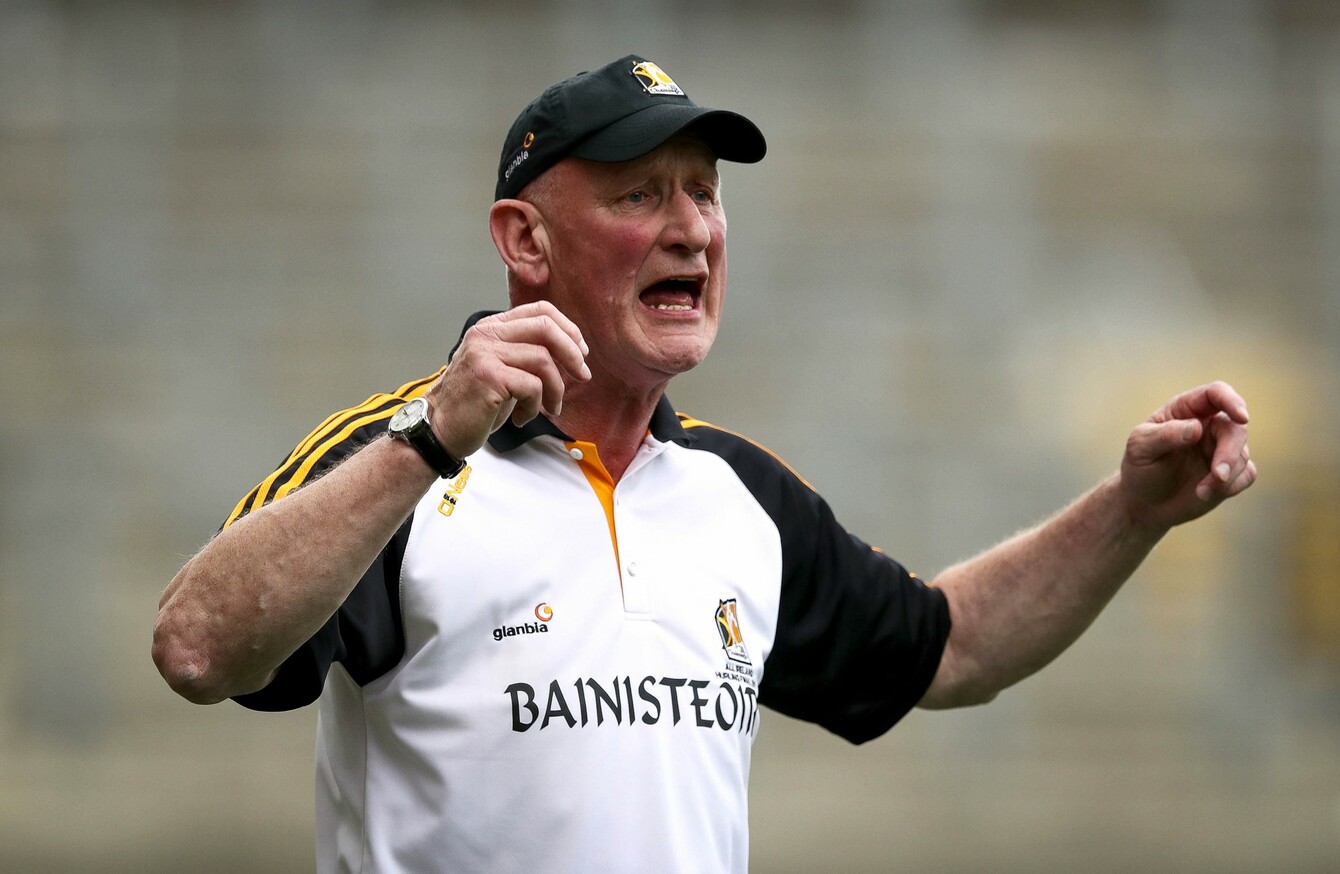 Cody: 11 All-Ireland titles and counting.
Image: Ryan Byrne/INPHO
Cody: 11 All-Ireland titles and counting.
Image: Ryan Byrne/INPHO
BRIAN CODY'S FUTURE as Kilkenny manager isn't set to end anytime soon, according to retired Cats star Richie Power.
Cody, 62, has been Kilkenny boss since 1998, landing a record 11 All-Ireland titles and becoming the most successful GAA manager of all-time in the process.
Each year and each success brings more speculation with regard to the James Stephens man's future in charge of the county, but Power doesn't see any reason to believe that Cody will be stepping down over the next while.
"I don't think the end is anywhere near. He's recently retired from his position in his primary school. Again, it's freed up a bit more time for him," said Power, a two-time All-Star.
I think he's going to be there for the foreseeable future. I don't see why not. His record speaks for itself. His will is to win and I suppose I don't know how to explain it.
"He has a skill of unearthing new talent every year. He always seems to find them two or three players every year to freshen things up.
"I certainly don't see any reason why he won't continue. The talent is there and if there's talent there, Brian will certainly find it."
Among the new talents Cody has unearthed this year is Jonjo Farrell.
The teacher has been on the panel since 2014 but with the absence of key players this year, he has been fired into the starting XV and Power believes his role will continue to grow over the course of the championship.
"I knew Jonjo was always going to make it. I think it just took a little bit of extra time more than others to progress," continued the Carrickshock man.
"You saw some of the displays that Jonjo would put up in Nowlan Park. It would shock you they were so good. He's taken over from Ger Aylward last year, which were big boots to fill, and he's done it really well.
"2-9 from play in two championship games is phenomenal scoring and I think he is going to have a big say in this championship. Whoever Kilkenny come up against in the semi-final, they are going to seriously need to keep a close eye on Jonjo.
"We'd be hoping then, if Kilkenny get over the semi-final, that Jonjo will really step up in an All-Ireland final, which I think he will."
The indications from the championship so far point to a strong possibility of another compelling All-Ireland encounter between Tipperary and Kilkenny.
Both teams won their respective provincial championships but Kilkenny have proven in the past that they are more capable of dealing with the long wait until August in comparison with their neighbours across the provincial border.
"It's very hard to look past a Kilkenny/Tipperary final," Power added.
"They are the two in-form teams of the year. Kilkenny are pros with dealing with the five week gap between the Leinster final and a semi-final so I don't see that being an issue.
"Maybe Tipperary might come in a little bit cold. It has happened in the past. It has caught them out in the past. That might catch them.
Certainly going on form, I can't see Tipperary or Kilkenny being caught in the semi-final and it will be an unbelievable All-Ireland final if that is to happen.
But can Tipperary deny Cody's men their third title in a row and their ninth in 11 years?
It will take a big performance from Michael Ryan's team to topple the heavyweights of the last decade but the 30-year old retiree doesn't believe the hunger of this Kilkenny team has been spoiled from the long road travelled.
In his experience, there is only one system capable of beating a team like the current champions.
"I don't see any weak link in the Kilkenny camp and looking into the Tipperary camp as well, there's very few weak links there. I was at the Munster final last weekend and I was very impressed with Tipperary.
"It will be interesting to see how they handle the five-week gap.
"Then the results of the quarter-finals this weekend will have a major impact as well. You'd imagine that Waterford would beat Wexford which would set up a semi-final against Kilkenny, a repeat of last year.
"You"ll have to go 15-on-15 because I don't think playing a sweeper will be enough to get over Kilkenny.
"I think Tipperary and Galway, in the last few years, are the only teams that have gone man for man and they have been the ones that have come closest to beating Kilkenny."
The42 is on Snapchat! Tap the button below on your phone to add!