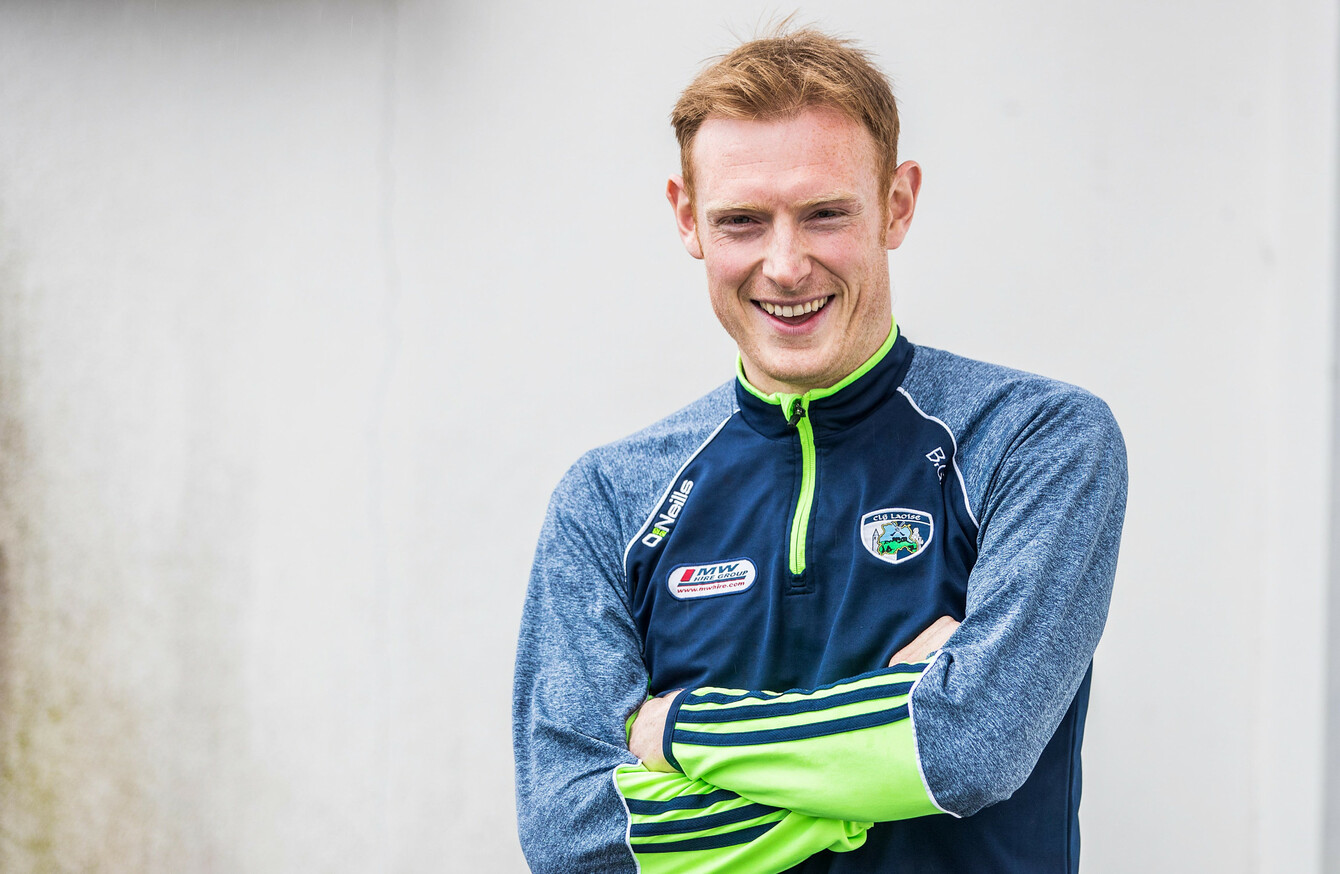 Laois footballer Brian Glynn.
Image: Tommy Dickson/INPHO
Laois footballer Brian Glynn.
Image: Tommy Dickson/INPHO
Updated Jun 19th 2018, 3:00 PM
WINTER IS A time of recruitment in inter-county football.
For John Sugrue it was no different when he moved into the Laois hotseat to begin forming his plans for 2018.
As he plotted, the process of bolstering his squad began and the calls were put in to sell the Laois project to prospective players.
Brian Glynn is one of the new faces who snapped up the opportunity and is preparing for a maiden Leinster final next Sunday.
At first glance he seems a curious choice to draft in. A 29-year-old with no inter-county senior experience who did not play club football last season.
Those bald statistics conceal the value Laois saw in Glynn.
He lined out in county colours at underage for Laois. Portlaoise have ruled the county scene with an iron fist, accumulating ten of the last eleven senior crowns in Laois. Glynn has been immersed in their fortunes.
He started centre-forward in their 2009 Leinster club final win and was in from the off for the 2012, 2013 and 2015 deciders when they came up just short.
Club exploits put him in the county shop window but availability was the issue in any plans Laois may have had for Glynn.
Home was always Portlaoise but life brought him to England.
"I went eight years ago and studied in Newcastle, physiotherapy over there," recalls Glynn.
"I was quite keen to do physiotherapy and just given my age, I would have had to wait a number of years to be a mature student in Ireland.
"So I obviously accelerated that by going to England. I did come over and back for the seven years playing football with Portlaoise, really enjoyed that and very privileged to get that opportunity."
Being away did not restrict him from being exposed to elite sport, instead his life across the water afforded him those opportunities.
"So I was based in Liverpool Royal Hospital and then worked with Liverpool Football Club, predominantly with their academy teams. Then most recently, I came back from Sunderland Football Club, where I was working as the head of the academy there. Really enjoyable times."
In Liverpool he worked with teenagers of rich potential and has watched a few start to blossom in English, European and global arenas.
"Trent Alexander-Arnold, it's obviously going fantastic for him. He's gone on to go with England to the World Cup. I remember strapping his foot for my first derby, which would have been an U16 game against Everton in Finch Farm.
"Ben Woodburn is another young Liverpool kid, Welsh striker, that I've a lot of time for. Rhian Brewster is a young kid that's just won a World Cup as well. He's a fantastic attitude and he'll certainly go a long way."
Time spent with Sunderland, a soccer hotbed in the north-east, was also an instructive experience.
"I really enjoyed my time at Sunderland. Obviously when I was there, they were a Premier League club. I know a lot of Irish people follow them and in recent seasons things haven't worked out for them.
"I obviously studied in Newcastle and had an uncle living in Newcastle, they're big Geordies so I had to be careful! Like anything when you're involved in any setup, you wanted them to do well and that's the biggest thing.
"It is a great club, it's great for that area. It's fantastic facility, it's a great academy and it's very important for the people living in the North-East."
If his focus was trained on soccer during the day, he kept his eye in for Gaelic football in the evenings, so as to leave himself primed to shine for Portlaoise when he flew back at weekends.
"Lamp posts are your friends amazingly, they can handpass a ball back if you're quick enough," laughs Glynn.
"I made the commitment to come back to Portlaoise and train, so then midweek obviously when you were in England, you'd have to train on your own.
"That was a challenge. There was a university team and there was the start of a club team when I was in Newcastle. But in Liverpool there was a very good team. Obviously John Moores University had a team and John Mitchels club, being a team I think anyone in GAA circles would know.
"They were fantastic to me and really good guys. Actually a really nice setup, one of the finest pitches I've played on over there. They were nice to let me train with them and then obviously come back and play with Portlaoise."
Those club journeys through the autumn and adventures around Leinster with Portlaoise as a campaign drew to a close, meant a desire to compete stayed with Glynn.
"When you're involved in those kind of environments and those sporting fields, you do have little bit of an itch. It's different being a physio and you can never get those years back playing, so that's probably what I appreciate the most now is yes I've had a little bit away from my game, I'm just enjoying being back and just playing football.
"I've invested a lot in my career up to this point and it's just nice to enjoy the other side of it, that social and sport side of it. That's always been important to me."
Last October he moved back to Ireland for good. He started working in Aut Even hospital in Kilkenny and juggles that with a role in Compass Physio in Castlecomer, run by a couple of friends of his.
They operate in the same profession and have been at the coalface of the same sport, but Glynn had not crossed paths with John Sugrue the physio or football coach.
He knew of the Kerry native's background though and his GAA reputation. When the Renard man made contact at the end of 2017, Glynn jumped at the chance, even if it stirred up contrast of emotions at the task ahead of him.
"I still remember the call, it was fantastic. I really was excited and I was just grateful to get the call and a little bit of trepidation and sort of wondering how I would cope, because I didn't play football at all last year.
"That was the one year that I didn't play. So, yes you'd play for seven years over and back but there was always a little bit of nervousness.
"But I knew that the challenges we discussed of not being in and around the team and I knew that if I could get into a setup where I was playing football regularly, that at least you would give yourself a chance and that would help.
"I'm really grateful for the management team to give me a call and ask me would I come in and see how I would get on initially and touch wood it has been great and I've really enjoyed it up to now."
His timing could not have been better. Laois started out in the basement of the league but had climbed up to the third tier at the conclusion of spring. They built up some momentum in Leinster and have bagged three championship wins. Glynn was sprung from the bench in the second half of the semi-final against Carlow and now a final awaits.
It's not his first date in a decider with Dublin. He numbered John O'Loughlin and Donie Kingston amongst his team-mates that day in April 2009.
Jonny Cooper, Cian O'Sullivan and Dean Rock were amongst his opponents as the Dublin U21's were three points too good at the final whistle in Portlaoise.
Next Sunday is a renewal of acquaintances then in Croke Park. If the U21 grade is typically viewed as an instant springboard to the senior stage, Glynn has had to be patient.
The years in England fostered a sense of appreciation of home and having a front-row seat for Leinster final preparations is deeply appreciated.
"Personally for me, my family are all from Laois and when you put on that jersey, you're representing the area and you want to do that to the best of your ability.
"That's very important for yourself as an individual and your family. Dublin are a fantastic team and I think get all the accolades and because they certainly appear to be role models both on and off the field and carry themselves very well.
"I know our group, we've just got to try and make people proud in Laois, continue to try and almost be role models for Laois people as well.
"The media and the other people will certainly rightly give the calls to Dublin. I think we can only just strive to pursue that and go after that sort of ethos as well."
The42 is on Instagram! Tap the button below on your phone to follow us!