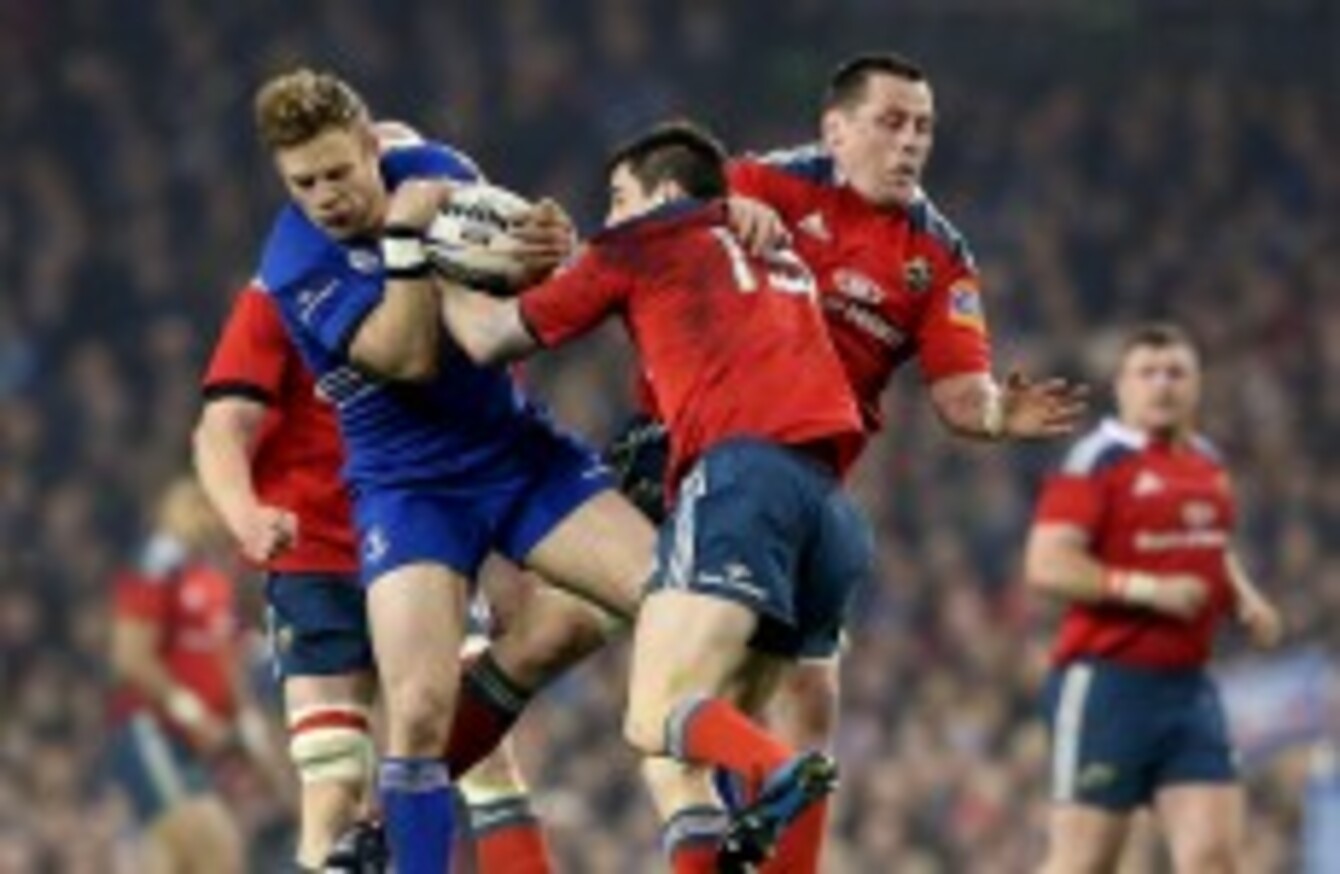 Ian Madigan competes with Felix Jones for a high ball.
Image: James Crombie/INPHO
Ian Madigan competes with Felix Jones for a high ball.
Image: James Crombie/INPHO
LEINSTER SUPPORTERS MAY look at Ian Madigan's start-to-finish, 17-point performance against Munster or Saturday. Either Leinster coach Matt O'Connor was resting up his first-choice 10, Jimmy Gopperth, or he was getting the Irishman up to speed ahead of their Heineken Cup quarter final with Toulon.
O'Connor will not reveal his cards until Thursday at the earliest but Madigan, for his part, was delighted with his outing in Leinster's 22-18 interprovincial win. The out-half, who featured off the bench in Ireland's 22-20 Six Nations win over France, corrected a wobbly place-kicking start to massively contribute to a home win.
"There were no celebrations in our changing room," said Madigan. "A few lads patting each other on the back saying 'well done and well played,' but it's all about bringing that performance onto next week. Our focus this week was definitely to beat Munster, but we knew that it was crucial to be going into Toulon next week on the back of a win. You have to be going down there with confidence or you're not going to stand a chance."
He added, "I'm going to have to review my performance and have a chat with Matt. I'm sure I'm going to have a few work-ons. It's been really close with Jimmy; it was a close call this week. We'll just have to go forward from there." The 10 jersey has been swapped between Kiwi and Irishman this season but Madigan looks to have the edge ahead of the trip to take on Toulon at Stade Mayol. He commented:
It's been a small bit of a rollercoaster over the year. It was a small bit disappointing  at the start of the season not to get in for the first two Heineken Cup games and then I worked really hard to get in for the middle two. I was obviously disappointed with how the second Northampton game went, and I kind of lost form around Christmas time, lost out on the two Heinekens.
"I've just tried to work really hard in training and going in and being with Ireland through the Six Nations probably refreshed me. Coming back now, working with Matt is a breath of fresh air. I'm just trying to make my game the best possible.
Looking back on the vital win over Munster, Madigan felt Leinster's superior fitness and attacking intent won out after the visitors squandered a 12-3 lead. "[Referee] Alain Rolland saw that we were trying to play a very positive style of rugby," he reasoned. "Munster gave away a few cynical penalties and I think he turned against them on the back of that, and they ended up getting a yellow card. That really took the sting out of them; on the back of that yellow card, things really turned our way."
The Dubliner was critical of some off-radar passes and 50/50 decisions that Leinster gambled on. Brian O'Driscoll's try, he added, was crucial as it punished Munster while Dave Kilcoyne was in the sin-bin. He commented, "If you get a sin bin [for the opposition] and you kick it to touch and you don't score in that period, their sin bin player is going to come back on and they're going to think 'We've survived with 14, now we've got 15; we can definitely beat these lads.' That try was definitely a turning point for us, it was always going to be difficult for them to come back from seven points down."
Looking ahead to this weekend's knock-out tie with Toulon, who defeated Toulouse in the Top14 on Saturday, Madigan declared both Irish sides could taken positives from the tie. "Munster came out really well and even when they were chasing the game a small bit in the second half," he said, "I thought they played some really good rugby. I'm sure they'll take a lot of confidence going into the Toulouse game [at Thomond Park]. I knew before the game that it was going to come down to a score. If we meet [Munster] again later in the season, it's going to be no different."
– Additional reporting by Murray Kinsella