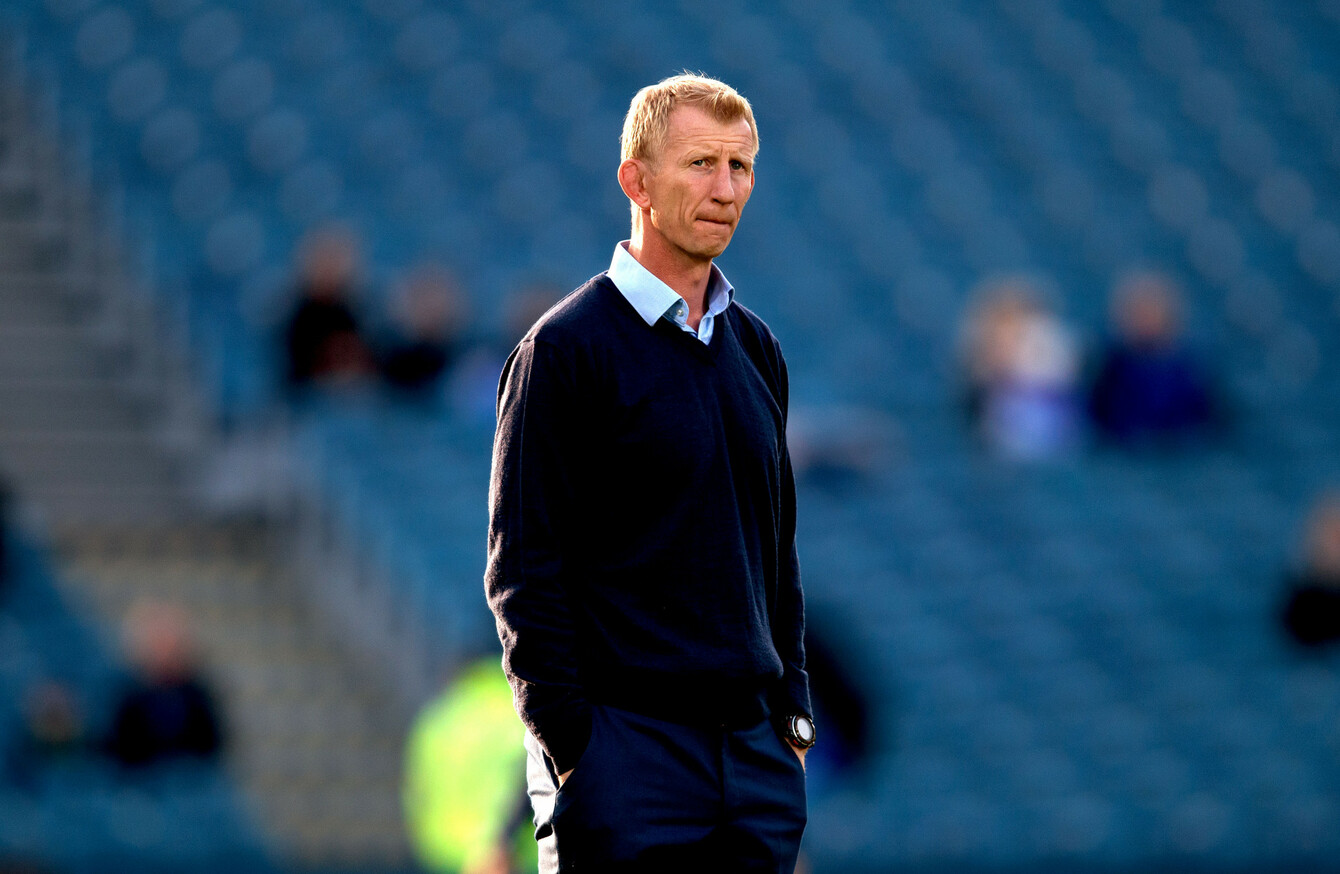 Leo Cullen is looking forward to his first visit to SA despite the logistical challenges involved.
Image: Bryan Keane/INPHO
Leo Cullen is looking forward to his first visit to SA despite the logistical challenges involved.
Image: Bryan Keane/INPHO
Updated at 08:20
THE LEVEL OF depth and fierce competition for places in the Leinster squad will come into focus later today when Leo Cullen goes about finalising his squad for the province's two-week mini tour of South Africa.
While the early season adventure to the southern hemisphere has required extensive planning over the last number of weeks, Cullen has left the squad selection headache to the last minute and will only inform the players who is on the plane and who is not less than 24 hours before their scheduled departure.
Even without the five Lions — Johnny Sexton, Jack McGrath, Robbie Henshaw, Tadhg Furlong and Sean O'Brien — as well as Jamie Heaslip and the likely unavailability of Rob Kearney and Dan Leavy, who both picked up injuries in Friday's win over Cardiff, the head coach faces a number of selection dilemmas.
With Pro14 organisers permitting each club to bring just 28 players to South Africa for the back-to-back games, Cullen, Stuart Lancaster and the rest of the Leinster coaching staff have spent the weekend mulling over who will occupy the final few seats. Joey Carbery is one player who is touch-and-go to make it.
"Trying to get the balance right because we're bringing this group of 28 so we need to make sure those 28 can contribute when we're out there," he explained.
"From a player's point of view, they just need to be ready to go on Tuesday. We're going to train on Tuesday morning before we leave. A player got injured Tuesday just gone who had to pull out of the team and sometimes that's just the way it happens. So it's 'lads, have your bags packed and be ready' is the message they have been given. We'll be able to give them the tour party probably Monday and then we depart on Tuesday."
Leinster will fly to Johannesburg tomorrow after initial plans to base themselves in Cape Town and then travel to Port Elizabeth and Bloemfontein for the games against the Kings and Cheetahs fell through when tournament organisers failed to agree a deal with an airline in time.
Now, the squad will split up with half flying through Paris en route to Joburg while the other half will stop over in London. There's a great sense of excitement surrounding the trip, but also trepidation as Leinster step into the unknown. It has been a logistical nightmare.
Even when they board the plane at Dublin Airport tomorrow afternoon with the best laid plans in place, there are still certain aspects of the trip which remain out of Leinster's control; how will the players react to the travel? Will the training facilities be up to standard? And then there is the challenge of the heat and altitude.
But despite it all, Cullen insists he is looking forward to the next fortnight as his side head south in search of two victories which would maintain their perfect start to the new season.
"I am looking forward to it, I'm looking forward to the adventure it's going to be," he continued.
"I think it will be an adventure. New experience, testing yourself in a different environment. I've never been to South Africa so I can't wait to go, yeah. I'm really looking forward to it, it's going to be very, very different. Like I'm looking up things in Bloemfontein and Port Elizabeth and weather forecasts and there's so many different things to look at like training facilities. It's been full on but I can't wait to get out there.
"All in all it's an adventure and we're looking forward to it."
Leinster will arrive in Joburg on Wednesday morning and will take the day to acclimatise and rest before continuing their preparations for the meeting with the Kings when they take to the training paddock on Thursday. They'll then fly to Port Elizabeth later that day.
First up is that meeting with the Kings at the Nelson Mandela Bay on Saturday, before they face the Cheetahs at the Toyota Stadium six days later in round five.
Cullen added: "It's the Kings' first home game in this new format so they'll be gunning for it. You're getting them early and maybe there will be a lack of cohesion on their part but you can't take that for granted. Maybe they'll be unbelievably cohesive after spending two weeks on the road together. We don't know is the honest answer.
"A huge amount of planning has gone into it so far and the players just need to recover now after a physical game [against Cardiff] and prepare well Monday and Tuesday and get on the plane. Hopefully the travel goes well, deal with the surroundings as best we possibly can and execute the plan we have in place in unfamiliar territory. But that's a great challenge for us, and that's exciting.
"A lot of young players benefit from challenges and they'll be better players for these experiences. Different styles of playing, more exposure and the more of that you can get the better."
Subscribe to The42 podcasts here: