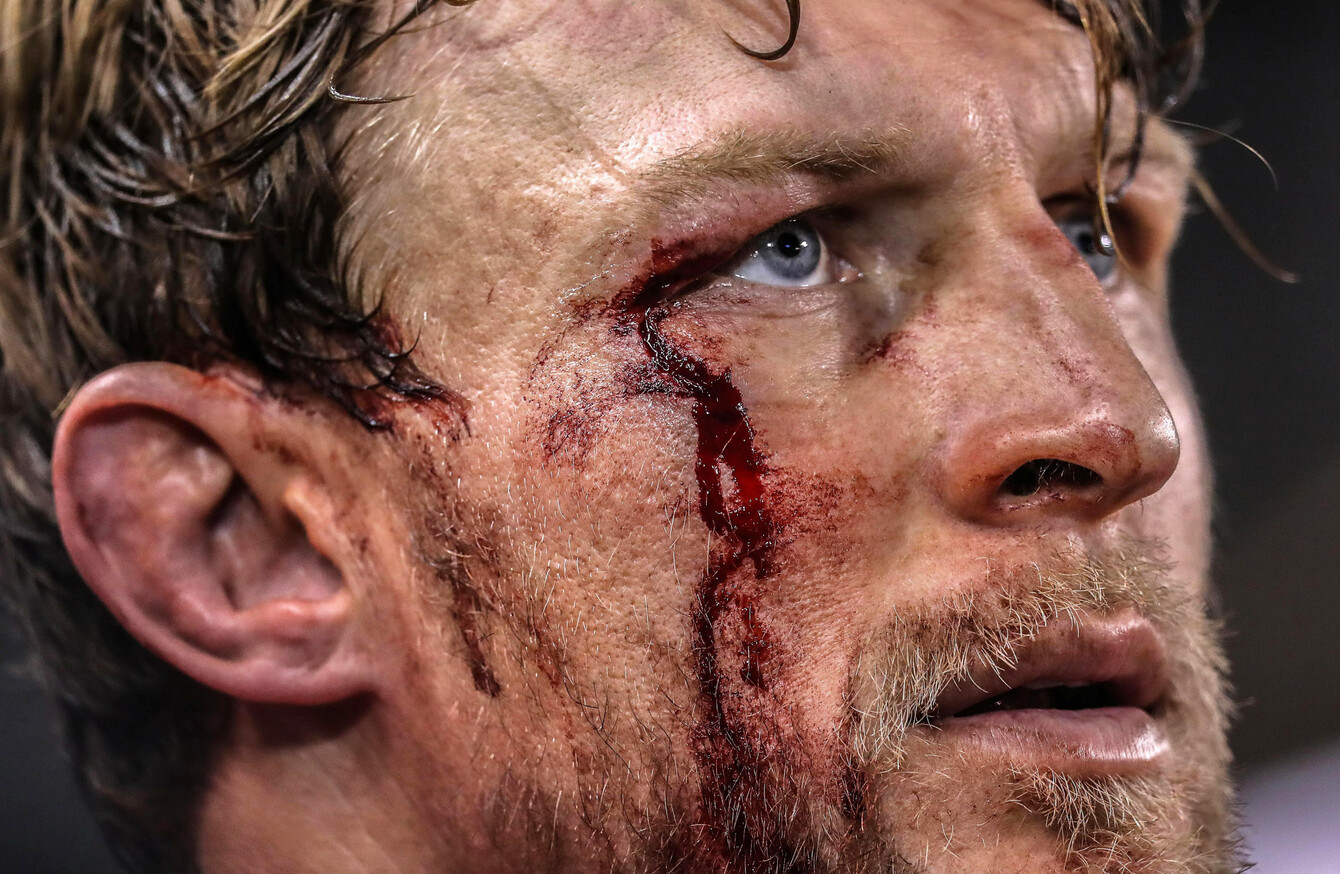 Chiefs' Lachie Turner shed more than his fair share of blood.
Image: Tommy Dickson/INPHO
Chiefs' Lachie Turner shed more than his fair share of blood.
Image: Tommy Dickson/INPHO
AS THE DUST settles, the ice-packs melt and the bruises remain, Leinster's coaches and players must be very thankful that they have at least 10 days rest before suiting up for action again.
Many internationals will be allowed longer than that too as they come under player management considerations, getting some rest in ahead of a return to European action and the Six Nations that comes hot on its heels.
Watching Leinster and Exeter go toe-to-toe over 160 massively physical minutes split either side of a six-day recovery window can only make you glad that players are taken out of the firing line for a while.
After back-to-back wins over the English champions, it was hard not to have sympathy for Leo Cullen post-match in the Aviva Stadium as attention turned away from the elements that made up a gutsy comeback from 14 points down. But when both of your out-halves leave the field under suspicion of concussion (Jonathan Sexton did not return, Ross Byrne passed his HIA and did) head injuries, and the tackles that brought about the suspicion, must be a discussion point.
High engagements in the contact area were an issue throughout the first half for Leinster. Sean Cronin chipped a front tooth, Cian Healy was not an injury concern, but he took a yellow card for barging a pillar and Byrne flew face-first into Nic White's shoulder.
Sexton meanwhile, whose game ended after just two minutes, appeared to be employing the best technique in his tackle on Matt Kvesic – a chest-high effort to target the ball and possibly engage in a choke tackle – and was unfortunate for it to end in a clash of heads.
This is a tightrope rugby is walking at present. The physicality in the game is awe-inspiring and is part of what makes the provinces and national team such a draw. Yet, there are in-built dangers and concerns that are impossible to eradicate from a collision sport.
Indeed, those collisions are the sport's unique selling point. They are precisely why many boisterous young girls and boys want to pick up the oval ball in the first place. That's the point Cullen makes after initially being taken aback by what he seen as 'digging for something' with a line of questions around the head injuries sustained by his players.
If there's one thing most can agree on, it's that rugby has improved its attitudes and duty of care to players' brains this century. But improvement must always continue.
"If you look back on the history of the game and all the incidents when players just got up and played on," says Cullen, "that doesn't happen any more. And rightly so, because the player's safety is paramount. Our medics are under huge scrutiny all the time now and maybe rightly so. There's a huge amount of pressure on those guys, they're cautious.
A lot of people are getting knocks, but why are people attracted to the game? Because it is a physical game.
"It's amazing the values there, where guys are flying into contact areas and they're putting their bodies on the line. That's the amazing thing about the game. It's an amazing sport where guys are willing to sacrifice themselves like that and that's why people want to turn up, I guess.
"When I was a kid playing rugby for the first time, what did I enjoy about rugby? Going around tackling people! That's what I enjoyed about it (when) I was eight years of age."
When the Champions Cup returns, in January, Cullen will be 40. The final weeks of his 30s will be spent priming a much-changed group of players to put their bodies on the line over three inter-provincial matches.
"That's what we'll focus on. We need to manage the guys well. It's a physical game, guys, it's a physical game.
"These games take their toll and that's why guys are fully committed and that's what you need to be to be still in the tournament.
"There's a lot of good teams already on their way out, so thankfully we're still in the shake-up."
They're more than in it.
They've physically dominated the champions of England and the best team in the Pro14. They've battled through a bout with a massive Montpellier outfit and they could well have top spot in pool 3 secured before travelling to the south of France for another punishing contest.
Nobody has yet managed to beat them in the tournament through the first four games and nobody has racked up more than the 18 pool points they've posted to share the lead (with Clermont) in the race to be top seeds in the quarter-finals.
They're the ones doing the shaking.