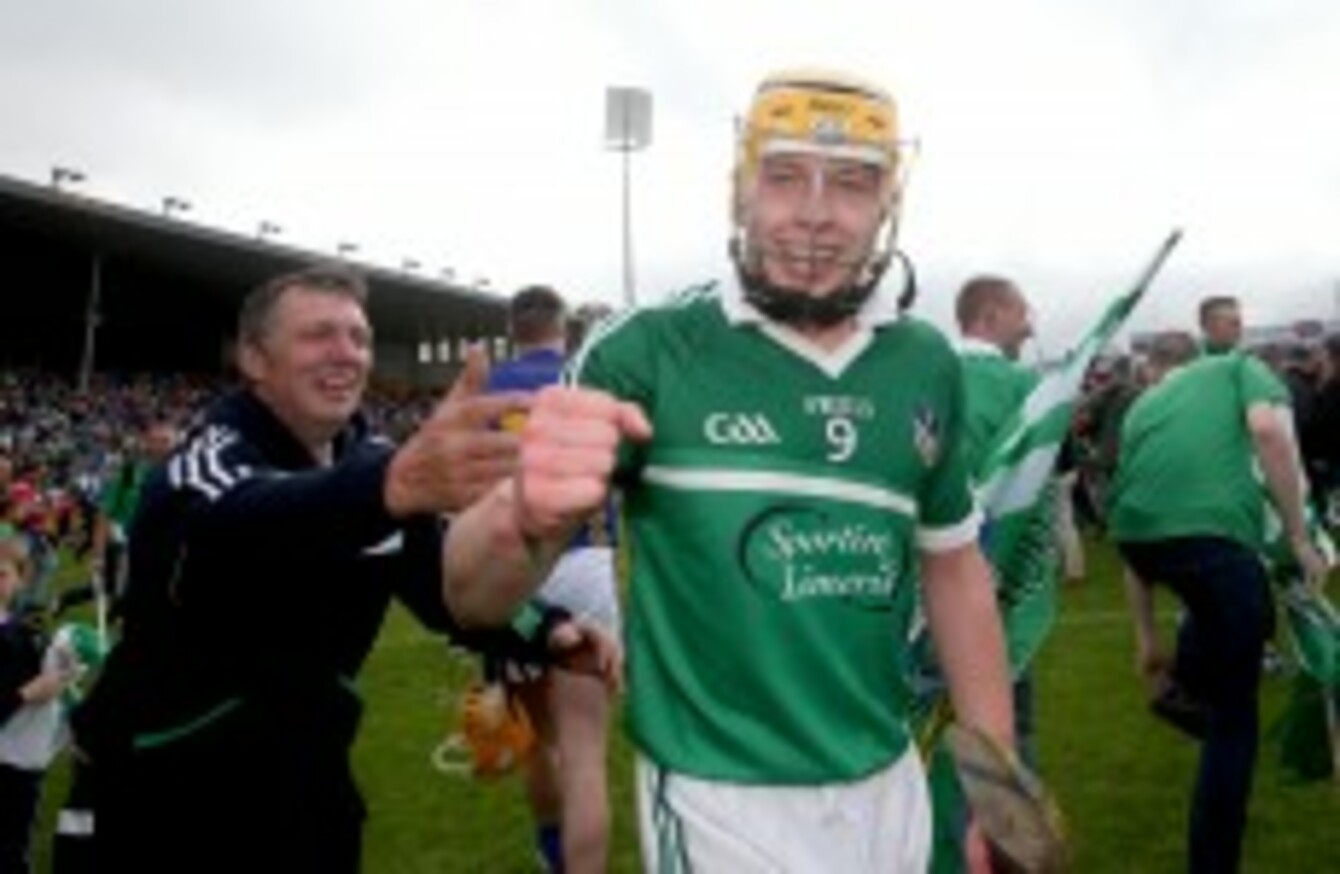 Paul Browne celebrates after the game.
Image: James Crombie/INPHO
Paul Browne celebrates after the game.
Image: James Crombie/INPHO
LIMERICK MIDFIELDER PAUL BROWNE tried as best he could to avoid the media outlets and radio stations that declared his side's Munster title defence over before it even started.
Following a poor Allianz Hurling League campaign, few gave the Treaty County a chance of defeating Tipperary for the second year on the trot. Added to Tipp's form was the fact that the match was taking place at Semple Stadium — often a graveyard for Limerick's Munster and All-Ireland aspirations. So it looked for 68 minutes on Sunday until Shane Dowling's late goal and two later points clinched a 2-18 to 2-16 win.
Browne says his team had vowed never to get caught in the closing stages of a match again, following late heartache to Tipperary in 2012. "We know the strength in character inside in the dressing-room there and there was no chance we were going to let it slip when we were that close to it with 15 minutes left to go," he said.
"We always knew we were fitter and stronger and that we'd drive on. We had everything in the tank we needed to drive on and we proved that."
A 'huge driving factor' in the Limerick dressing room, Browne declared, was the disrespect shown to the side by many in the media. In a passionate interview, Browne added that some members of the Limerick public 'want to see you get knocked down' but his team are not going to give up their Munster title without a massive fight. Addressing 'the media in general' he said:
Look, you try to keep away from the papers but inevitably you hear things through the grapevine. We had heard all that stuff and to be honest we were disgusted with it ourselves. We just wanted to prove to everyone, to the hurling nation, that we're not going away."
All the talk about disharmony in the camp, Browne said, was from outside sources. The current side are 'the most together bunch you could ever come about'.
He continued, "Today was all about the players, yeah. Look, we're training morning, noon and night there since November. Four, five, six and even seven times a week sometimes… We just wanted to prove something to ourselves. This was for us. This was the players' victory. That's how I feel anyway and I'm just delighted for every player inside in that dressing-room from one to 32 or whatever it is."
"Hype is hype, it's not for us," added Browne, who fancies his team to beat Waterford, Cork or Clare in the Munster final.
"That quote from John Wooden, 'Winning takes determination and heart, but repeating it takes character'. That's what we have, great character inside in that dressing-room, we just want to keep winning, no matter what game we play."
– Additional reporting by Fintan O'Toole