Müller scores the opener.
Image: PA Wire/Press Association Images
WE'RE DOWN TO the last four. 
E-mail sport@thescore.ie, tweet @thescore_ie, post a message to our Facebook wall, or leave a comment below.
You may need to refresh the page for YouTube videos and other elements to display correctly.
Brazil 1-7 Germany
20:16 – 20.16 – Good evening folks. It's semi-final night as two former winners go head-to-head at the Estádio Mineirão.
First thing's first, here are the team line-ups:
Brazil: Cesar; Maicon, Luiz, Dante, Marcelo; Gustavo. Fernandinho; Bernard, Oscar, Hulk; Fred.

Germany: Neuer; Lahm, Boateng, Hummels, Howedes; Khedira, Schweinsteiger; Kroos, Ozil, Muller; Klose.
20:22 – 20.22 – Brazil are without two of their big names — the injured Neymar and captain Thiago Silva, who is suspended. In comes Bayern Munich defender Dante and little attacker Bernard of Shahktar Donetsk.
Germany are unchanged from the team which saw off France in the quarters, meaning Miroslav Klose continues up front. He needs just one goal to become the new all-time record goalscorer in World Cup history.
The Brazilian players are wearing these hats to show solidarity to their injured team-mate.
Source: EMPICS Sport
20:29 – 20.29 – A word from the two managers:
Big Phil Scolari: "The way Neymar spoke to the players made them understand that he had done his share and now we need to do our share.
"Myself, the other players, all the Brazilian people. This match is very important, it could take us to the final.
"We are playing for our country, it is everything we imagined and dreamed of, and also for Neymar."
Jogi Löw: "It's the battle of two continents, Europe against south America. Brazil have 200 million fans, so we're playing the whole country, it's something unique.
"I hope the referee Rodriguez will clamp down, because I have seen in the last few matches that Brazil's physical energy is going beyond of what we see in Europe.
"I have seen at this World Cup that the physical limits of what is acceptable have been surpassed.
"I have seen many fouls which were really dangerous with sliding tackles from the side and behind. Referees must protect the players."
20:36 – 20.36 – Gary Neville has nailed his colours to the mast.
Source: Gary Neville/Twitter
So, who are you going for?

Poll Results:
20:47 – 20.47 – RTÉ commentators George Hamilton and Trevor Stevens in those wonderful t-shirts…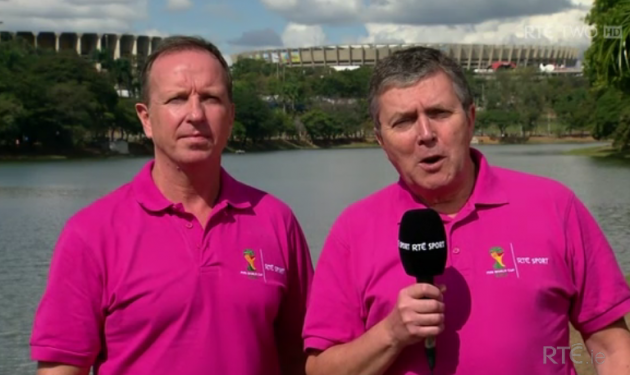 Source: RTE Player
20:54 – 20.54 – Teams are out on the pitch and the anthems are underway.
20:57 – 20.57 – Neymar's still alive, right…?
Source: RTE Player
21:01 – 21.01 – We're up and running. Brazil in their traditional colours of yellow, blue and white. Germany wearing that tasty black and red change strip.
21:03 – 21.03 – Brazil have started positively here and win an early corner. It's cleared away but, moments later, Marcelo has a shot from 25 yards which fizzes wide.
The home fans are loving this.
21:08 – 21.08 – Germany have come into a little and Khedira gets a strike on goal after a pass from Ozil but it strikes his own team-mate Kroos.
21:10 – 21.10 – GOAL! Brazil 0-1 Germany (Thomas Müller)
Germany lead! A corner is sent in and not one Brazilian player picks up Müller, who is free to volley past Cesar. 

https://vine.co/v/MPXABqQDVH6
21:16 – 21.16 – Five in 2010 and five at these finals. Can you believe the man is still only 24-years-old?
Source: OptaJohan/Twitter
21:18 – 21.18 – Marcelo drives into the box and Lahm times his tackle perfectly to put the ball out for a corner. The Real Madrid full-back protests that he should have a penalty and a bit of handbags ensues.
21:22 – 21.22 – GOAL! Brazil 0-2 Germany (Miroslav Klose) 
We have a new all-time World Cup record goalscorer, ladies and gents. Cesar can only parry his first effort and the veteran follows up to score his 16th at a World Cup.
21:24 – 21.24 – GOAL! Brazil 0-3 Germany (Toni Kroos) 
Toni Kroos sidefoots home to get in on the act after some neat play. Totally dominant right now and Brazil need to get their act together.
21:26 – 21.26 – Brazil 0-4 Germany (Toni Kroos) 
Wow… just wow. Khedira cuts back to Kroos and he bags a second a minute later.
21:27 – 21.27 – This says it all.
Source: Mike Tunison/Twitter
21:29 – 21.29 – GOAL! Brazil 0-5 Germany (Sami Khedira) 
Are you kidding me…?!? Ozil provides for Khedira and Germany hold a five-goal advantage before the half-hour mark!
Blow it up now, ref.
https://vine.co/v/MPXe9FmipFT
21:41 – 21.41 – I was working at the Aviva Stadium when Germany hammered Ireland 6-1 in October 2012. This could end up being far, FAR worse than that night.
21:46 – 21.46 – Half-time: Brazil 0-5 Germany 
Watch all five German goal:
https://vine.co/v/MPXXwUiEILU
21:53 – 21.53 – Brazil could do with these two right about now…
22:03 – 22.03 – And we're back. Changes on both sides. For Germany, Per Mertesacker is on for Mats Hummels while Scolari has introduced Ramires and Paulinho for Fernandinho and Hulk.
22:06 – 22.06 – Oscar and Fred take a tumble in the German box in quick succession but neither are claiming penalties with any real conviction.
22:08 – 22.08 – Ramires fires the ball across the box but Neuer is down quickly to save. Then Oscar is found with a pass and the German keeper again keeps Brazil at bay.
22:10 – 22.10 – That's incredible from Neuer! He blocks a goalward effort from Paulinho, not once… but twice!
Best goalkeeper in the world?
22:14 – 22.14 – Neuer comes rushing out to pick up possession but is fouled by Ramires.
Klose has got that all-important goal and comes off for Chelsea's Andre Schurrle.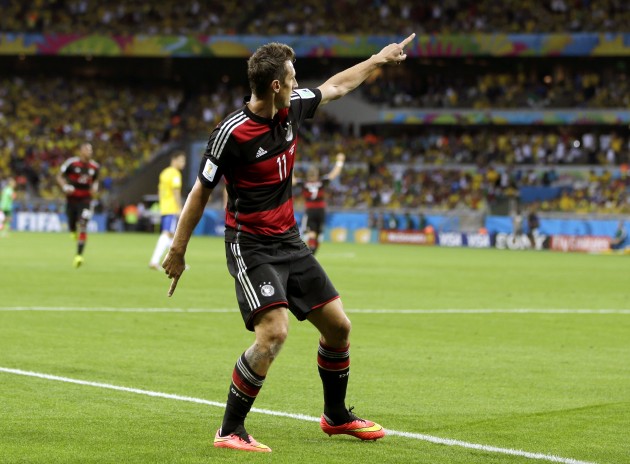 Source: Andre Penner
22:18 – 22.18 – Luiz finds Maicon in an advances position and he skips inside a defender… then take a blatant dive. The referee waves play on.
Meanwhile, Fred is being booed by his own fans.
22:24 – 22.24 – Cesar does 'a Neuer' by sprinting outside his box to stop make contact with the ball before Kroos.
22:25 – 22.25 – GOAL! Brazil 0-6 Germany (Andre Schurrle) 
The substitute gets in on the act. Arriving late to stroke home Lahm's pass with Müller waiting inside.
https://vine.co/v/MPXUpj1BViZ
22:35 – 22.35 – GOAL! Brazil 0-7 Germany (Andre Schurrle) 
Nope, it's another for German. Schurrle controls before smashing the ball in off the underside of the crossbar.
https://vine.co/v/MPX2h0zYxla
22:46 – 22.46 – GOAL! Brazil 1-7 Germany (Oscar) 
They got one! Oscar goes by Boateng and rifles past Neuer. Nothing more than a consolation.
https://vine.co/v/MPXVwX93HH2
22:49 – 22.49 – Full-time: Brazil 1-7 Germany
What an incredible game of football. We'll be talking about this for decades.
22:54 – 22.54 – Tweet of the night from Ireland striker Cillian Sheridan. Well played!
Source: Cillian Sheridan/Twitter
22:56 – 22.56 – So Germany march on to Sunday's final, where they will face the winner of tomorrow night's semi-final between the Netherlands and Argentina. Hopefully it will be another cracker.