As always, we'd love to hear your thoughts on the game. E-mail paul@thescore.ie, tweet @thescore_ie, post a message to our Facebook wall, or leave a comment below.
You may need to refresh the page for YouTube videos and other elements to display correctly.
Man United 4-4 Everton
12:23 – 12.23 – Hello, and welcome to our first liveblog of the day.
12:24 – 12.24 – Here are the teams, and there is one notable omission from the United starting line-up: Ashley Young.
Man Utd: De Gea, Rafael Da Silva, Ferdinand, Evans, Evra, Valencia, Scholes, Carrick, Nani, Rooney, Welbeck. Subs: Amos, Jones, Giggs, Smalling, Park, Hernandez, Young.

Everton: Howard, Hibbert, Jagielka, Distin, Neville, Osman, Heitinga, Gibson, Pienaar, Fellaini, Jelavic. Subs: Mucha, Stracqualursi, McFadden, Cahill, Gueye, Barkley, Anichebe.
12:30 – 12.30 – And we're underway…
12:32 – 12.32 – By the way, in his pre-match interview with Sky, Ferguson claimed that Young was left out because of Nani's freshness. Hmmm…
12:33 – 12.33 –
12:37 – 12.37 – And it's Everton who have started the better of the two teams.
The visitors have created two half-chances already, with Jelavic shooting tamely at De Gea when played through on the edge of the area, while Osman drags a shot wide of the goal straight after.
A case of early nerves for United, perhaps?
12:44 – 12.44 – Nani escapes his marker, but his shot from the edge of the area is straight at Howard.
Not much else to write about at the moment. Something tells me it may be a long game for United fans.
12:50 – 12.50 – A flick-on by Rooney sends Rafael through on goal, but the full-back can't quite adjust his feet properly in time to shoot.
United are looking slightly more threatening now, and are also beginning to enjoy more possession of the ball.
However, as I type, Distin heads narrowly wide from Phil Neville's cross.
12:54 – 12.54 – And the winner of the most-laboured-attempt-at-a-pun award goes to…
12:56 – 12.56 – Wayne Rooney plays United's first corner of the game straight into the grateful hands of Howard.
13:03 – 13.03 – Darron Gibson produces a trademark powerful shot from distance, which goes narrowly wide.
At the moment, Everton's five-man midfield is doing a decent job of curbing the creativity of Scholes and Carrick. Hence, Nani and Valencia have rarely had a chance to attack their opposition full-backs in dangerous areas.
13:03 – 13.03 – GOAL FOR EVERTON!
13:06 – 13.06 – A deep cross from Hibbert finds Jelavic, who heads in virtually unchallenged at the far post from a difficult angle. And you can't say it's against the run of play.
13:10 – 13.10 – Penalty claims for United as Rafael is clearly impeded as he attempts to shield the ball. Yet the referee bizarrely waves play on.
Whether it was actually inside the box however is another question.
13:11 – 13.11 – GOAL FOR MAN UNITED!
13:13 – 13.13 – A terrific pinpoint cross from Nani finds the head of Rooney, who makes no mistake with a header from close rage.
It was the type of inswinging ball from Nani that's almost impossible to defend.
13:15 – 13.15 – Phil Neville seemed somewhat culpable for that goal, as he failed to mark Rooney properly. I wonder what his brother Gary will say at half-time.
13:17 – 13.17 – It's almost a cliché to say it at this stage, but that response to going a goal down epitomises why United have been so successful over the past two decades are so. They simply do not let setbacks in games faze them.
13:19 – 13.19 – Welbeck heads narrowly wide from Nani's free kick on the brink of half-time. A goal there would have been very harsh on Everton.
13:20 – 13.20 – HALF-TIME: MAN UNITED 1-1 EVERTON
13:26 – 13.26 – So it's half-time, and United have given their archetypal end-of-season title run-in performance: i.e. they're not playing particularly well but still have a very good chance of winning this game, and probably will.
Everton, in contrast, despite starting brightly and taking a deserved lead, have again failed to show the ruthlessness that they also seemingly lacked against Liverpool in the FA Cup semi-final.
13:34 – 13.34 – There's been no changes at half-time and the second half is underway…
13:37 – 13.37 –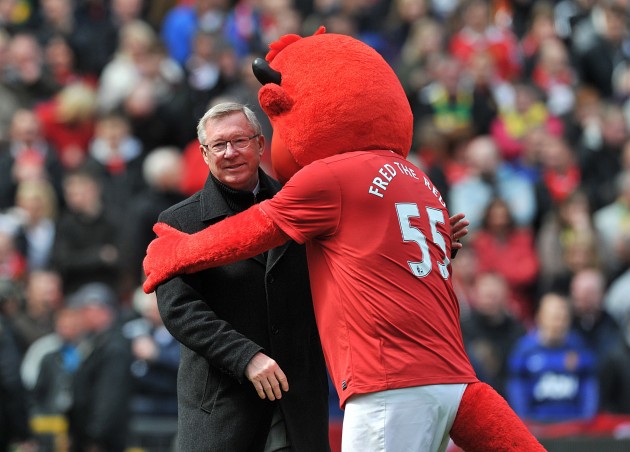 (Alex Ferguson: looking less angry than usual – Martin Rickett/PA Wire/Press Association Images)
13:43 – 13.43 – The second half has begun in a similarly low key fashion to the first, with little to report on so far.
13:45 – 13.45 – GOAL FOR MAN UNITED!
13:48 – 13.48 – Nani heads  it towards Welbeck on the edge of the box. The Everton defenders fail to adequately close him down, and the young England striker hits a curling shot into the corner of the net.
13:49 – 13.49 – GOAL FOR MAN UNITED!
13:51 – 13.51 – A lovely interchange of passes between the United players on the edge of the box subsequently sends Nani through on goal, and the winger coolly dinks it over Howard and into the net.
13:55 – 13.55 – I should mention that Everton, and in particular Phil Neville, were not happy with the referee following United's second goal. He failed to stop play when Pienaar had gone down injured  in the build-up.
13:56 – 13.56 – GOAL FOR EVERTON!
13:57 – 13.57 – Hibbert's cross finds Fellaini, who volleys superbly into the net from roughly ten yards out. Game on!
13:58 – 13.58 – GOAL FOR MAN UNITED!
14:00 – 14.00 – Great link-up play between Welbeck and Rooney, as the former crosses to the latter to tap home into the empty net.
14:06 – 14.06 – Phew! I've finally had a chance to draw my breath after all those goals. United, though, still don't look completely home and dry just yet, as Scholes concedes possession on the edge of their box, allowing Jelavic to shoot just wide.
14:10 – 14.10 –
14:11 – 14.11 – GOALS FOR EVERTON!
14:13 – 14.13 – A Fellaini header falls to Jelavic, who volleys it home on the edge of the box with another superb finish. What a game this has been!
14:16 – 14.16 – Great ball across the box from Fellaini to find Pienaar, who slots it home past De Gea into the corner of the net, and Everton are level.
There's been some great games this season, but this one surely tops them all.
14:18 – 14.18 – Amid all that  craziness, Jones has replaced Scholes and Hernandez has come on for Valencia.
14:19 – 14.19 – There'll be five minutes of stoppage time.
14:21 – 14.21 – Rooney overhits his cross to the audible disappointment of the majority of those at Old Trafford.
14:24 – 14.24 – Unbelievable! Ferdinand shoots from the edge of the area and Howard tips it over with his finger tips.
14:25 – 14.25 – FULL-TIME: MAN UNITED 4-4 EVERTON
14:30 – 14.30 – Perhaps most importantly, this result means winning the title is back in City's hands.
14:35 – 14.35 –
(Everton players celebrate – Mike Egerton/EMPICS Sport)
14:40 – 14.40 – It's almost impossible to summarise that game in a sentence or two, but I'll try.
Everton showed incredible spirit to come back, especially give that they don't have much to play for, as another mid-table-ish finish beckons for David Moyes' men.
United's performance, meanwhile, was characterised by a casual approach throughout the game, and they ultimately suffered as a result of this attitude.
14:48 – 14.48 – David Moyes said his side "put on a show" and says he knew it was "going to be a gung ho game". He adds that he thought the referee "made his own rules today" and was "poor," in reference to that incident where he failed to stop play when Pienaar was injured, allowing United to score.
14:51 – 14.51 – Alex Ferguson calls the game "a throwaway" and says his side have "made it hard for themselves as they normally do". He blames "defensive lapses for the result". He admits the game at the Etihad is now likely to decide the outcome of the title race.
14:55 – 14.55 – Alright, that's it from me for the moment. Thanks for reading and commenting. City's match with Wolves is arguably even more important now, so be sure to stay tuned for our liveblog at 4.