Liveblog
We're going minute-by-minute for the second of tonight's Europa League  ties. And it's only Porto v Manchester City in Portugal!
As always, we'd love to hear your thoughts on this evening's action. E-mail adrian@thescore.ie, tweet @thescore_ie, post a message to our Facebook wall, or leave a comment below.
You may need to refresh the page for YouTube videos and other elements to display correctly.
Full-time Porto 1 Manchester City 2
Stoke 0 Valencia 1
Welcome! After some technical difficulties here at TheScore HQ ("where's the remote gone!") we're well settled in now. If you're late in from work, Manchester United have beaten Ajax in Amsterdam. Here's how.
So the managers have just handed us his team-sheet. Prego, Roberto. Here are you line-ups:
Man City: Hart, Richards, Kompany, Lescott, Clichy, Barry, De Jong, Nasri, Toure Yaya, Silva, Balotelli. Subs: Pantilimon, Zabaleta, Pizarro, Dzeko, Kolarov, Savic, Aguero.
Porto: Helton, Danilo, Rolando, Maicon, Pereira, Gonzalez, Fernando, Joao Moutinho, Varela, Hulk, James Rodriguez. Subs: Bracali, Cristian Rodriguez, Kleber, Djalma, Mangala, Alex Sandro, Defour.
So, Yaya Toure is straight back in while the mad man of the Trafford Centre, Mario Balotelli is rolled out for the lulz. Carlos Tevez is back home in sunny Manchester, of course. He's not registered for European competition after his long weekend in Argentina. Here he is, laughing up his sleeve at Carrington today.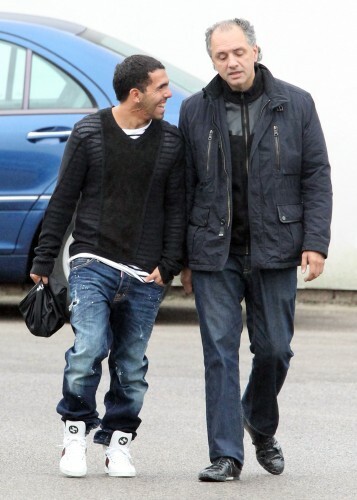 Eamonn and James Clarke/Eamonn and James Clarke/EMPICS Entertainment
Porto are playing like the champions they are here. Clichy has just headed the ball off his own line and out for a corner after Rolando arrived late and nodded goalwards. This is going to be a real test for the Premier League leaders. Obviously.
Danilo is stretchered off in some agony after he injures himself in a challenge. As he writhes around on his way off the ref waves a yellow card in his direction. Nice.  Man City, meanwhile, have woken up with Super Mario and then Nasri forcing good saves from the Porto keeper Helton.
We're halfway through the first half.
Toure's back, baby. And he's been booked already.
GOAL! Porto 1 Man City 0 (Varela 28′)
Porto are one up but City could well have levelled it up immediately there. First Hulk broke down the left and squared brilliantly for Varela, who turned it in. Then Nasri played Balotelli in with a nice ball through the middle but the Italian decided to shoot on the turn rather than take it on. Helton made the save again and the director cut to Roberto Mancini smiling ruefully on the bench and shaking his head. Comedy.
Hulk almost makes it two. He drove in and was forced to shoot off his weaker right foot after Jolean Lescott was left exposed at the back, as it were. The ball sails over however and we're into stoppage time in the first half. Mancini will be happy to get his side down the tunnel for a chat.
Half-time: Porto 1 Man City 0
Are we all present? Then let's begin again, shall we. The teams are on the pitch, I've had my Petis Filous and Jim Beglin has been to the toilet.
Ooooof! Micah Richards has just hit the post. He powered down the tramline and collected a pass from David Silva before unleashing a shot under pressure which rebounded off the butt off the upright.
ITV are reporting,meanwhile, that Mario Balotelli has been/is being racially abused by sections of the home support.
On that racial abuse talk, here's the Guardian: "There have been reports both from the Guardian journalists at the game, and from the ITV commentators, that there has been a certain amount of racial abuse aimed at Mario Balotelli. Nothing confirmed as yet."
GOAL! Porto 1 Man City 1 (Pereira og 54′)
That's one way to answer them. Balotelli walks back to the halfway line nonchalantly having pressured the Uruguyan defender under a diagonal ball towards the penalty box. The Uruguayan let it bounce off his shoulder and past the goalkeeper who later insisted he'd called for it.
Kompany and De Jong have been booked in the space of a minute or so. First the Belgian threw in a bit of a scissors challenge and then from the resulting set-piece, De Jong raced at Hulk before he'd hit the free-kick.
When he takes it again, Joe Hart is forced to get down and punch it to safety. As I write, Gareth Barry is booked cheaply for a tackle. Careful, now.
Twenty minutes to go here and Porto have upped the tempo a bit while Man City are taking their time about things now. They'd be quite happy to head home with score draw in the back pocket. Elsewhere, Stoke are still a goal down to Valencia… through this goal:

YouTube credit:
MarcosAlonso97
I've scored better.
We're into the last 10 minutes. Aguero is on with Mario Balotelli off to a chorus of boos and whistles for some reason. He's used to it of course, but he didn't do anything tonight to draw the fans' ire.
GOAL! Porto 1 Man City 2 (Aguero 84′)
So, City have one foot in the round of 16 now, having come back to lead form behind. Aguero was the man at the end of a square pass from Yaya Youre on the six-yard line and he made no mistake obviously. It's the away fans singing now.
FULL-TIME Porto 1 Manchester City 2
Manicni on the football: "I think that we played very well also in the first half we had three or four chances to score and were very unlucky. In the second half we played very well."
And on the racism:
"I didn't hear this, sorry. I didn't hear."
So that is, at the end of the day, that. Man City are in the driving seat after an impressive win. As are neighbours United but Valencia put paid to the theory that La Liga stars can't do it midweek in Stoke.
Contribute to this story: