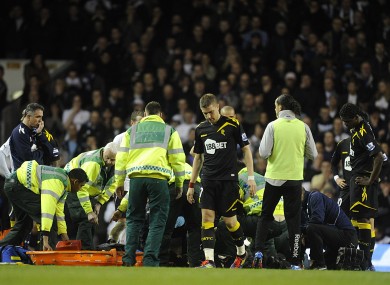 The Bolton medical team tend to Fabrice Muamba
Image: PA
Send us your thoughts and comments on this afternoon's action. Tweet us @migueldelaney @thescore_ie, find us on Facebook, or leave a comment below.
Tottenham Hotspur 1-1 Bolton Wanderers (match abandoned)
17:25 – 17.25 – Welcome to the coverage of the final football match of the day. Whatever happens, it won't finish either Tottenham or Bolton's season since both have so much to play for. But it might well affect them. Tottenham badly need to get back to winning ways after a recent poor run; Bolton won't want to check recent momentum…
17:26 – 17.26 – The teams:
Tottenham: Cudicini; Walker, Gallas, Nelsen, Assou-Ekotto; Van der Vaart, Modric, Parker, Bale; Defoe, Saha
Bolton: Bogdan, Ricketts, Knight, Boyata, Alonso, Reo-Coker, Muamba, Pratley, Ryo, Petrov, Klasnic
17:28 – 17.28 – The most interesting aspects of Tottenham's selection are Ledley King's omission in order to spare him for league challenges and the return of Luka Modric to central midfield – something which badly effect their rhythm lately.
17:40 – 17.40 – GOAL! Tottenham Hotspur 0-1 Bolton Wanderers
We were halfway through writing a summary of a "sedate" opening five minutes only for Bolton to take the lead from a corner. Darren Pratley will claim a second goal in seven days but his header took a wicked enough deflection off Gareth Bale's shoulder and in.
17:42 – 17.42 – Despite the early goal, it's a very low-key White Hart Lane at the moment.
17:46 – 17.46 – GOAL! Tottenham Hotspur 1-1 Bolton Wanderers
So much for low-key! Tottenham hit back and Gareth Bale also atones for his own goal. The winger swings in a brilliant cross for Kyle Walker to connect to supremely for the equaliser.
17:56 – 17.56 – Tottenham completely in control since the equaliser and getting a lot of joy down the left, where Bale is continuously attacking. The return of Modric to the middle has definitely improved their balance.
18:10 – 18.10 – Bolton coming back into the game finally with Ryo Miyaichi, typically, at the centre of everything they do. What a player he is. Arsenal have got something special – and, importantly, productive – on their hands.
18:16 – 18.16 – Not very nice viewing at White Hart Lane at the moment.Muamba is down on the ground and looks very badly hurt. There's only silence and worried faces at White Hart Lane… although the crowd have now started chanting his name. Many crying.
18:17 – 18.17 – Even Howard Webb has his hands clasped together, almost as if in hope. There's talk about a cardiac issue. Obviously, absolutely nothing concrete yet.
18:19 – 18.19 – Players now surrounding Howard Webb, wondering should the game be abandoned.
18:20 – 18.20 – Muamba now on a stretcher, which brings applause. But efforts still being made to revive him.
18:21 – 18.21 – Webb is going to bring the players off the pitch for now. No decision as yet.
18:25 – 18.25 – There's talk of a heart attack or an epileptic fit but, in truth, we don't really know anything. Many, of course, understandably concerned and just want more information. None forthcoming at moment though. White Hart Lane pitch is empty as Webb has brought the players in and is deciding whether to abandon the game.
18:28 – 18.28 – Very odd and muted atmosphere at White Hart Lane as we wait for news, the stadium understandably engulfed by worry.
18:29 – 18.29 – Hard to see how this game can continue. Many players in tears and looked distraught.
18:32 – 18.32 – The game has now been abandoned. Fabrice Muamba is now being taken to hospital.
18:36 – 18.36 – Muamba just 23 years old. Thoughts obviously with him. Very difficult to watch allof this.
18:46 – 18.46 – Last information is that the doctors were still attempting to resuscitate Fabrice Muamba on way to hospital.
18:55 – 18.55 – Owen Coyle and Kevin Davies have gone to hospital in the ambulance with Fabrice Muamba.
19:20 – 19.20 – No  updates over last 20 minutes. All we know is that Muamba has been taken to hospital. Bolton have also released a statement confirming that.
19:56 – 19.56 – We're closing this blog now. There's been no news in the last hour. We'll try keep you updated on the main site but, obviously, the most important thing is that Muamba hopefully pulls through.
20:15 – 20.15 – Just to open this back up for a second, some positive news: the hospital have confirmed that Muamba is now stable.