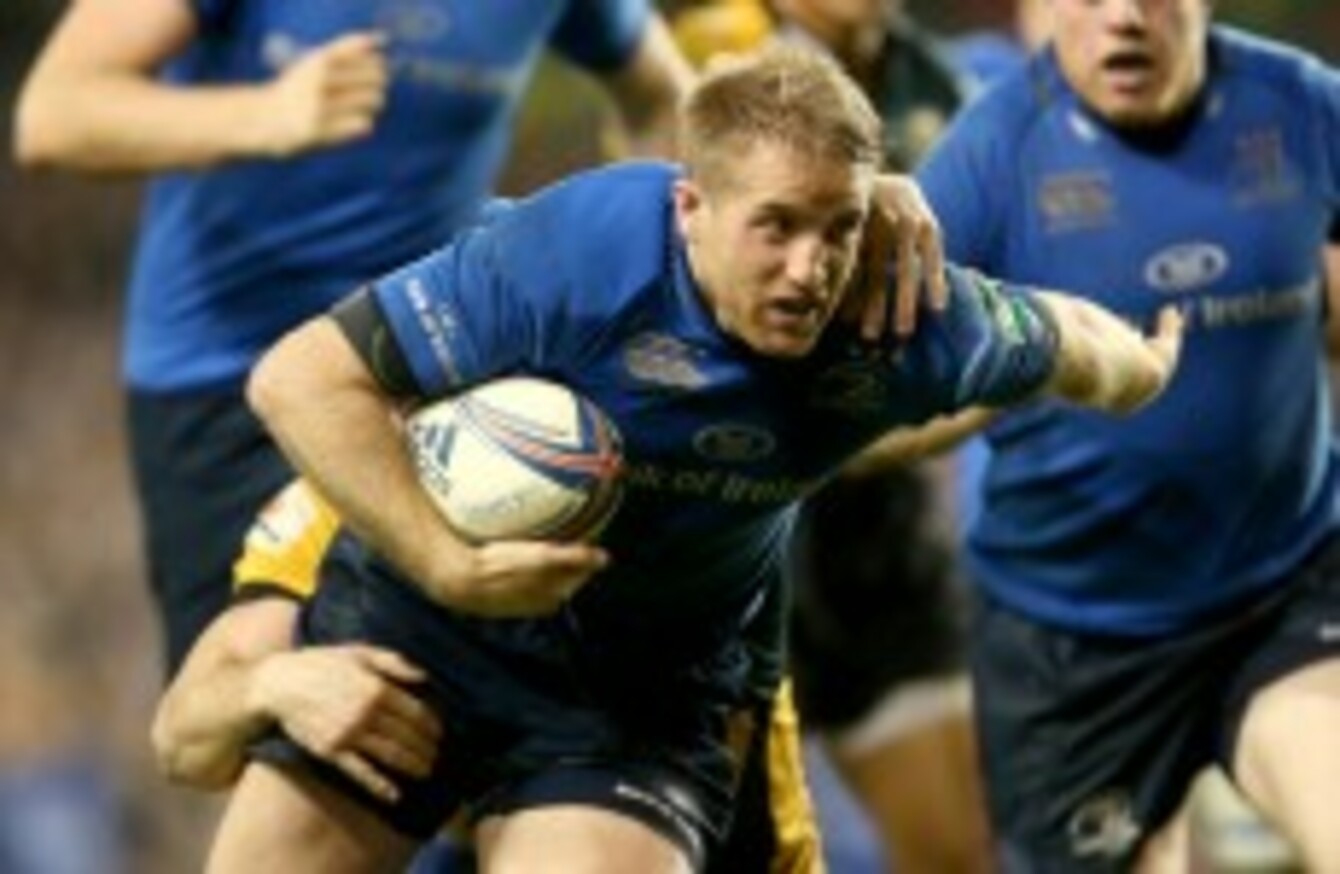 Fitzgerald has been a standout player for Leinster this season.
Image: ©INPHO/Ryan Byrne
Fitzgerald has been a standout player for Leinster this season.
Image: ©INPHO/Ryan Byrne
THERE ARE SELECTION dilemmas for Joe Schmidt in a handful of positions ahead of the Six Nations, but Luke Fitzgerald's name is surely penciled in for the number 11 slot.
The Leinster winger is in superb form, with his displays in the Heineken Cup making him the eastern province's most dangerous attacking player this season. Schmidt will be hoping to see the 26-year-old carry that form into the international arena, if he is indeed picked on the wing.
It is interesting to remember that Fitzgerald was on the bench for Leinster's two opening European games in Pool 1, with Dave Kearney and Fergus McFadden considered better options out wide. Both of those players would have been considered to be ahead of Fitzgerald in the international pecking order at that stage too, but the Wicklow native has challenged that assertion.
We've taken a closer look at what Fitzgerald has actually done on the pitch for Leinster, with the evidence suggesting to us that he is ready to pick up where he left off for Ireland. His impressive 26-minute cameo against the All Blacks in November came at 13, but his impact in the Six Nations is more likely to be from the wing.
The footage and examples used below are from the Leinster matches against Northampton [home] and the Ospreys [away], but highlight aspects of Fitzgerald's play that have largely been ever-present.
Footwork
Rapid-moving feet are one of Fitzgerald's biggest strengths, with his footwork making him an increasingly difficult proposition for defenders to deal with.
The GIF above gives us a strong example of what Fitzgerald can do, and this is a fairly typical line-break from him. The first thing that stands out is the strong drive off his left foot, powering him back to the right and inside the defender in front of him.
It's also worth noting the manner in which Fitzgerald 'recovers' his feet so swiftly after that big step; his burst of acceleration is immediate once that right foot connects with the turf. It's a particularly difficult motor skill to pull off, with many players struggling for such a burst after stepping off one foot.
We also have to highlight the player Fitzgerald beats on this occasion. It's Saints' lock Christian Day, all 6ft 6ins and 118kg of him. The 30-year-old is relatively lumbering in his speed of movement, making him an ideal target. Fitzgerald is intelligent and aware enough to recognise the opportunity and pick off the defensive weakness.

The clip above is taken from last weekend's match against the Ospreys and it's a very similar incident. Fitzgerald gets possession with enough space to use his footwork – note that he doesn't overrun the pass, which had been a problem for him in the past – against a relatively slow-moving defender.
This time it's loosehead prop Ryan Bevington [circled below] who Fitzgerald spots in the line and exposes. Having the ability to scan the pitch for these mismatches demonstrates the Leinster man's strong visual skills.
Picking out the 'fatties' in the defence may not even be a fully conscious activity for Fitzgerald. His GAA background and in-depth rugby education mean he has built up years of these situations and patterns in his brain. Spotting these chances requires split-second awareness, something Fitzgerald seems to have.
Just to demonstrate that the 2009 Grand Slam winner doesn't only beat forwards with his footwork, we go back to the Saints game at Lansdowne Road. In the animation below, Fitzgerald exposes the chink in Northampton's back-line when he steps inside George North after Luther Borrell rushes up to leave a disjoint in the defence.
Once again, it's that powerful left-footed step inside from Fitzgerald, followed by a rapid burst of acceleration as his feet reorganise themselves. Borrell is circled below, as he is the man who rushes out of the defensive line, fails to take 'man and ball' and leaves a gap just inside North.
Still, the Welshman has Fitzgerald lined up in a pretty decent position and would be hoping to shepard Fitzgerald onto his outside shoulder, particularly with Jamie Elliott coming up into the defensive line outside him. However, Fitzgerald's step off that left foot proves too much for North and the line-break ensues.
Fitzgerald has made a total of 219 metres with ball in hand over the course of his 356 minutes of Heineken Cup rugby this season. That has included nine clean line-breaks and 19 defenders beaten. Those stats put into perspective how effective an attacking player Fitzgerald has been for the province.
One other thing to note in the three examples above is where Fitzgerald is positioned; he is occupying the outside centre channel, just a touch further in from the sideline than a winger might normally be. While discussing his possible future as a 13 is for another time, the signs are promising.
The fact that Fitzgerald has made 40 carries means he averages out at 5.475 metres per carry in the top-tier European competition. That is not the most impressive figure for a winger, but taking it at face value would be to utterly ignore the evidence of his effectiveness elsewhere.
Off the wing
Weighing in at around 92-94kg and standing 6ft 1ins tall, Fitzgerald is certainly not the smallest wing around. While beasts like George North, Julian Savea and Tim Visser dwarf the Leinster man, he can more than hold his own physically.
Having played in the centre and at fullback too, Fitzgerald has a strong understanding of back-play and that allows him to come off his wing to great effect in open play and off set-pieces. His footwork gives us a strong clue as to his power and that helps him to compete well through contact.
The example above is typical of Fitzgerald in a totally different way to the line-breaks. He is happy to come off his natural side of the pitch and offer himself up as a first-receiver to carry the ball. Again, his footwork is an aid, but these type of carries are the ones that drag his averages down.
Fitzgerald has no concern whatsoever for those figures; he is interested only in helping his team to thrive on the pitch. Below, we see another clip highlighting that again, with the presence of the 26-year-old's quick feet prominent. Fitzgerald is excellent at using little bursts of sideways movement to ensure that the contact situation comes on his own terms when a tackle is the only possible outcome.

Pace in open spaces
Much of the work Fitzgerald does to make attacking situations advantageous would go to waste if he didn't have that acceleration to seal the deal. The former Blackrock College star also possesses good top-end pace, meaning that when he breaks, he can rapidly cover ground.
The video below provides us with an example of that pace when he benefits from some excellent play by Eoin Reddan and Brian O'Driscoll to burst away down the left-hand touchline, before linking with Shane Jennings.

It's quality running from Fitzgerald, but we must briefly highlight the roles of Reddan [who has been in excellent form for Leinster] and O'Driscoll in manufacturing the linebreak. You can see in the shot below that the Ospreys have a two-on-two defensive situation initially, until Reddan intelligently snipes.
The scrum-half draws in the first defender close to the maul/ruck and then O'Driscoll's delightful handling does the rest. Again, it's worth noting that Fitzgerald doesn't overrun the centre's pass. It may seem like a simple thing not to do, but it is something that the Gaeilgeoir has had to work hard to eradicate from his game.
Defensive solidity
One of the reasons Fitzgerald wants to end up playing at outside centre is that he feels his defensive game would excel in that role. As anyone who has ever played 13 will testify, managing that channel is a very difficult task, but something we will likely see Fitzgerald doing more of in the future.
The 2009 Lions tourist is a strong defender, and works hard on the little pre-contact and on-contact skills that make all the difference. Look out for Fitzgerald's attempts to swipe down attacking players' hand-offs and his ability to end up on top as the tackle goes to ground; these are skills he has been determined to improve.
Statistically speaking, Fitzgerald has been solid for Leinster in the Heineken Cup, backing up the impressions garnered from watching him in action. Over the course of those 356 minutes, he has completed 28 tackles and missed just six. Always in pursuit of progress, he will look for ways to reduce that number again.

The clip above shows one of those missed tackles, as Fitzgerald chases a box kick from Reddan and Elliott slips past him. It's harsh to call the Leinster man up on this, as he is isolated and travelling at speed as he attempts his tackle. Still, there is always room to get better and he will be focused on doing so.
Support play
One of the aspects that marks the very best wingers out from the rest is their ability to support teammates in attack [as well as defence]. The abilities to run fast and beat defenders are now taken for granted as part of any international winger's armoury' it's all about adding the little extras to stand out from the crowd.
Fitzgerald's support play for Leinster in recent months has allowed him to do exactly that. Even if the pass doesn't always go to him [as in the clip below], the hard work is rewarded eventually. Even if it isn't, busting a gut to support line-breaks is crucial to attacking success.
In the example above, it may not seem like much, but Fitzgerald's supporting run outside D'Arcy is important, even if he doesn't get the pass. Anyone who has played rugby themselves may be able to remember incidents where a teammate breaks the line and it's a real struggle to get on their shoulder to support.
It's surprisingly easy to switch off when a teammate makes a clean break, but Fitzgerald is very alert in using his pace to get up in support. The second example [below], again demonstrates how awake to the attacking possibilities Fitzgerald is, and this time he is rewarded with a pass from Brian O'Driscoll.
Fitzgerald shows off his handling skills to link with Reddan on his left in the same phase of play. [The 26-year-old made a total of 13 passes in the Heineken Cup pool stages.]
The try doesn't follow for Leinster, but it's another fine example of the little extras Fitzgerald has been offering his province in the Heineken Cup. Even when line-breaks are not the prominent feature of the attacking passage, the 26-year-old has been helping out.
The clip below gives us an example where Fitzgerald could have easily stood off and held his position in behind the back-line. Instead, his work rate pushes him to follow Madigan into the contact situation and eke out another metre for his team.

Promising signs for Ireland
It all adds up to Fitzgerald having been perhaps the most impressive Leinster back so far this season, with a hat-trick against the Saints at Franklin's Gardens a just reward for his hard work and improvement.
Try-scoring, or the lack of it, is something that will be held against Fitzgerald in some quarters, with just two tries in his 27 Ireland caps remarkably low for a man who has played on the wing so often. It's certainly something that Fitzgerald would like to improve upon, but seeing his team cross the whitewash is more important than individual records.
If Ireland can run in tries this spring, it doesn't matter for a second whose name goes on the scoreboard. That said, we have rarely seen Fitzgerald arrive into international camp in such rich attacking form. The signs are promising for a man who has long been seen as eventually developing into a world-class international back.
Like rugby? Follow TheScore.ie's dedicated Twitter account @rugby_ie >