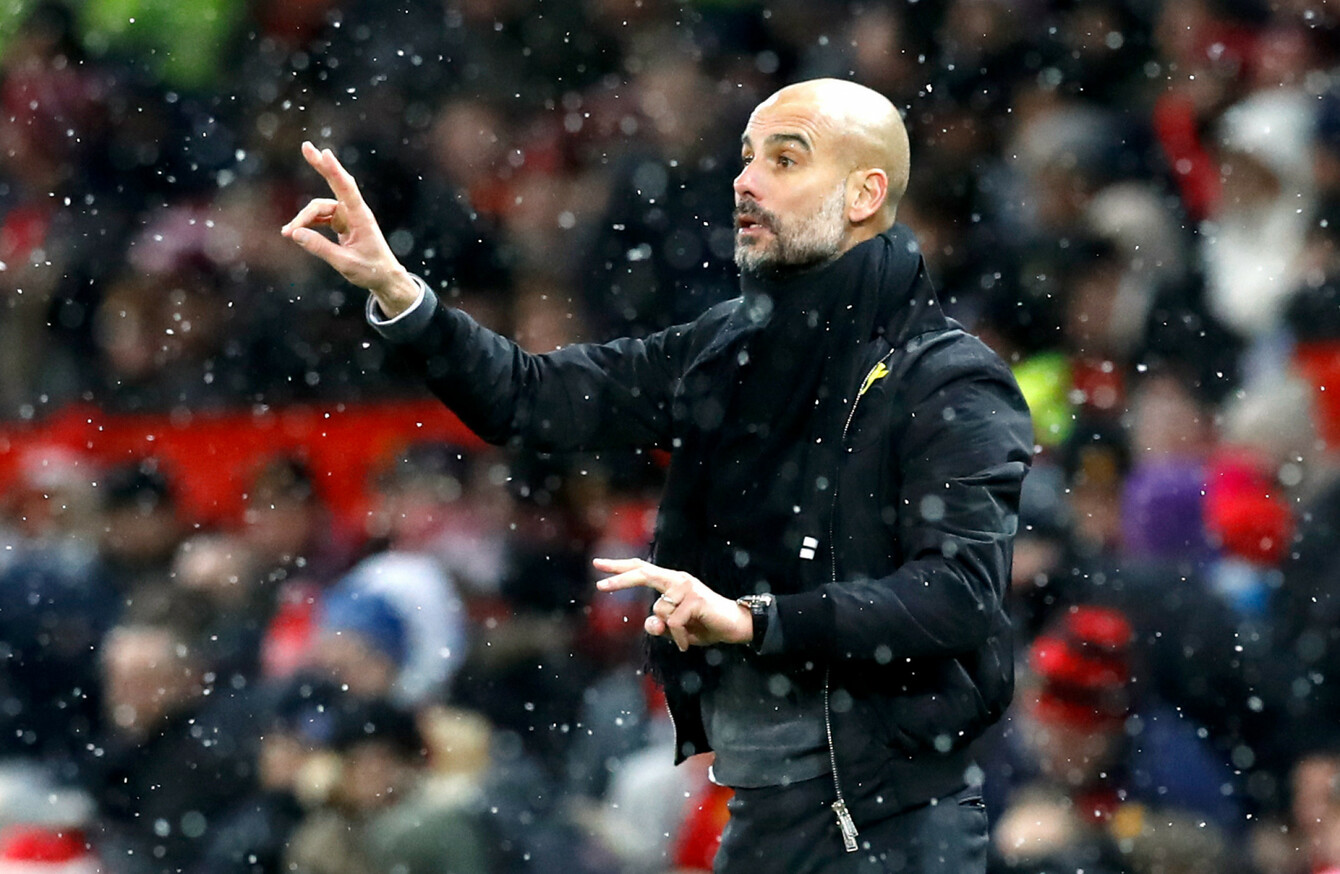 Pep orchestrates the action.
Image: Martin Rickett
Pep orchestrates the action.
Image: Martin Rickett
AS THEIR DAZZLING Premier League form continues, it turns out Manchester City is not the only part of the Abu Dhabi empire responsible for putting very expensive art on show lately.
This week it was revealed that the world's most expensive painting, Leonardo Da Vinci's 'Salvator Mundi', which sold for $450million (or seven Raheem Sterlings) at Christie's in New York in November, was bought for the Louvre Abu Dhabi.
Opened last month, the Louvre Abu Dhabi is very much like the Manchester City project: both involve plonking iconic cultural entities into hitherto unlikely places. The Louvre (the Paris one) agreed a 30 year, €1 billion deal to allow their name and the treasures of civilisation in their possession to be used for the benefit of an absolute monarchy in the Arabian desert.
Meanwhile Pep Guardiola has brought the imprint of Barcelona to the club that once employed Shaun Goater.
Critics have gushed about Louvre Abu Dhabi's spectacular design, a modern twist on the traditional Arabian walled medina quarter. "The look," writes Holland Cotter in the New York Times, "might be described as Arabic-galactic. In the form of an immense, filigreed gray half-sphere resting on a low base infiltrated by water channels, it could pass as a spaceship, an unfinished mosque or a Venetian pavilion set on the edge of the Persian Gulf."
The design, by French architect Jean Nouvel, is part of Abu Dhabi's efforts to shift itself from oil plutocracy to global cultural crossroads. "This is a major achievement in Abu Dhabi's vision to become a world-class destination bridging global cultures," said Khalifa bin Zayed Al Nahyan, UAE President and Ruler of Abu Dhabi, upon agreeing the deal with the Louvre.
Whether you share the enthusiasm of the Emiratis and the art critics may come down to your stomach for the UAE's human rights record. The construction of the Louvre Abu Dhabi itself, like the World Cup stadiums of neighbouring Qatar, has been dogged by controversy over the mistreatment of migrant workers.
In 2015 Human Rights Watch voiced "serious concerns about violations of workers' rights" on the project, finding evidence of withheld wages, confiscated passports, squalid and dangerous working conditions amounting to "forced labour" and summary deportations.
Nouvel dismissed the concerns as an "old question," claiming to be satisfied with conditions. "I am very contextual," said Nouvel. "Architecture exists in function to its situation. A great museum for me is one that sits with the culture of the country in which it is created." Even if that culture allows the systematic abuse of workers.
One wonders if Guardiola makes the same sort of rationalisation about his own longstanding connections to Gulf states with questionable human rights records. The Manchester City manager spent two years as a player in Qatar and in 2010 became an ambassador for their successful 2022 World Cup bid, at a time when Qatar Sports Investment were about to become Barcelona's first shirt sponsor.
The Abu Dhabi billions have now allowed Guardiola to approximate at Manchester City something close to what he achieved at Barcelona, with the team's form in recent weeks winning admirers among football fans in the way the Louvre Abu Dhabi has wowed the art and architecture worlds.
BBC commentator Jonathan Pearce is not a man easily impressed, but he was utterly disarmed as he opened his post-match interview with Guardiola after City's 4-0 win over Swansea on Wednesday night. "I have never in all my years seen a team play like this. Never," Pearce salivated.
Guardiola smiled like a bashful schoolgirl. "I appreciate it, thank you so much. That's why we are here, to provoke something special. Not about the statistics, the numbers. We play good and the people are happy watching us, that is the best gift, the best we can do as professionals."
Art for art's sake, you might say.
As with Paris Saint Germain, and Roman Abramovich's Chelsea before them, everything City achieve must first be filtered through one's view on the manner in which it was financed – the sheer amounts of money involved and where that money came from. Is it possible for City, as they get ever closer to the perfection that made people love Barcelona, to achieve a level of aesthetic beauty that overcomes reservations about repressive, undemocratic states parlaying oil money into global soft power respectability?
The Guardian and BBC art critic Jonathan Jones recently wrestled with this question upon visiting the Louvre Abu Dhabi. "Seeing ancient monuments, we tend to forget the toil and suffering of the builders," Jones wrote. "Fifty years from now, when the Louvre Abu Dhabi has established itself as one of the world's great museums, how clearly will its dark beginnings be remembered?"
"Nothing excuses the inhuman working conditions that have been reported. But I suspect that when it opens, this audacious new museum will be admired as a world destination and artistic treasure house. And so it should be."
That sums up the moral compromise anyone with a conscience visiting the Louvre Abu Dhabi must make, and when we applaud Manchester City's own fine art in the months to come, we will be doing something similar.
The42 has just published its first book, Behind The Lines, a collection of some of the year's best sports stories. Pick up your copy in Eason's, or order it here today (€10):