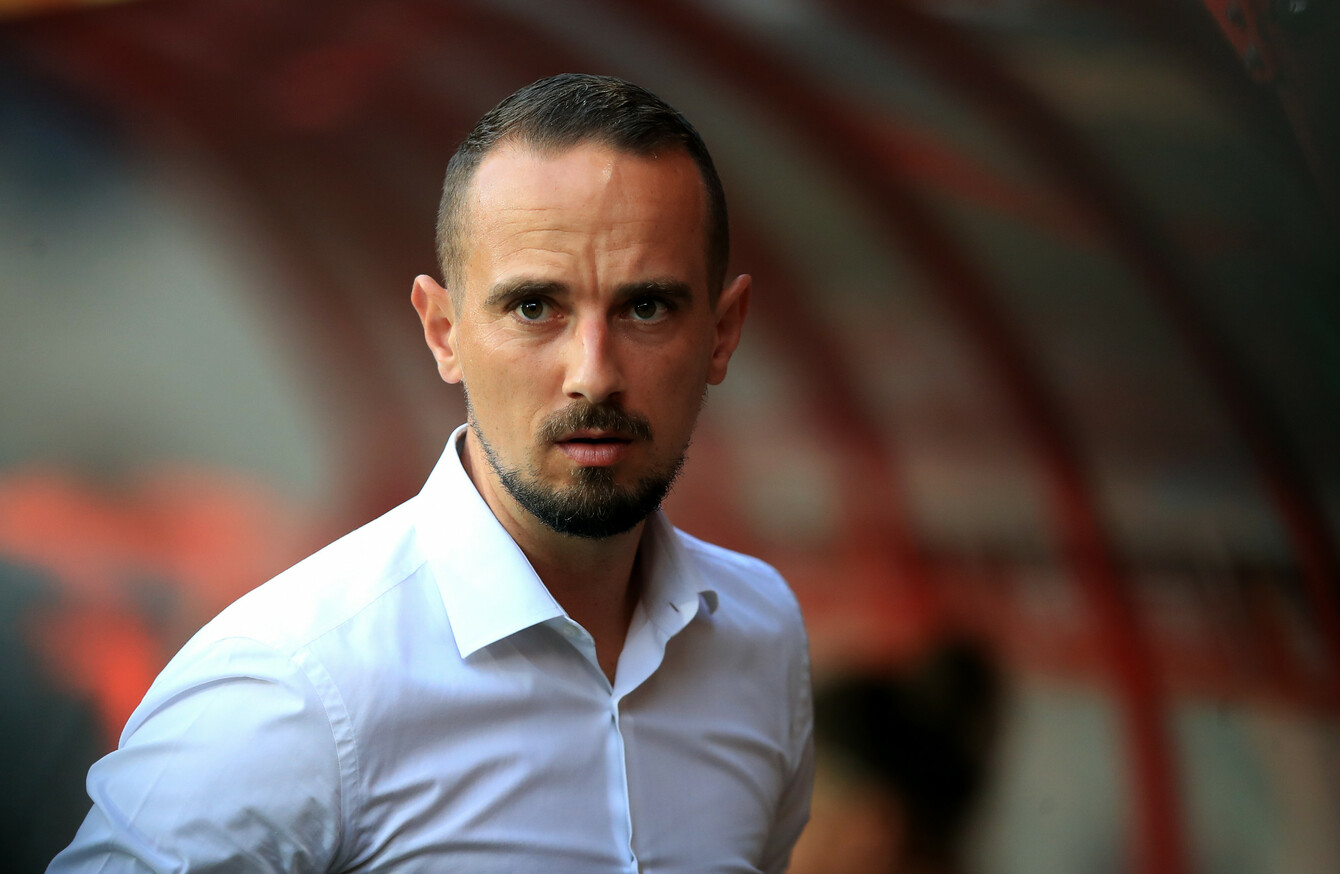 Image: Mike Egerton
Image: Mike Egerton
Updated at 9am.
IN AN INTERVIEW with Fifa in 2014, England women's football team manager Mark Sampson was quizzed about what people could expect from his side.
"First and foremost it's about making sure we've got the right human qualities within the team. We're going to be big on our values and our morals and the way in which we try and act and try to inspire people. We want to make sure we are good people who act in the right way and are fitting enough to wear an England jersey."
When he made those comments, Sampson would've already been aware that his own human qualities and morals were being questioned.
Just months before, the FA were made aware of allegations about Sampson relating to his time at Bristol Academy, where he coached the Girls Under-18 team before being promoted to first-team boss.
The FA maintain the organisation's safeguarding unit investigated the allegations properly. It certainly took them a while as a report was finally prepared in March 2015 – a year later, when England were preparing for a World Cup in Canada – and Sampson was exonerated of any wrongdoing.
But, today, the FA chief Martin Glenn revealed that those allegations – dismissed by the same organisation two-and-a-half years ago – were actually now deemed serious enough (conduct that was 'inappropriate and unacceptable') for Sampson to be sacked with immediate effect.
Which brings us to two key questions: why is the situation any different now and, perhaps most importantly, can we trust anything that the Football Association says?
Incredibly, Glenn revealed today that the full report into the Sampson allegations was only made known to him last week and that after investigating the finer details, he concluded that Sampson's conduct was unbecoming of an England manager.
So, we're led to believe that Glenn, in his role as chief executive, and the other FA top brass didn't feel it necessary to dig deep into Sampson's HR folder over the last few months and check for red flags.
Why would they?
Well, because last year, there were other allegations made against Sampson that led to the FA commissioning two separate independent inquiries. Sampson, again, was cleared of any wrongdoing.
One of the England squad members, Eni Aluko, claimed that at one team meeting in October 2015 Sampson had asked a mixed-race player – Drew Spence – how many times she had been arrested. At another meeting before a game against Germany in 2014, Aluko alleges Sampson made a racist comment to her.
"We were in the hotel," she told The Guardian.
"Everybody was excited. It was a big game. On the wall, there was a list of the family and friends who were coming to watch us and I just happened to be next to Mark. He asked me if I had anyone who would be there and I said I had family coming over from Nigeria. 'Oh,' he said. 'Nigeria? Make sure they don't bring Ebola with them.'"
Aluko was paid £80,000 by the FA to keep quiet and reveal nothing about the allegations or investigations into Sampson.
The confidentiality agreement was put in place to 'avoid disruption' prior to England's appearance at Euro 2017 this past summer.
But, the staggering level of FA ineptitude was only revealed when Aluko was free to go public with the story last month and the organisation was forced to come clean.
During their inquiries, the FA's investigation team somehow deemed it unnecessary to interview Spence, even though Sampson had made the alleged remark to her. Nor did the investigation team carry out interviews with any player who was at that particular meeting. Only in the last week has Spence given a statement to the FA and met with senior officials.
But, as Glenn confirmed today, this is supposedly a completely different issue to the one that actually led to Sampson's dismissal. Supposedly, everything is unrelated.
However, Glenn – who was appointed FA chief in March 2015 – has been in the job long enough to be privy to the report into Sampson's behaviour at Bristol, the various subsequent allegations made against him by the players, the commissioning of independent enquiries and the hush money paid to Aluko.
This is a sorry string of Sampson-related controversy. Are we expected to believe Glenn's declaration that he only received the 'full report' into Sampson's Bristol allegations last week? Surely he would seek out such forensic and sensitive information about a key member of staff? Surely, as the head of an organisation, he would have wanted to begun his job with a clear understanding of his high-profile employees and any potential embarrassment they could bring on the FA? Why did he not receive the report at the time? Or, failing that, at any of the various other moments when Sampson's name was brought up alongside allegations of wrongdoing?
Of course, Glenn has endured a traumatic spell in charge of the FA so far. There was a dismal showing at Euro 2016, followed by a pantomime of a press conference to which Glenn dragged along a beleaguered and confused Roy Hodgson who'd resigned the previous night and who painfully mumbled to reporters, 'I don't really know what I'm doing here'. After that there was the inexplicable humiliation of hiring and firing Sam Allardyce in the space of 67 days. The FA has also begun an intense investigation into systemic child sex abuse after a litany of former players came forward and detailed their harrowing personal experiences at the hands of underage coaches.
Through all of that, the England women's team has been a constant source of positivity. Under Sampson they reached the semi-finals of the World Cup in the summer of 2015 and claimed the bronze medal – the second-best tournament performance by an English football team ever.
Two players – captain Steph Houghton and Fara Williams – were even awarded MBEs afterwards.
This past summer, there was another strong showing as England reached the semi-finals of the European Championship, suffering defeat to eventual champions the Netherlands.
Running parallel to Sampson's success was a constant stream of allegations. Investigations were flimsy, misguided and error-strewn.
Sampson has never been at the centre of just one alleged misjudgement. Another common element is that there have been many apparent mis-steps.
"There are different allegations about different things which is why we're talking in the plural," Glenn said today.
"Some could be categorised as trivial and some as very serious."
Those 'very serious' allegations either slipped between the cracks in 2015 or were purposely ignored. Depending on where the truth lies, the FA is very stupid, very malicious or both.
How can any party have any confidence in the FA to dig deep, find answers and deliver strong, unwavering decisions in the wake of any controversy or crisis?
Weary and wobbling as it hobbles from one disaster to the next, this is just the latest staggering, embarrassing and sinister episode in a long-running soap opera.
Subscribe to The42 podcasts here: