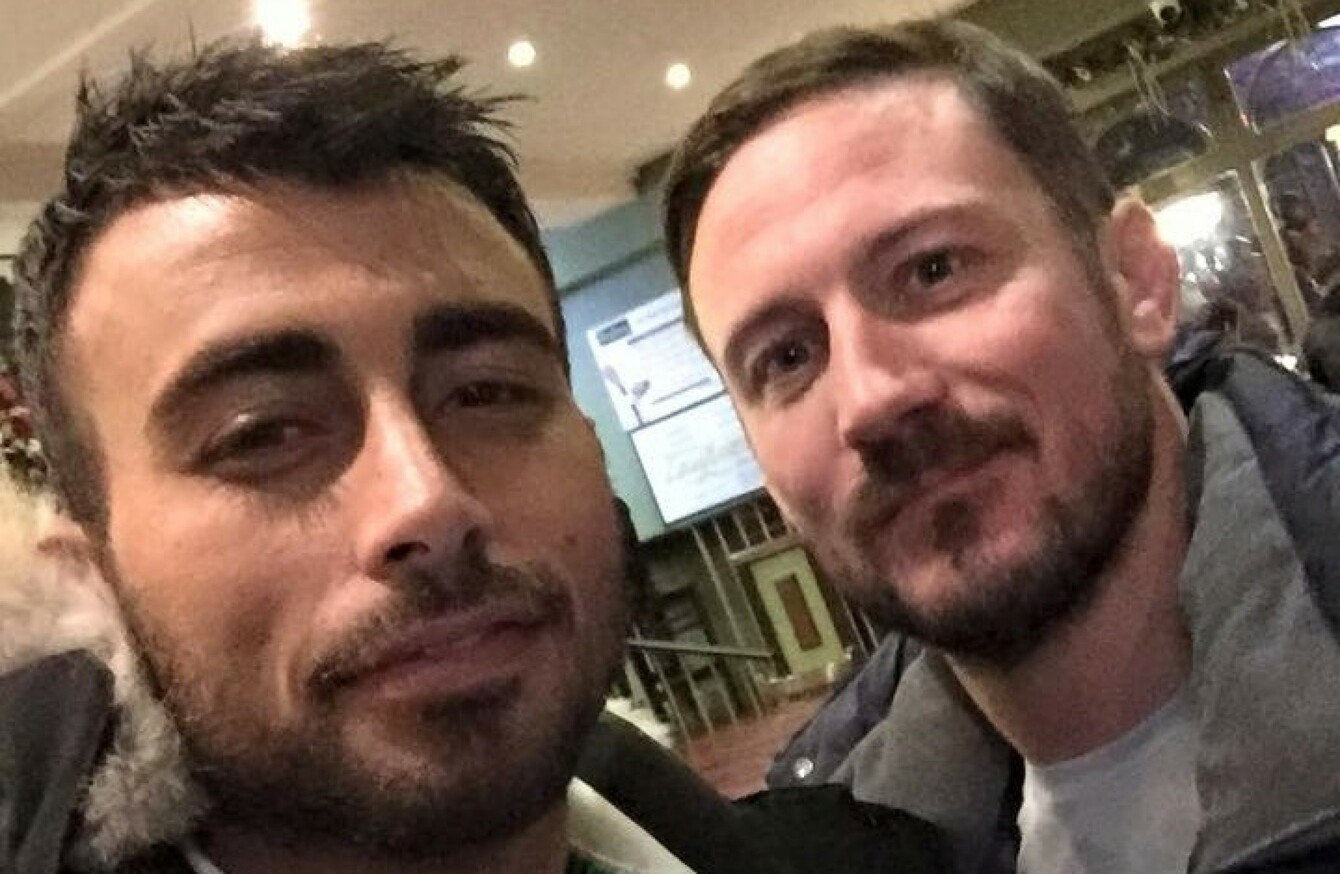 Makwan Amirkhani with SBG head coach John Kavanagh.
Makwan Amirkhani with SBG head coach John Kavanagh.
HIS TIME IN Dublin is only a week old, but already the city feels like a place where Makwan 'Mr Finland' Amirkhani (12-2) could feel at home.
"I don't know is it just because I look like a visitor, but I was in a store the other day to buy a razor for shaving. There were several people in front of me: a woman with her daughter, an older lady and a couple with their baby," the UFC featherweight tells The42.
"The woman and her daughter said to me: 'You go ahead of us, you only have one item'. I thanked them, and then the older lady did the same. I didn't want to go ahead of an elderly person but she insisted. She also told me that I shouldn't shave my beard. Of course, the couple then also let me go in front of them. That would never happen in Finland. But that's the kindness of Irish people."
The welcome has been just as warm at Straight Blast Gym on the Naas Road. When Amirkhani walked through the doors, under the large poster of Conor McGregor emblazoned across the front of the building, it felt like the first day of school.
"It's like being left at kindergarten by your parents," he explains. "At first you were nervous because you didn't know how things were about to happen, but when they came back to pick you up you didn't want to leave because you had made some new friends."
Amirkhani will stay in Ireland until the end of January to train alongside some of the best mixed martial arts athletes in the country, under the guidance of coach John Kavanagh. He'll then return home to complete his training camp for his 27 February bout against Mike Wilkinson at UFC London. But it's unlikely to be the last he'll see of SBG.
In November, a disagreement with another team member led to Amirkhani departing his previous team — Allstars in Stockholm. The 27-year-old opened lines of communication with Kavanagh via Twitter, and the pair met for the first time at the gym eight days ago.
For his month in Dublin, the fighter has set up camp at a hotel on Kylemore Road — a five-minute walk from the gym. It's just Amirkhani, his XBox and a steely determination to ensure that he prepares accordingly for his bid to take his UFC record to 3-0 next month.
A delay on the LUAS red line means I arrive at the hotel a little later than we had agreed. I apologise and tell Amirkhani that tardy public transport is something he'll get used to, because he's enthusiastic about becoming a permanent member of the SBG team. He does have one concern, however.
"When I'm in Finland and it's raining, that's the worst day ever. But here it's cold and raining every day. I think some Irish people have lost their mind because they're all running with shorts on. Getting used to that weather is my only worry."
It didn't take long for Amirkhani to settle in at SBG: "Some of the guys knew me from the UFC so they were happy to have me in the gym. They were really kind and respectful. Nobody was trying to hunt me down on the first day.
"Then one guy was offering water from his own water bottle. I can tell you, I've been training for 22 years in many gyms but I've never met anybody who comes and offers water from his own bottle to you on the first day.
One of the things I like about Irish people, and I think it's one of the reasons for the success of the fighters, is that they are social. When you are social you are not afraid to do things that you want to do.
"When I was waiting for John in the reception on the first day, a guy came in and he was listening to some rap music. He was dancing and signing along but he didn't give a shit about who was watching. I thought maybe it was just him, but I see that everyone is like that. People be themselves.
"What I have also noticed is that when people are talking to you, they're not playing with their phone. In Finland or anywhere else in Europe, people are trying to talk to you and they're on their phones at the same time. The social life is going away because of this. Life happens on the internet, but I haven't seen that in Ireland.
"I actually think it's one of the reasons why they are taking over in MMA, like Conor [McGregor] says; because the guys, they are talking to each other, communicating, sharing their ideas, supporting each other. That's something I realised on the first day.
"The coach is not playing with his phone while he's doing training. I've seen other coaches sitting on a chair with their eyes on their phone. They don't know shit about what's going on. This is one of the reasons why I feel I'm in the right place. I already feel like I'm part of the team. It feels like home."
Amirkhani was born in Kermanshah, the largest Kurdish city in western Iran. In order to escape the violence of the Iran-Iraq war, his family fled and were taken to a United Nations refugee camp in Iraq, before being resettled in Finland when he was six-years-old. Nevertheless, he remains proud of his Kurdish roots and carried the flag for his most recent UFC win — against Masio Fullen last June.
Not long after he was born, Amirkhani lost a brother — one of his seven siblings — following a car accident. He describes his father as his hero for getting the family to the safety of Finland, but within a year of their arrival, he too was killed in a car accident.
As a child, Amirkhani took up wrestling — "because it was cheap, all you need are wrestling shoes" — which eventually paved the way for his route into MMA. He had his first fight in 2010 and after earning a good reputation on the Nordic circuit, he was signed by the UFC to make his debut in Stockholm in January 2015.
The milestone marked the final stage in his recovery following a difficult period in his life. Due to complications with surgery on a broken finger, Amirkhani was told by doctors that he may never compete again. He eventually defied their diagnosis, but it wasn't straightforward.
"When somebody like that who is a professional in their job tells you that, you take it pretty seriously. I was basically being told that my dream of being a successful professional fighter was over. I spent months alone in my bedroom, only leaving to get food. Eventually, my sister said: 'Do you know how much it hurts when I see you like this?'
"My brother also told me that I had some cards that haven't been turned. What he meant was that if you don't open a door, you won't know what's behind it. I looked at myself in the mirror and I looked terrible. So bad. I asked myself if I had the ability to make a career in MMA, and the answer was yes.
"Going back to that time, from thinking about suicide to where I am right now, they're two different worlds. I will always remember, with a smile, those bad moments. Without the pain of those moments, I probably wouldn't be here. They gave me the motivation to do something with my life.
"When you have people in your life, like I have my mom especially, you have to think twice about every one of your acts. Everything you do will impact them too. It's not just about me. It will be the same if I have kids."
His mother was the subject of one of the main talking points of Amirkhani's UFC debut in Sweden just under 12 months ago. The eight-second TKO of Andy Ogle was the quickest win by a debutant in UFC history. Afterwards, Amirkhani was awarded a $50,000 'Performance of the Night' cheque and vowed to use the bonus to buy his mother a new bed.
"Me, my sister and my mom are living in the same house and we have only two rooms," he told the media after the fight. "My mom gave the rooms to us and she sleeps in the living room on a mat. It's not nice, but what can I do? She gave the beds to us. Now, when I go home and move to Stockholm, I will give her the room and a bed that flies."
Despite being in the company of established UFC stars like Anthony 'Rumble' Johnson, Alexander Gustafsson and Gegard Mousasi, Amirkhani stole the show at that press conference. His quirky personality has subsequently contributed to his success in garnering a level of popularity you wouldn't normally associate with a guy who has spent a total of less than two minutes in the UFC's octagon.
As a result, he was quickly compared to Conor McGregor. However, Amirkhani says he knew very little about the Irish star until a year ago because he had never watched a UFC event: "I saw his fight just before that [against Dennis Siver] but didn't know much about him… or almost any of the fighters at all.
"The only person I knew at that event was Gegard Mousasi, and even still I got his name wrong. I had been calling him Gerard all the time over there. I only found out when I got back to Finland that it was wrong."
He adds: "I loved MMA for a long time. I was just doing so many other things — training, working, school — that I never had the time to go to UFC shows or even sit down and watch them on TV."
Amirkhani followed up that swift debut victory with a first-round submission of Masio Fullen five months later and he ended last year by being named one of the organisation's 'Top 10 Newcomers of 2015'. He avoids bold statements of intent, but don't mistake that for a lack of self-belief.
"It's like painting a huge wall," he says. "You can't see the end results until you're done, but if you step away from the wall then you can see your progress. I've only just started painting that wall.
"But working here in Dublin with John Kavanagh and SBG, I feel like I'm getting there. I'm on the right path. I can't say that I'm definitely going to be one of the top ten or top five fighters, but I do have the equipment to achieve that."
When he announced his decision to sample what SBG had to offer, the elephant in the room was Conor McGregor. As an occupant of the division which McGregor is now at the summit of, Amirkhani has previously expressed his eagerness to face 'The Notorious'.
When asked last January if his personality was inspired by McGregor, Amirkhani said: "I have always been like this. This is nothing like Conor McGregor. He can kiss my ass… This has nothing to do with Conor or any other fighter. This is me."
They haven't crossed paths at the gym yet, but Amirkhani is adamant that there won't be any issues when that time comes.
Amirkhani: "Everybody is your opponent until you meet them and see their personality. Then they become a little bit closer to you. Of course, if I'm going to be part of the same team, that guy you wanted to fight one day will become your brother. Your thoughts change.
When you are in a team together, you are family."
Amirkhani won't make a final decision about becoming a permanent member of the Straight Blast Gym team until after his clash with Mike Wilkinson in six weeks' time, but the early indications are positive.
"If you want to be the best you've got to train with the best," he explains. "I can't train in places where I don't feel comfortable or where the athletes don't have the same mission. I haven't been here very long but I feel like this is the right place."
Of course, he wouldn't be the only Nordic UFC fighter in the SBG stable. Icelandic welterweight Gunnar Nelson is already a fan-favourite among followers of Irish MMA.
"If I got the same kind of support from the Irish fans it would be amazing," Amirkhani says. "I'm the kind of person who always remembers the people who supported him. I won't forget that if it happens."
So Mr Finland could become Mr Ireland?
"I'll never forget Finland but I will definitely appreciate everything Ireland offers me."