Munster's Casey Laulala and James Downey contest a high ball.
Image: ©INPHO/Dan Sheridan
It was a sunny day in Limerick and Thomond Park looked fantastic. Both sides lost their opening fixtures last weekend and another defeat would surely spell the end of the Heineken Cup hopes of either Munster or Edinburgh.
As always, we'd love you to get in contact, so send us your thoughts by emailing patrick@thescore.ie, via Twitter@thescore_ie, find us on Facebook, or leave a comment below.
You may need to refresh to see videos and images.
Munster 33-0 Edinburgh
12:31 – 12.31 – We are live at a pleasantly sunny Thomond Park for a crucial day in Munster's season. Edinburgh are missing Greg Laidlaw and Tim Visser. They were also hammered by Saracens at Murrayfield last weekend. Rob Penney will be keenly aware that his team must start strong and not give away any needless penalties, or gift possession easily. It cost them badly against Racing Metro last Saturday.
All of Munster will be hoping that Conor Murray is ready to shack off his nightmare outing in Paris which, ultimately, turned a win to a disheartening defeat.
12:38 – 12.38 –
The trusty smartphone of TheScore.ie has captured some of the pre-match build-up at Thomond. The crowds have had their sup at Fitzgerald's and a spot of lunch at PJ'S Plaice and are filing into the ground. We are 10 minutes away. Team news coming up.
Munster coach Rob Penney catches up with some Munster fans before the match.
12:41 – 12.41 –

Munster: D Hurley; D Howlett (c), C Laulala, J Downey, S Zebo; I Keatley, C Murray. D Kilcoyne, M Sherry, BJ Botha; D O'Callaghan, P O'Connell; D Ryan, S Dougall, P O'Mahony.

Replacements: D Varley, M Horan, S Archer, B Holland, P Butler, D Williams, JJ Hanrahan, F Jones.
Edinburgh: G Toinks; L Jones, N de Luca, B Atiga, T Visser; G Hunter, R Rees. J Yapp, R Ford, G Cross; G Gilchris, S Cox; D Denton, S McInally, N Talei.

Replacements: A Titterrell, R Hislop, W Nel,  McAlpine, D Basilaia, C Leck, M Scott, T Brown.
12:44 – 12.44 – Duncan Williams comes in for Peter Stringer on the bench – interesting decision that one. Will the diminutive scrum-half opt for another move to the Aviva Premiership this season. He must not be enjoying his time on the sidelines.
12:46 – 12.46 – We're underway at Thomond!
12:49 – 12.49 – Edinburgh win the first lineout but concede a penalty inside the Munster half. Some afters but they die down and Keatley kicks long into touch. Munster secure the lineout but Edinburgh illegally halt the maul and Keatley has an early chance to put his side ahead.
12:51 – 12.51 – Keatley gets it to make it Munster 3-0 Edinburgh after three minutes. A fine kick from the Munster man after the restart puts Edinburgh back into their 22 but they secure the lineout to clear. Laulala tries to break free in midfield and finds Hurley who is soon penalised for holding on. The Scots down in Munster territory now.
12:53 – 12.53 – Super stuff from O'Connell as he steals an Edinburgh lineout. Zebo chases down the high ball clearance and Lee Jones knocks on. The scrum is lost though and Donnacha Ryan concedes another 10 metres for sass-talk.
12:57 – 12.57 – Peter O'Mahony wins a penaly for his side after Zebo stood up well to the rampaging Dave Denton. Keatley, who angered a lot of home fans for an aimless clearance a few moments ago, kicks into touch and Munster are back in enemy territory. Fields of Athenry rings out for the first time.
Edinburgh get the party started in Limerick.
13:01 – 13.01 – Donncha O'Callaghan's return is already having a positive effect as he comfortably takes a lineout on the left touchline. Some Scottish shenanigans in their own lineout gives the reds an attacking scrum on the Edinburgh 10-metre line and they get a good shunt.
Laulala finds Zebo flying out left but no joy there. Keatley then tries an audacious crossfield kick but O'Callaghan is on the wing, rather than Howlett, and he grasps unsuccessfully at the spinning ball.
Amazing scenes next as Munster blast the Scots 10 metres back over their own tryline. Munster get the penalty and opt for the scrum. They are fired up!
13:04 – 13.04 –

Penalty won on the scrum and sense, in a sensible, non-maniacal way, wins out. Howlett instructs Keatley to go for the posts. Same position as the first but not the same result. Poor miss right and wide. Three points, possibly seven, spurned there.
13:06 – 13.06 – O'Connell steals his second lineout and Munster pile forward before Lee Jones manacles O'Mahony and drags him into touch. 18 minutes gone and edinburgh have a conference before their lineout. They win it this time and clear to the halfway.
13:11 – 13.11 – Keatley is not inspiring confidence with his kicks as another clearance fails to trouble Greig Tonks in the full-back position. He is quite handy under the high ball. Geoff Cross concedes a penalty after 22 minutes when scrambling at the ruck while he is of his feet. Important kick coming up for Keatley, on the left-hand side this time. 22 metres out.
13:13 – 13.13 – Keatley sneaks it inside the left-hand post and it is Munster 6-0 Edinburgh. O'Connell then steals his third lineout. Immense stuff from the big man. Ross Ford better get out the chalkboard at half-time and come up with some new calls.
13:16 – 13.16 – Dave Kilcoyne is bulldozing up the middle and getting three yard returns. Props love that stuff. Good hands from Laulala and Murray keep the reds ticking and O'Mahony sledgehammers Gregor Hunter to the ground with his bear claw of a right hand. He is in great form this season, the Munster Number 8.
13:18 – 13.18 –
13:22 – 13.22 – Great work at the breakdown wins Munster a fourth penalty. Dougall and O'Connell to the forefront there. Murmurs around the ground as Keatley opts to kick from 57 metres out. It was a dirty effort but had the distance. Not the accuracy though as it goes right and wide.
The big screen at the ground is showing Sky Sports' coverage and it flashes to the tracksuit-wearing Ronan O'Gara who is poker-faced.
13:25 – 13.25 – 35 minutes gone and a flying aerial take from Howlett energises the crowd. Edinburgh have shown a glimmer more than nothing in attack. If they can get in at the break only 6-0 down it will give them some encouragement that they can find a result here.
13:28 – 13.28 – Keatley is having a right afternoon as he is hammered to the ground when trying to tackle Matthew Scott. Munster then steal the ball at the brekdown on halfway and Conor Murray chips brilliantly down the left wing. The Scots get the lineout but are soon bundled into touch and Munster are incensed when Sherry is blown-up for a throw that is not deemed straight.
13:31 – 13.31 – The Edinburgh scrum are in trouble but they get the ball out to Richie Rees who boots it out of play. HALF-TIME
13:37 – 13.37 – Munster are clearly the better team but they will surely be frustrated at the lack of killer instinct. Thy should have went for the try after 15 minutes when they had Edinburgh reeling and conceding five-metre scrums and penalties. They may still get the win, as the Scots are woeful at present, but a bonus point looks very wishful thinking.
The Munster members of the Team Ireland Paralympics squad are getting a warm round of applause on the pitch during the break.
13:40 – 13.40 – Here is a snapshot of that Munster pile-on in the first half that led to the five-metre scrum:
(©INPHO/Billy Stickland)
13:43 – 13.43 – David Rushida, the Olympic 800-metre champion from Kenya, is on the pitch with his mentor, Brother Colm, and he has a shiny gold medal to keep him cosy as the breeze kicks up. More rapturous applause for an athletic hero.
13:46 – 13.46 – We are underway again at Thomond and if the Munster scrum can somehow get its act together they will be in good shape for a full-on tilt at Michael Bradley's men. Ther first scrum is solid but Laulala knocks on in attack.
13:50 – 13.50 – Nick de Luca is strong in defence again s he thwarts Howlett. The ball is spun left and Downey looks to connect with the left wing. O'Callaghan, somehow, shows up there rather than Zebo and his handling is poor again. That is three times so far that either O'Callaghan or O'Connell have showed up on the wings in the middle of a promising attack.
The Munster maul out left is once again slowed illegally and Keatley, this time, is instructed to kick for touch. Looking for tries here.
13:53 – 13.53 – More frustration as Munster seem content to let their forwards do all the pounding when there was 20 metres of open, unmarked space for Howlett out on the right. Edinburgh scramble to steal the ball and clear. On the next foray forward, James Downey knocks on when in little trouble. 47 minutes gone.
13:56 – 13.56 – A Hunter kick from his own 22 rolls too far and over the dead-ball line. Munster get a scrum way back on the Edinburgh 22. It is solid and Munster batter forward.TMO!
13:58 – 13.58 – Just when it looked like the ball was being hogged by the forwards again, Conor Murray took a feed from O'Connell and dived down under the posts, despite the close attentions of two Edinburgh defenders. Ian Keatley adds the extras to make it Munster 13-0 Edinburgh.
14:00 – 14.00 – Downey throws his body on the line to halt a Scottish attack and O'Callaghan is then the hero as he disrupts Edinburgh at the breakdown to win his side an attacking scrum.
14:04 – 14.04 –

Doug Howlett has picked Lee Jones up and heaved him 10 meres backwards in the tackle. Hurley then does well after a kick and chases and Zebo goes close up the left. Nothing doing so play is called back for the penalty that Hurley earned for his team. Keatley from just under 40 metres on the right-hand side.

It's a beauty and that penalty makes it Munster 16-0 Edinburgh.
14:08 – 14.08 – It is effectively Game Over for the Scots but Munster will know that they need a try in the next five minutes to have a hope of the bonus point. Hurley and O'Callaghan combine brilliantly after a kick and chases and the home side come to within 10 metres of the Edinburgh whitewash before play is called back for a penalty. Hunter clears for the visitors as the clock ticks 60.
14:10 – 14.10 – Murray is scooped up and driven back into his 22 by the charging Matthew Scott but Munster rally to clear through Keatley. Varley and Holland have replaced Sherry and O'Connell. Here coms Fields of Athenry again.
14:16 – 14.16 – Great reception for outgoing Howlett and oncoming Felix Jones. Edinburgh are winning lineouts but, at this stage, it is a stale crumb of comfort. 13 minutes left on the clock.
14:18 – 14.18 –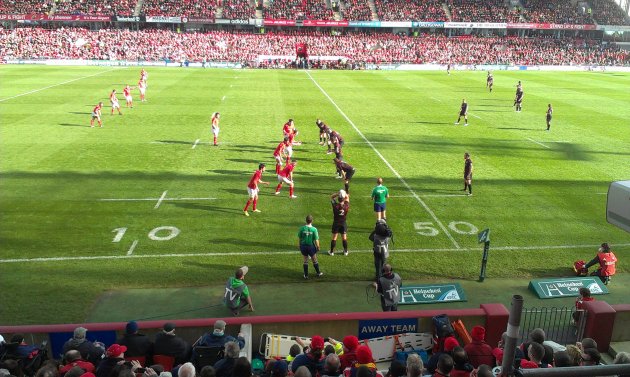 Edinburgh's lineout will please Michael Bradley as little as his side's inept attacking performance.
14:20 – 14.20 – Something to cheer about for the Munster faithful as the home side get a penalty and Keatley is instructed to kick it to touch. Lineout five metres from the Edinburgh line. 10 minutes to go.
14:22 – 14.22 – TRY! The move pays of as a rolling maul gets to within a foot of the line. O'Mahony picks and dives, getting the ball grounded on the line, under a pile of bodies.
14:25 – 14.25 – Ian Keatley converts that score to make it Munster 23-0 Edinburgh. Hanrahan and Butler on for Munster. They break immediately. Keatley goes goes and it is a TRY! Sean Dougall finishes it off. Three tries now!
14:27 – 14.27 – Unbelievable scenes here. Hanrahan and Keatley were super in the lead-up to that third try. Munster know they are well on top, and in sight of a bonus point. Edinburgh are all over the place. Four minutes to go.
14:30 – 14.30 – Two minutes to go and Edinburgh on the attack. Great stuff from Jones gets them on the front foot and Hurley thunders through a ragged away defence. The Scots get possession back but are on their 22. They concede a penalty. Time for an attacking lineout.
14:31 – 14.31 – TRY!!! They get it. Munster win the lineout and batter into the Edinburgh defence. Varley is on the back of the mul and he crashes over!
14:35 – 14.35 – Keatley misses the final conversion but it matters little. They get the bonus point and the win. Great stuff from the reds. Stay with us over the next couple of hours for match reaction, comments and player ratings.