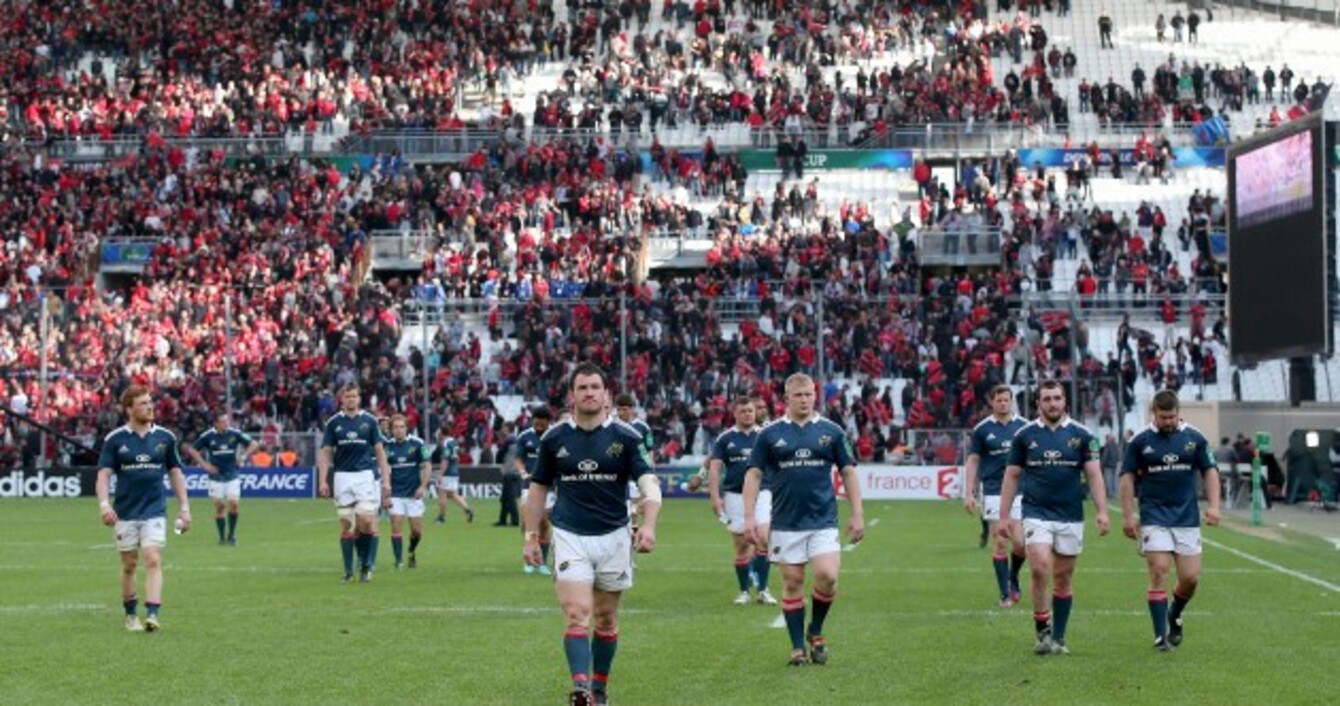 Damien Varley leads his team to the tunnel at Stade Velodrome.
Image: Dan Sheridan/INPHO
Damien Varley leads his team to the tunnel at Stade Velodrome.
Image: Dan Sheridan/INPHO
NOT AGAIN. Why can't Munster just take the easy way out of Europe and save themselves all of this hardship?
Their unrequited love with the Heineken Cup was supposed to be all smoothed over and on the right track since 2006. But even on its last legs, the competition knows just how to string the southern province on long enough to break its heart… again.
Yesterday was nothing if not Deja Vu. The fans packed more hope than expectation on their way to the south of France, the team pumped their professional and provincial pride to maximum levels and resolved not to allow (last year Clermont, now) Toulon a pleasure cruise into the final.
To watch Munster go toe-to-toe with the best team in Europe is a thrilling spectacle. And it's made all the jaw-dropping when you take a quick glance through the caps and honours earned by the respective squads.
However, just as it was 12 months ago, Munster's best performance of the season was not enough to avoid defeat. The brave and the faithful, undone this time by basic errors of handling, positioning and timing as the reigning champions chiseled 18 of their 24 points onto the scoreboard by half-time.
"We've been here before," Simon Zebo told SkySports after coming up eight points shy, "we had chances last year to win and we didn't take them and it's the same this year.
"We can't keep doing this to ourselves every year. We want to be competing for silverware and semi-finals aren't good enough for Munster Rugby. We need to have a long, hard look at ourselves and make sure we're in with a fighting chance come next year."
Zebo was not only scorer of the game's only try, he was Munster's joint top tackler (with Sean Dougall and BJ Botha on 9) and carrier (with James Coughlan on 11). The winger was also a crucial weapon in Munster's ploy of focusing pressure on Toulon during restarts.
"The team just pride ourselves on hard work," he offered as a humble response when asked how he managed to thwart what seemed a certain Steffon Armitage try.
"I just wanted to give us every chance of sneaking his foot into touch and give us a shout of  pinching it at the end, but it wasn't to be."
The Corkman was perhaps the player who best embodied the step up in form and accuracy, but he was one of many who played out of his skin when the occasion called for it most.
"Five points is not enough," exhaled Jonny Wilkinson in as emotive form as you're likely to see the World Cup winner.
"At the end, [even] eight points didn't feel like enough.
"In defence, they've got so much technique and power, so many tricks up their sleeve and they've got good speed and skills as well. We had to cover everything, we had to be switched on and that takes your energy away."
And yet, despite the victories in many small skirmishes during an impossibly tense first half, Toulon were the ones winning the battles that counted for points. Never more so than when Juan Martin Fernandez Lobbe sat in the sin bin. While he cooled off, his 14 team-mates slotted almost effortlessly into hyper-clinical mode and by the time he returned, the sin-bin scoreline read 9 – 6 in the host's favour.
"The great thing about this team," continued Wilkinson, "yeah it might be tight, but we can count on each other to just suck it up and get on with it.
"Everyone makes little errors here and there, but we just cover each other's backsides by just doing the hard graft."
Neither side were caught wanting for graft, but after 80 long minutes Toulon were the team who made fewer errors and the Top 14 leaders were the side who could happily welcome the sense of Deja Vu.
The Heineken Cup is their love affair now, and few would begrudge them a second consecutive crown.