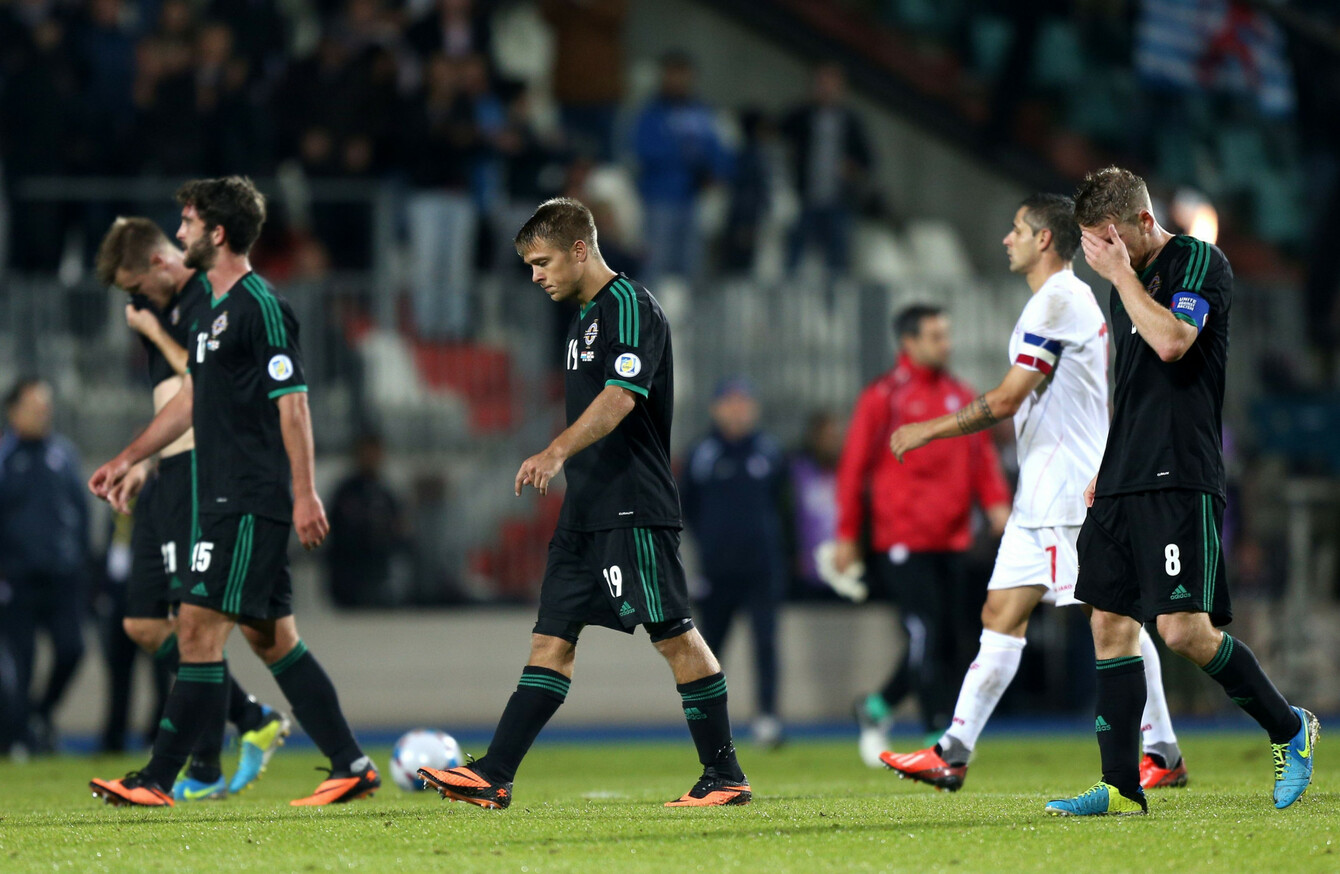 Image: John Walton
Image: John Walton
LUXEMBOURG HAD LAST won a home World Cup qualifier in 1972. Their team featured bankers, college students and a gym caretaker. As the Belfast Telegraph glibly pointed out at the time, they had won more Eurovision Song Contests than qualifying games.
And yet, it was they that inflicted a 3-2 humiliation on Michael O'Neill's Northern Ireland side in September 2013.
Afterwards, the manager was understandably seething.
"We got exactly what we deserved," he said.
Our management of the game was pathetic. This was as poor as I have ever been involved with as a manager – completely, and not just in this job. We can learn from it, there is no alternative, but that is the poorest by some distance. I just feel for people who came to watch it.
In all honesty that (performance) is just a sideshow. If they turn up to play like that again, it is a waste of time."
The campaign was an unmitigated disaster. From their 10 games, Northern Ireland picked up one victory. Bizarrely, it didn't come in the home game against Luxembourg or from their assignments with Azerbaijan.
Instead, it was a win over relative heavyweights Russia. Elsewhere, they held Portugal to a draw in Porto.
But still, they regularly stumbled against the perceived minnows. By doing so, they became another. They finished second-last in Group F, just one point ahead of Luxembourg. They dropped to a record low of 129th in Fifa's world rankings.
It was the lowest ebb.
As punishment, their seeding dropped. For Euro 2016 qualifying, they were in Pot 5 alongside Albania, Macedonia, Lithuania, Moldova.
But then, over the course of 90 minutes, everything changed.
With Belfast always classed as a tough place to go, the team fancied their chances of causing upsets on home soil. But on their travels it was a completely different story.
They hadn't won an away fixture in four years when they travelled to Budapest for their very first Euro 2016 qualifier in September 2014.
Inevitably, they went behind to Hungary with 15 minutes to go. Everything was going to plan.
And then, substitute Niall McGinn changed the game. Firstly, he popped up with the equaliser. Then, with 88 minutes on the clock, he set up Kyle Lafferty for the winner.
It kickstarted a run of three straight wins, including another massive triumph in Greece. O'Neill's side lost just once from their 10 fixtures and finished top of the group.
It was inexplicable.
But, O'Neill said something telling after the Luxembourg defeat in 2013. Something that finally seemed to seep into the players' psyche.
"My players have to be prepared to work for each other," he said.
"We don't have match-winners in our squad, our success is when we do things collectively."
Like his counterpart south of the border, the boss has instilled a spirit. There's an enthusiasm now, and the group has come a long way from repeated setbacks and humiliations.
Still, success is not expected or anticipated. Despite the thrilling Euro 2016 adventure, resting on their laurels is not something this current crop has much interest in.
They've come too far to be so flippant.
Subscribe to The42 podcasts here: