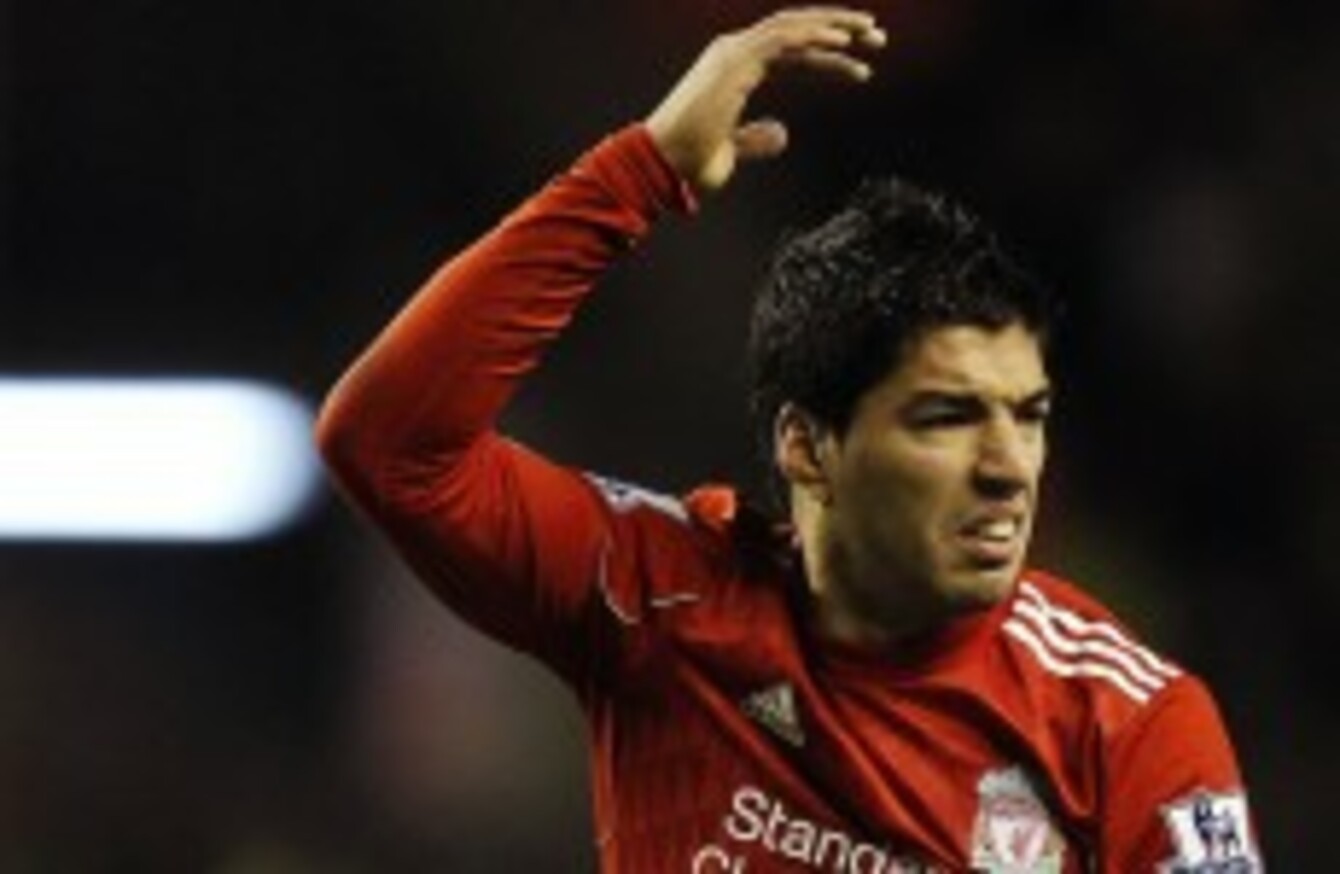 Luis Suarez proved handy
Image: PA
Luis Suarez proved handy
Image: PA
A wait off Rooney's mind
That was more the Manchester United we're used to. And that was more the Wayne Rooney we're used to. After a series of either profligate or uninspiring attacking performances which resulted in elimination from the Champions League, as well as a nine-game drought for the striker, he scored twice today in a sparkling win for United.
The pity for Alex Ferguson, perhaps, is that Rooney's run and that drop in form came at a particularly inopportune time for United. As their early-season form illustrated – and in vast contrast to their miserable last group stage exit in 2005-06 – United aren't as bad a team as that which went out of the Carling Cup to Crystal Palace and then got beaten in Basel. The question is just about finding balance – particularly in midfield. And, at the least, an on-song Rooney will help that. As has been the case for most of his career, he tends alternate between streaks and droughts in terms of scoring. The only deviation was the 2009-10 campaign when he was the out-and-out striker. That hasn't been the case this season as, again, he's been shunted all over the pitch. But, against Wolves, he looked to have recovered his confidence.
Striking it lucky
Liverpool have a squad full of goalscorers but, crucially, not goals. Indeed, the player who hit their only strike today – Luis Suarez – pretty much encapsulates their problems. Often good to watch and dominant, he actually has one of the worst conversion rates for a top striker in the top leagues, finishing only his 8% of his efforts. While Suarez of course brings so much more to general play, this was his first league goal since 1 October and only his fifth overall – one more than John Terry. And for yet another game against a lower-table side, Liverpool almost saw the ultimate problem with such a low goals-per-game average: they endured a very nervy finish against QPR.
Dalglish again insisted today that the goals would eventually come and, while the performances would point to that, the general accuracy doesn't. Liverpool have an issue there that is crucial to the long-term evolution of the team.
Toon out
After Newcastle failed to win for the fourth game in a row and – worse – got well beaten by Norwich, there has been a bit of an inclination to talk about a prospective free-fall. And, of course, that will happen to a certain extent. Their high placing was an undeniably false position and it would be a huge surprise if they finished above seventh. But it would still be harsh to read too much into their defeat at Carrow Road. After all, Alan Pardew was without the very foundation of that unbeaten run: only Danny Simpson played from his first-choice defence.
Wigan peer over the line, Bolton buckle
The battle at the bottom of the table shows how quickly situations can completely change in the Premier League. Just a few weeks ago, you would have found it very difficult to argue that Wigan were not completely doomed. And yet now they've won two out of their last three, are on a bit of a roll and out of the relegation zone.
But that's also why it would be hasty to write off Owen Coyle at Bolton, as many seem to at the moment. Yes, he has a worse win ration than Gary Megson. Yes, they're in a worse position – bottom – now than Megson ever was, and that after initially suggesting he would lift the club high. But Bolton have had endured three dramatic incidents over the past few months which have all knocked their moment. First, there was the season-shifting FA Cup final hammering to Stoke. Then the atrociously difficult run of fixtures at the start of this campaign. But, most of all, there was the loss of their first-choice midfield – particularly Stuart Holden – through injury. That has had the biggest effect on the whole shape and attitude of the team. And it something that Coyle is going to have to tackle.
He might yet be saved, however, by the fact that the relegation scrap is going to be so turbulent. Which three teams, for example, would you pick to go down now? Bolton? Blackburn… but what about their recent form?
And would those teams be the same as it was a few weeks ago? That illustrates how tumultuous this is going to be. Indeed, it's very difficult to pick a third.
As such, there will always be hope this season for anyone in the mire. And anxiety for anyone above it.