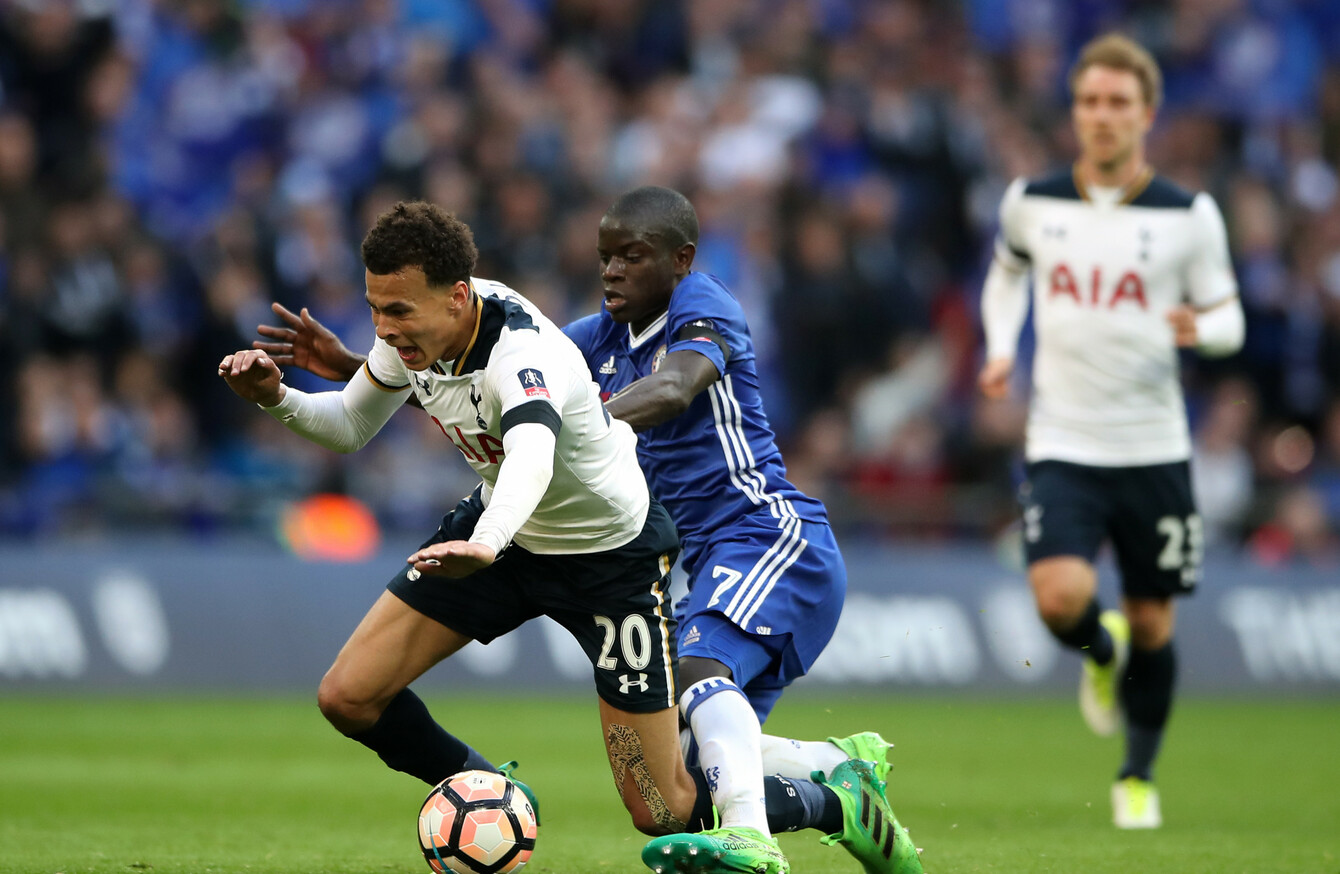 Tottenham and Chelsea go head to head this weekend.
Image: Nick Potts
Tottenham and Chelsea go head to head this weekend.
Image: Nick Potts
1. Two title contenders go head to head
WHILE THE MAJORITY of pundits tipped Manchester City to win the Premier League prior to the start of the season, there is no doubt that both Chelsea and Tottenham can be considered contenders given what they achieved last season.
The London clubs, last season's top two, meet on Sunday in what should be an intriguing game, as Spurs prepare for a Premier League fixture at their temporary home of Wembley for the first time.
And the venue, of course, could be pivotal to the outcome of both the match and Spurs' season in general.
Tottenham were beaten there by Chelsea in the FA Cup semi-final last season and it was not the only time they struggled at the famous stadium.
They won just one of their four European matches at Wembley last season, losing to Monaco and Bayer Leverkusen, while being dumped out of the Europa League following a draw with Belgian side Gent.
By contrast, their form at White Hart Lane was almost perfect — winning 17 out of 19 Premier League games at the old ground last season.
How well Spurs handle this transition in the long run will have a significant influence on their season.
The outcome and performance in Sunday's game against formidable opposition in the form of reigning champions Chelsea should go some towards indicating whether the so-called 'Wembley curse' remains a legitimate issue for a side so accustomed to playing their frenetic high-energy pressing game within the comparatively narrow confines of an invariably loud and buoyant White Hart Lane.
2. Man United set for stiffer test
As impressive as Man United's win over West Ham was last weekend, the subsequent reaction within certain sections of the media has been over the top.
Nemanja Matic has already been compared to Roy Keane this week and Jose Mourinho had to play down suggestions that Man United are title favourites.
The fact remains that it was just one game featuring a side that were totally outclassed for large parts of their Super Cup tie against Real Madrid less than a week previously
While there is evidence of improvement, with Matic seemingly an upgrade on any player they had in midfield last year, early-season results have proved misleading in the past and United need to do more to justify the hype that greeted their victory over a flimsy Hammers side missing key players in Manuel Lanzini, Andy Carroll and Michail Antonio.
The last time there was so much optimism early on in the Premier League season at United was during the Louis van Gaal era.
Towards the start of the 2014-15 campaign, the Old Trafford outfit beat QPR 4-0 amid a game in which new signings Angel Di Maria, Daley Blind and Marcos Rojo started, while Radamel Falcao made his debut off the bench.
Immediately after the match, Man United were talked of as serious title contenders while Van Gaal was hailed for supposedly turning the club into a footballing force to be reckoned with again.
Yet the Red Devils ultimately ended that season trophy-less, finishing in a relatively underwhelming fourth place in the process.
So if they are to ensure history does not repeat itself, Mourinho and his players still have plenty of work to do.
3. Can Palace exploit Liverpool's defensive frailties?
There was a strong sense of deja vu at Vicarage Road last weekend.
As had routinely been the case last season, Liverpool failed to beat one of the so-called 'lesser' teams in the form of Watford.
Going forward, the absent Philippe Coutinho wasn't too badly missed. Liverpool managed to score three goals without their star man, as Mo Salah, Sadio Mane and Roberto Firmino all produced some impressive moments in attack.
What will frustrate fans of the Anfield club, however, is how poor Liverpool were defensively.
Watford won just three corners over the course of the entire match, yet managed to score from two of them.
The failing was starkly apparent last season too, with the Reds conceding more goals than all the other top-six Premier League sides apart from Arsenal, while a poor defensive error likewise led to the concession of a goal in their midweek Champions League qualifying play-off.
On Saturday, they host Crystal Palace, another side they will be expected to beat, particularly after the Eagles were defeated 3-0 by Huddersfield in Frank de Boer's first game in charge last season.
Yet Palace will have noted how so many smaller teams managed to nullify Liverpool's attacking threat while exposing their defensive weaknesses last season. They will consequently likely travel to Anfield with a degree of quiet optimism this weekend.
4. Meeting of the big summer spenders
🔵⚪️ | Welcome to Everton, Gylfi Sigurdsson!

➡️ https://t.co/8AudoOZVWG#WelcomeGylfi pic.twitter.com/YJQLo1x9Qs

— Everton (@Everton) August 16, 2017
Most Premier League clubs have not been shy to part with money of late — the £1 billion spending barrier has already been broken in the 2017 summer window well ahead of deadline day.
In the history of the Premier League, the clubs that have spent the most money have traditionally enjoyed the greatest levels of success.
On Monday night, two of the league's richest clubs meet, with Man City hosting Everton.
Pep Guardiola's side have spent more than any other English team during the summer, while the Toffees — who recently confirmed the €50 million purchase of Gylfi Sigurdsson from Swansea — are one of just four Premier League clubs (along with City, Chelsea and Man United) whose expenditure has already exceeded £100 million.
Expectations are high at both City and Everton, to the point that a negative result for either on Monday could instantaneously put a degree of pressure on their respective managers, such is the relentless demand for immediate success in modern-day English football.
Anything other than a title win will be considered a disappointment for the Etihad outfit, while Ronald Koeman's side clearly have genuine ambitions for a Champions League spot based on their ambitious transfer policy.
5. Will Lacazette build on promising start?
Alexandre Lacazette may have joined Arsenal for a fee of €53 million along with €7 million of potential add-ons, yet there was still a palpable degree of suspicion amid the summer signing's arrival.
Lacazette had clearly proved his worth in France, having scored over 100 goals at senior level for Lyon, including 28 in 30 league games last year.
But questions remained of the star. Why, at 26, was he only now being signed by a big club? Will his prowess in France translate to the altogether different world of English football? Why has he been frequently overlooked for the French national team, with — for example — Olivier Giroud earning 64 caps to his 11?
Yet despite all these doubts, the new signing got off to a very promising start to life in the Premier League, opening his account less than two minutes into his debut.
In addition to scoring, Lacazette performed impressively in general play, suggesting he could be a better alternative to the at-times one dimensional Giroud, who himself enjoyed an extremely impressive cameo on Friday.
Moreover, against a Swansea side that had the second-worst defence statistically of all the teams in the Premier League last season, conceding 70 goals in total, it would not be much of a surprise if Lacazette manages to build on his impressive start in Saturday's late kick-off.
Premier League fixtures (all games 3pm kick-off unless otherwise stated)
Saturday
Swansea v Man United 12.30
Bournemouth v Watford
Burnley v West Brom
Leicester v Brighton
Liverpool v Crystal Palace
Southampton v West Ham
Stoke v Arsenal 17.30
Sunday
Huddersfield v Newcastle 13.30
Tottenham v Chelsea 16.00
Monday
Man City v Everton 20.00
Subscribe to The42 podcasts here: