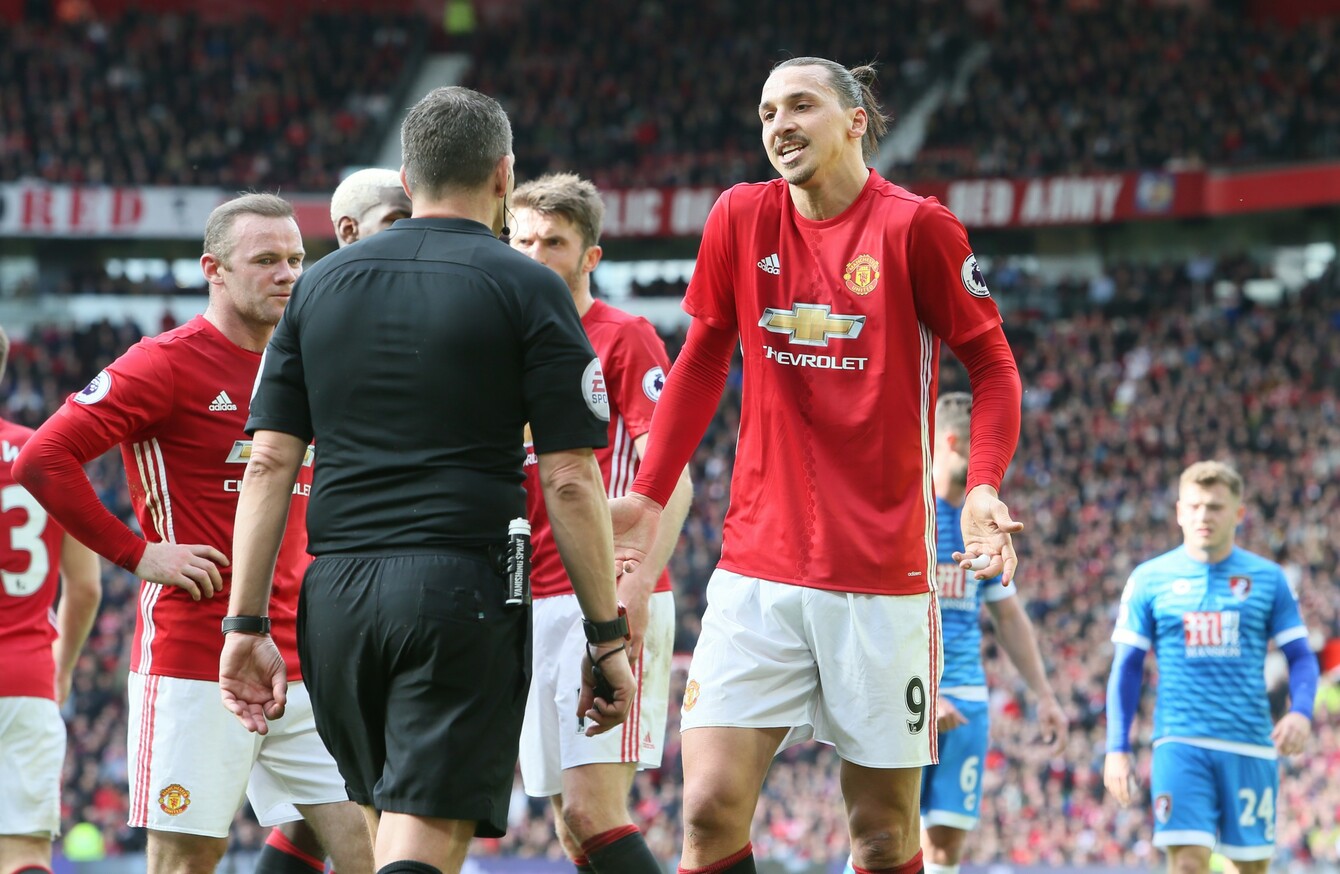 Manchester United's Zlatan Ibrahimovic (right) and Manchester United's Wayne Rooney (left) appeal to referee Kevin Friend (centre).
Manchester United's Zlatan Ibrahimovic (right) and Manchester United's Wayne Rooney (left) appeal to referee Kevin Friend (centre).
1. Zlatan and Rooney insult our intelligence
THERE WERE SOME unsavoury scenes during the Man United-Bournemouth Premier League clash at Old Trafford today.
Tyrone Mings appeared to deliberately stamp on Zlatan Ibrahimovic, while the Swedish striker retaliated by elbowing his opponent.
Behaving in this manner was bad enough, but the reaction of those involved was similarly cynical.
For Wayne Rooney to strongly condemn Mings after the game while insisting that he "didn't see" the Ibrahimovic elbow was an insult to viewers' intelligence.
Ibrahimovic's claim that the Bournemouth defender "jumped into my elbow" when he clearly had eyes only for the player (literally!) was equally laughable.
Not to be outdone, Jose Mourinho — who has a well-documented history of abusing officials — came out with the most outlandish quote of all, when he said: "I'm a football man. I'm in football for many, many years. I don't like to speak after matches about what happened during matches."
Mings also pleaded his innocence, when there was strong evidence to the contrary.
2. Alexis Sanchez Arsenal exit starting to look inevitable
To everyone's surprise, Alexis Sanchez was dropped for Arsenal's crucial Premier League clash with Liverpool this evening.
In the first half, the Gunners played as if they were protesting their manager's shock move, giving one of the tamest attacking performances of the season against a committed Liverpool side.
Wenger afterwards defended his decision to drop the Chile international, but on a footballing basis, the call made no sense.
Sanchez is comfortably Arsenal's most potent attacking threat and he looked as sharp and inventive as ever following his second-half introduction, inspiring teammates to raise their game to boot.
Therefore, there must be more to this situation than meets the eye. Sanchez's future has been the subject of much speculation of late and his initial absence tonight would strongly suggest the player will be on his way elsewhere come June.
3. West Ham next week will be true test of Leicester
Leicester made it two wins out of two under temporary boss Craig Shakespeare on Saturday, as they secured a convincing 3-1 win over Hull.
The Foxes certainly look a different side since the departure of manager Claudio Ranieri — this afternoon's result meant they won back-to-back league fixtures for the first time this season.
They will consequently go into the midweek Champions League clash against Sevilla with plenty of confidence, and the way they are playing at the moment, progression to the Champions League quarter-finals at the expense of the Europa League holders is certainly not inconceivable.
Owing to recent results, people have suggested Leicester 'downed tools' under Ranieri and only started 'trying' again after he left.
These claims seem dubious and simplistic, however. After all, it's not as if Leicester played poorly in every game this season — the result in Sevilla was a good one and their home form this year has actually been quite respectable even before Shakespeare took charge.
Of course, they have enjoyed the bounce that most sides seem to get when new managers take over. Nevertheless, the Foxes have a long way to go before they can genuinely be considered worthy of comparison to last season's team.
Leicester's away record this year is the reason they are in danger of being relegated — they have picked three points in 13 games on the road.
Beating Liverpool and Hull at home is all well and good, but surely next week's match at West Ham will provide a truer reflection of where Shakespeare's men are at.
4. Allardyce and Clement making a big difference
Interestingly, of the teams in the bottom six right now, the only two who have not changed their manager are currently in the relegation zone.
Sunderland and Middlesbrough therefore may be increasingly tempted to sack their respective managers if results fail to improve imminently, particularly after witnessing the boosts that Swansea, Crystal Palace, Leicester and even Hull to a degree have enjoyed after parting ways with their bosses.
Crystal Palace beat West Brom 3-1 this afternoon at the Hawthorns — their second win on the bounce and a sign that Sam Allardyce is starting to inspire the kind of great escape for which he is renowned.
Middlesbrough, who have stuck by head coach Aitor Karanka, fell into the drop zone after a 2-0 loss to Stoke, while Swansea continued their rejuvenation under Paul Clement, amid a thrilling 3-2 defeat of Burnley.
Sunderland and David Moyes are seemingly in the most tenuous position of all.
A loss tomorrow at home to Pep Guardiola's Man City would leave them six points away from safety with 11 games to play and in need of a Leicester City-esque miracle to avoid playing Championship football next year.
5. Gabbiadini playing as well as any striker in the Premier League
In the lead up to Sunday's Tottenham-Everton clash, there has rightly been talk of the brilliance of Romelu Lukaku and Harry Kane.
Tomorrow will be the second consecutive Sunday in which two outstanding strikers have graced the same pitch.
Last week's League Cup final was dominated by two players at the top of their game — Zlatan Ibrahimovic and Manolo Gabbiadini.
The Swede's amazing exploits have been well documented, but his Italian counterpart was equally superb.
The Southampton star hit a brilliant brace and would have had a hat-trick were it not for a poor decision from the officials.
Gabbiadini's goal today in the Saints' 4-3 win at Watford made it nine goals in his last seven games (a run which includes the end of his spell at Serie A).
At 25, the Italy international's best years are surely ahead of him and on current form, the €17.5 million Southampton paid for him in January looks a bargain.
The42 is on Instagram! Tap the button below on your phone to follow us!